Barn Ville
Barn Ville Scratch Summary
Money Reels brings you one of the best scratch card games that you could possibly play. It is one of the most exciting games where the player has to go to a farm and there meet a number of farm animals.
Once you reach the farm you are then tasked with running after the animals so as to reach the jackpot which is not just a little money but a mega £10,000 with a £1 bet.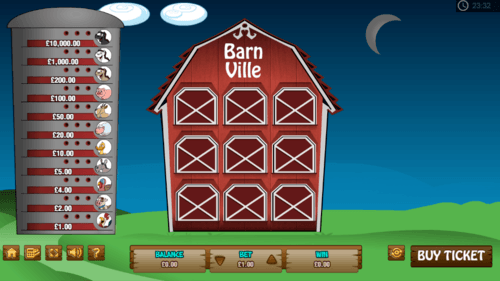 Barn Ville Theme
Barn Ville slot has a very interesting theme. The animals are all in cartoon forms and the graphics are of a very high quality. The background is very peaceful and relaxing with a sky filled with the sun shining so brightly. The symbols include animals like the pigs, donkeys and horses.
Choosing a stake and buying a new card is very easy on Barn Ville. The player only has to press the negative and positive icons to move the stakes up or down.
For a player to see the animals hiding in a place they have to click on the windows in the barn that are shown in the barn that are on the right side of the screen. It is possible that a player speeds up the game by clicking reveal all. This will open up all the windows at the same time. If you get 3 matching animals then you are on the right path to financial greatness. Barn Ville game has a return to player of 89.00%
Barn Ville Scratch Card Main Features
Opening the windows to reveal the characters hiding behind them is the main feature for play in this online slot. There are different animals with different rewards, clicking a window and revealing three matching roosters will give the player the lowest reward of 1 their stake. Getting three pig symbols gives a player 100x their stake, and a player gets a reward of 200x their stake if they are lucky enough to have three matching brown horses.
The rewards then suddenly go very high in that if a player is lucky enough to get three matching white horse symbols then they have a whooping 1000x their stake. Cross your fingers and ask that it be your lucky day for if you are able to have three matching dark horse symbols then you get the jackpot prize which is 10,000x your stake.
Barn Ville Slot Developer
Barn Ville was created by Pariplay, one of the top producers of very remarkable gaming products. Pariplay is experienced in creating very engaging online gaming content that is known to add value to casino and lottery operators worldwide. Pariplay has created some of the best games in the gaming world including: jack in the box, wild cherry slots, lucky keno, bloodshot, Rio bingo, Atari black widow, the three stooges, cops and robbers and many other very exciting games
Other scratch card games
If this particular scratch card game interested you and you would want to try more of them then you could try: abracadabra, black jack scratch, donut rush, fruit basket, Hercules Magnus, lucky Irish, mega love, monsters scratch, red square games, secret cupcakes, star raiders, the alchemist, zodiac fortune and a host of other games that are also very enjoyable.
Many players overlook scratch card games and concentrate on the reels and spin games. They are missing out on some of the best games that they can ever have in terms of features and also in terms of rewards.
Games with similar theme
There are still other animal themed slot games that are also scratch card based. If you liked the barn Ville online slot and would want to try them out, then you can check out for jungle joy which is also animal themed but the best part is that it also takes you on a safari to the African jungle.
Other animal themed slot games include: golden, Bar Bar black sheep Slot Game, hen house, poken party, tornado farm escape, piggy payout Slot Game, crazy farm and Tobias' farm. There are still other farm animal slots that you can look for and enjoy.
Mobile playing vs desktop playing
Most casino games now have the option of being played on a mobile casino. Where you simply use your smartphone or tablet to play. Scratch card games have also not been left behind on this; in fact they are very compatible to mobile devices since they have a very simple game play which makes them great for one handed play. One handed play can be done even on smaller screens.
The perfect and smooth graphics also make it very appropriate to be played on a mobile device. As always playing on the bigger screen of the desktop makes the game very interesting too.