Dragon Scrolls
Play this Dragon-themed game now at Moneyreels.com!
This is a traditional 3x3 scratch card game played online. Players can bet as little as 50p with the maximum bet set at £10. A £100,000 maximum jackpot is set with players having to scratch panels. After these panels are scratched, they show different creatures and the goal of the player is to get winning combinations.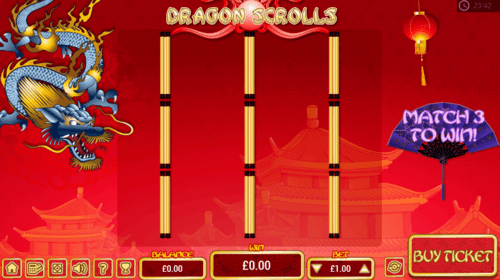 Dragon Scrolls Slot Summary
All that is needed to do to play this game is to purchase a ticket by staking an initial wager. With this, you can start the process of scratching the displayed dragon scrolls. You'll win a prize if you reveal 3 identical symbols. This prize will be based on the amount you originally staked and the multiplier of the symbol you uncovered. Dragon Scrolls is based on the Dragon - a magical and mystical figure. The Dragon is celebrated around the world and is considered a divine being by the Chinese people. Ultimately, it is appropriate that the Dragon is the basis of a game predominantly based on luck.
Each of the 11 symbols has multipliers ranging from ×1, ×2, ×4, ×5, ×10, ×20, ×50, ×100, ×200, ×1,000 to ×10,000. Some of these symbols come in the form of goats, snakes, pigs, horses, hares and hens.
Dragon Scrolls Gameplay
Dragon Scrolls is a 3×3 scratch card game that is fairly easy to understand. Players of this game will be impressed by its bright red background. The game has 11 possible symbols with everyone well illustrated by an animal. You will win when you get 3 matching animal symbols. You can choose between two different ways to indicate if you've won or not. You can decide to individually click on the scrolls to uncover each of their symbols, or you can decide to uncover all of them at once by hitting the "reveal all" button.
Whichever one you choose, as soon as all the scrolls are uncovered, you'll know if you've won or not. If you've won, you'll see a large "WIN" on your screen. Once you've had 3 matching symbols, all you have to do to show your prize is scratch the "prize" fan. On the other hand, the prize will be automatically revealed if the "reveal all" button was used.
You will also be provided with the opportunity to hit an auto-play button. In case you want to watch several rounds occur in quick succession, the auto-play button is adjustable to suit your needs.
The basic controls of this game are situated at its base. You can switch on or switch off the sound effects. You can also decide to click on the "?" symbol to get instructions on how to play the game.
Another great feature of this game is the reality check. This serves as some sort of timer that you can set to remind you of the time in total you've used in playing the game. Like the rest of the other features, this feature can also be customized to meet your needs. You can then decide on how long you want to play the game before getting a reminder telling you that you've reached that time.
This game also has an RTP of 94.9%.
Dragon Scrolls Bonus Features
There are really no bonus features on this game. The maximum bonus payout is significantly low. If you're lucky, then you can win substantially, but the only way you can really win big is if you stake big too.
Dragon Scrolls Developer
PariPlay is a gaming tech company responsible for the creation of several diverse products. The company develops online games and systems that are meant for online casino and lottery operators. Consequently, though, it's the players of these games that give Pariplay the reputation it currently has. This happens by their repeated visits that lead to operators gaining regular revenue.
PariPlay is a multi-channel gaming business - specializing in the developing, licensing and operation of games and systems from Real Money Gaming (RMG). PariPlay focuses on the supply of its services and products to clients who run their businesses in regulated international and national markets - with its focus set on B2B. The company also provides land-based operations with on-site solutions.
PariPlay serves as the glue that holds the daily operations and happenings at most online casinos. The company is in charge of a lot of services that include CRM, CMS, reporting and business administration. All these are not the glamorous or shiny aspects of the casino world, but they're essential and need to be handled. To this effect, PariPlay steps in and its software works like a charm. It aggregates analytics, processes payment, integrates third-party software and other important things.
PariPlay - in addition to casino games and social gaming platforms - also specializes in the orthodox draw-style games like fixed-prize, fixed-odds and jackpot based systems. This company has developed more than 150 games ranging from Slots, Scratch Cards, Keno, Instant Win Games and Bingo.
Games with similar Themes/Graphics
A game with a similar theme and graphics is Dragons Fortune. It is Dragon-themed with a red Dragon at the center of the game. Like Dragon Scrolls, it is also a scratch card game.
Another game similar to Dragon Scrolls in theme and graphics is 2 Dragons. However, 2 Dragons is an online slot game. Like Dragon Scrolls, it is Chinese-themed with gold and blue dragons as symbols.
Games with similar Features/Bonus Rounds
A game that shares similarities in features with Dragon Scrolls is Diamond Dreams. It is also a 3×3 game with 9 different grids. You'll need three of the nine symbols to win. This game also has the "reveal all" feature like Dragon Scrolls.
Another similar game to Dragon Scrolls in this category is Go Bananas. It is also a 3×3 game with 9 different grids. In this game, you can win up to 100× of your initial stake.
Compatibility
This game is compatible with laptops, desktops and tablets. It is also available for both Android and iOS devices. However, the option of enabling or disabling full-screen mode isn't available on iOS.