Asteroids UK Online Slot
The Asteroids slot game is an amazing game for Pairplay game company. This game is modelled on planetary elements. The asteroids have always been known to be that rocky objects that are too small to be called a planet, they are rather called minor planets. They mostly revolve around the sun.This amazing slot game is available on the MoneyReels.com online gaming platform
Asteroids Slot Summary
There are millions of asteroids, ranging in size from hundreds of miles to several feet across. In total, the mass of all the asteroids is less than that of Earth's moon. Though asteroids are practically useless in space there, that can be very dangerous objects to our Earth when they hit it. Whenever an asteroids falls into the air, they always come with a very smoking fire. Their crash is not always a good sight as they consume anything they crash into. Scientists have often devoted time to studying the asteroids because whenever one of them decides to come crashing our way, we would like to know the reason for so. Asteroids are said to be leftovers object from the formation of the Jupiter system many many years ago. The Asteroids slot game has taken us into the very heart of science itself to giving us a game that makes us to learn and be familiar with one or two objects in space. So, if you have wondered how the asteroids work and how they really are, the Asteroids slot game gives you the opportunity to be closer to that planetary object. There is no way you will come to play this slot game that the desire to want to learn more about asteroid wouldn't be stirred. Asteroids slot game is everything you will really want to wager on when it comes to slot games.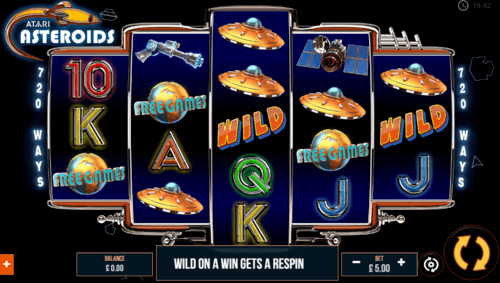 Asteroids Slot Gameplay
The cinematic opening of this game makes for a great watch. Everything shows that indeed we have been taken into the space through the slot game. In the cinematic opening view,  a space jet is seen shooting at the asteroids with a laser fire. The whole game is designed with a magnificent 3D graphics that you cannot resist. It is generally believe in the slot game world, among slot players, that this particular game has a greater visual appealing power than the earlier version of an asteroids game that was created many years ago. This present Asteroids slot game is definitely an improvement over the old one. It is in this way that PairPlay should really be lauded for their efforts in putting the game together in such graphics rendering.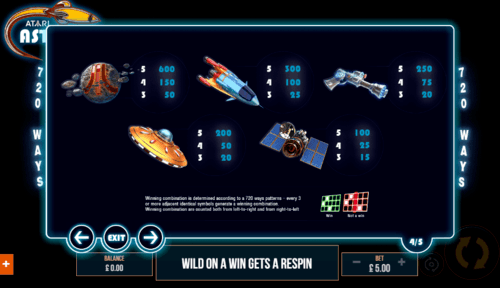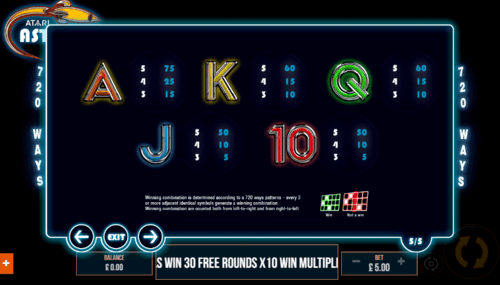 The reel table is cast against a background that is thick and stark dark. Remember we are in space already and in the environment where asteroids are known to be. You really cannot any other thing in the background except the pitch blackness that the background is in. the reel table in this game is quite different from the reel tables in most slot games. This is not the kind of table structure you may be used to. The table is in 3x4x5x4x3 formation. The architecture of the table gives the slot game a rare kind of beauty. At the left top of the reel table sits the name of the slot game. The 3x4x5x4x3 table formation gives makes the whole reel table look like a foldable pamphlet. The symbols are different colours that blend well with the colour of the background. The symbols in this game are represented by the different traditional card symbols, a spacecraft, a planet like symbol and the wild represented by the word wild written in a bold font. This slot game has an RTP of 95.00%.
Asteroids Slot Bonus Feature
Scatters in the Asteroids slot game give opportunities of free spins. 3 scatters will give 10 free spins, 4 will give 20 free spins, while 5 will give 30 free spins. Also, the wild in this game substitute any other symbols besides the scatter. A wild that can land on any reel and substitute for all symbols apart from the free spins scatter. If a wild forms part of a winning combination, it will become a sticky wild and remain until other symbols come to form a winning combination. There is also 1 free re-spin that follows every session of the Sticky Wild feature.
Games with Similar Theme/Graphic
Crypt Keeper, Outta Space, and Tiki Madness are similar slot games in this category.
Games with Similar Bonus Features
Froots, Crypt Keeper, and Pharaoh's Gold are similar slot games in this category.
Asteroids Slot Developer
Pairplay was founded by a group of slot game lovers. The Pairplay gaming company has been around for some years now and in all their existence, they have never ceased to churning out great slot games. They have always pushed the boundaries of slot games, giving us slot games that are perfect depiction of cool creativity. When group of game lover come together to build things around their passion, then you can always be assured of the best. This is exactly what the team at Pairplay always does with every slot game they create, no wonder their slot games always turn out great.
The other slots by Pairplay include Arctic Madness and Star Raiders Slot.