Bonanza UK Online Slot
Play Now and Win up to 500 Free Spins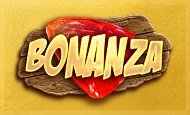 Bonanza is 7x8x8x8x8x7 layout slot game with a 96% RTP. This UK Online Slot comes with Free Spins, Wild Features and 117,649 ways to win.
Go to: All Slots | Fluffy Favourites | Fluffy Too | Fluffy Fairground | Wolf Gold | Shaman's Dream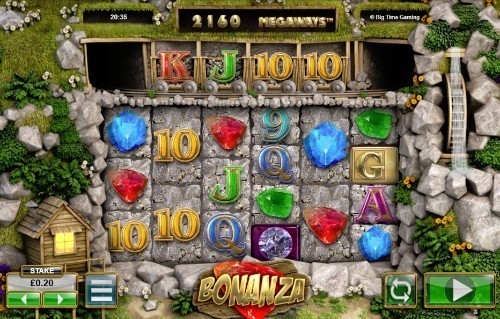 Bonanza UK Online Slot
Take a trip to North American Mines in the fast-paced slot by Big Time Gaming, play from 20p to £500 per spin across 117,649 bet ways and enjoy an RTP of 96%
Play Bonanza on Money Reels today which is home to over 550+ slot games. Our other top games include Starburst Slot, Rainbow Riches, and Wolf Gold.

Bonanza Design & Theme
If you're looking for an intensely fast-paced slot which packs in plenty of action, look no further than the 6-reel slot Bonanza by Big Time Gaming. The online slot will invite you to go mining for treasure in a North American mine. You'll pick up on the clever American Gold Rush vibe which was incorporated into the game which takes you back to simpler times. Whether it is the sight of the water wheel at the side of the reels or the charming log cabin just handing onto the craggy rock face which makes you want to don your climbing harnesses and go bouldering! Or, if you prefer more laid-back activities, Bonanza just happens to be the perfect option!
Bonanza is the perfect slot to play for high-rollers looking for a serious cash injection to happen when they win big. The Megaways game is true to its name and gives players 117,649 winning combinations. Considering that most online slots only give 5, 10, 20, or 50 ways to win, that's pretty remarkable!
You'll also get a sense why Big Time Gaming branded themselves as such when they have raised the bar with the max betting amount, while many stake amounts on online slots are capped to £100, £150, or £200, with Bonanza players are able to put down a £500 max stake. While Money Reels advocate responsible and safe gambling, the opportunity is there for those with the cash to take a chance on. For those working with a smaller budget, the max stake amount is set to 20p. If Bonanza isn't quite in your price range, we would recommend looking at games such as Rainbow Riches, Bejewelled and Fluffy Favourites.
Bonanza definitely isn't your typical online slot game, the Megaways system mixes it up slightly, so that on each of the six reels, you will find anywhere between two and seven symbols. This is how Bonanza can offer so many different betting lines. It may be daunting for some, but those players who like to operate over multiple bet lines will certainly appreciate just what Big Time Gaming created with Bonanza. You'll be able to spot a winning combo when symbols match up on adjacent reels. After a few spins you'll soon get the hang of the variation on the traditional online slot game; and you may never go back to your archetypal video slots.
After each win, the symbols which were matched will be demolished (in a very controlled demolition which will only affect those symbols) once they've been reduced to dust they will be replaced by new symbols which will fall from above. After the new symbols have dropped, there is the possibility for a new pay out to hit your coin balance. As long as you keep on landing winning combinations new symbols will continue to drop. When you've ran out of combinations, you'll just need to hit spin again! One of the greatest aspects of the Bonanza visuals is that the reels are 3D, instead of just your average two dimensional spinning images.
Soundtrack wise, you'll be treated to a honkytonk piano which will accompany the banjo as a tight arrangement of hillbilly music blares each time you hit spin. Once you land a winning combination, you'll hear the sound of a shot gun firing, and the sound of the coins hitting your balance. Animated coins will also spring into your bank balance!
When it comes to the soundtrack and the visuals, there really is no understated what a graphically spectacular wonder Big Time Gaming cooked up with Bonanza. As the online slot is set in a mine, you will see different coloured gems which can appear on the reels along with the standard lower value letters. You'll want to look out for the four symbols which sit on top of the reels, which have the potential to provide another winning opportunity every time you hit spin.
Bonanza Bonus Features
Sometimes there's not all too much to say when it comes to describing the bonus features with an online slot, but with Bonanza, Big Time Gaming has ensured that through their iconic online slot you are treated to some of the best bonus features around. The free spins feature is by far the biggest attraction of the game because of its ability to keep on giving!
The wild in Bonanza are the sticks of dynamite which will have the ability to replace all symbols aside from the scatter symbol. For this game the scatter is represented as a GOLD bar. Even better things will happen if you're lucky enough to land four of the scatter symbols, when this happens, you will be awarded with 12 free spins by triggering the Free Spins bonus feature. Bonanza is one of those awesome games which allows you to keep on winning free spins as long as you keep finding the scatter symbols on the reels. Each time your presented with a scatter symbol, a further five free spins will be on offer! Can't say fairer than that! That must be just one of the reasons why Bonanza is currently the UK's second most popular online slot today! And we haven't even covered all of the good stuff yet!
After each reel explosion a multiplier will be awarded to any reward which follows a successive explosion. The multipliers will start off from a 1x multiplier, and subsequently increase by a further 1% after each successful combination. If 3 Gold bars appear in the carts which sit at the top of the reels while this is happening, you will be given 5 free spins, a whole collection of four will grant you 10! If you haven't noticed by now, there's more than enough reasons to trust Bonanza with your deposit amounts! The bonus features are easy to trigger and the free spins make the deal even sweeter! These exciting range of features and bonuses gives Bonanza a high volatility as it never needs much encouragement to pay out, and you can be sure that you're treated to significant wins especially if you're playing higher stake amounts across the almost overwhelming range of bet lines.
Even though Bonanza doesn't have a progressive jackpot, that can hardly be seen as a downside to the online slot considering that you can win 120,000 coins, that's 10,000x your original stake amount! Now, if that doesn't get you excited you may very well need to check you've still got a pulse.
Winning the max 10,000 jackpot will depend on your luck in the free spins game as you watch how high your multiplier amount gets. It doesn't often need all that much encouragement to get into the higher figures!
Bonanza Developer - Big Time Gaming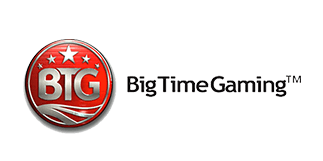 Big Time Gaming may have not been around for the longest, but in recent decades they have produced titles to change the landscape of online gambling forever. What started out with a small collective of industry thought leaders back in 1996, exploded into a world renown organisation headed up by the CEO Nik Robinson who has seen Big Time Gaming through every new milestone. Now, Big Time Gaming didn't start out under that name, Nik Robinson started out in a company named New Tech Media which was later acquired by News Corp at the same time as they acquired Orbis to create the well-recognised company Openbet. Eventually the company was transformed after new talent jumped on board and incorporated creative director Ian Schmidt who had made a name for himself making Rock Star Games.
Here's what the CEO of Big Time Gaming had to say about their most popular online slot to date which was released in December 2018.
"An incredible amount of effort has gone into the creation of the game the graphics, they set the scene for a real wild west Experience Big Time's OMNI game engine runs at an incredible 60 frames per second for what's been dubbed the smoothest gameplay experience in real money gaming today. Players will be blown away by the attention to detail, especially the animations and interactivity, we also introduce a brand new anticipation system for the tumbling scatters. Players will think the game is broken when they see the multiplier keep rising during free spins, the mathematical set up in this game is leagues ahead of our competitors. Big Time Gaming have really pushed the boundaries with Bonanza, and are confident our customers and their players will most certainly enjoy the result." 
Although Big Time Gaming has had plenty of successful releases such as Extra Chilli, Who Wants to be a Millionaire, Donuts, Danger High Voltage, White Rabbit, Book of Gods and Dragon Born, it is still Bonanza which sees Big Time Gaming never falling short of accolades.
Similar & Related Games to Bonanza
While no online slot has quite the same features as Bonanza, there are still plenty of games from Big Time Gaming which will impress fans of Bonanza all the same. We've picked the top four online slots by Big Time gaming and outlined all of the important stats and features to make choosing the best game for you as easy as possible!
Extra Chilli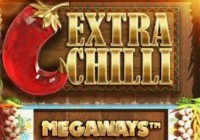 Expect things to hot up with Barcrest's spiciest slot yet; Extra Chilli. The 6 reel game offers the same number of bet lines as Bonanza and the same exploding features and minimum stake betting range of 20p. However with Extra Chilli there is the ability to cash out with 20,000x your stake which is double what Bonanza can offer you! With a maximum stake amount of £50, you'll be in for a significant win. If the jackpot amount which Extra Chili doesn't excite you the high volatility and wilds are sure to draw your attention!
Temple Quest Spinfinity

Temple Quest Spinfinity online slot was released by Big Time Gaming in 2017 and offers a medium volatility with 40 bet lines and a return to player rate of 96.17. So, all things considered, Temple Quest is a good allrounder which is perfect for anyone working with a low budget. The maximum jackpot amount may only be 3750 coins, however for players who are looking for more regular wins Temple Quest Spinfinity should not be overlooked!
Temple of Fortune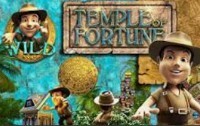 If you like your online slots with a slightly architectural feel then you are sure to love Big Time Gaming's 2015 online slot game Temple of Fortune. The gameplay has been kept fairly simple with a 5 x 3 reel set up, 20 bet ways and 25,000 coin jackpot, but the slot game is an absolute visual treat which takes place in a lush tropical rain forest amongst totem dragons and stone gods. For anyone who likes their online slots to come with a more adventurous feel, Temple of Fortune definitely should not be overlooked.

Diamonds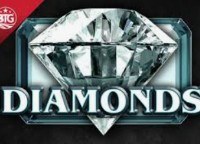 Diamonds are no longer just a girl's best friend, with Big Time Gaming's unique game they created an online slot which is a cut above the rest. Even though the online slot was released back in 2013, Diamonds still remains popular which may have a little to do with the 400,000 coin jackpot amount offered by the game which takes place on a 4 – 3 – 4 – 3 – 4 grid. There are 40 different ways to win with the slot which has been created to be as sophisticated as it is simplistic!
Similar Games
Big Time Gaming's online slots have a very distinctive feel thanks to their curve-creating innovative games. But what they offer may not be everyone, so we've looked outside of Big Time Gaming's portfolio to find you the best alternatives to Bonanza not created by the company.
Railroad Express by Old Skool Studios

Old Skool Studios may not be the biggest name in online slot publishing right now, yet, if they carry on putting online slots similar to Railroad Express they'll certainly be able to give the industry giants a run for their money. The medium-level variance game offers a 5 x 5 slot which may only give players 5 bet lines to play across, but there are plenty of exciting multipliers, bonus rounds and progressive jackpots to make Railroad Express well worth your time. With a return to player rate of 95.19% you'll receive plenty of regular wins along with the chance to win a jackpot amount of 150,000 coins!
Jewel Quest Riches by Old Skool Studios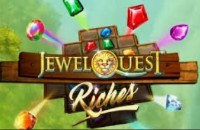 Jewel Quest Riches is yet another online slot designed by Old Skool Studios who have made sure that their portfolio is well stocked when it comes to helping you uncover hidden gems in the mines. The game was also released in 2017 and offers generous multipliers for you to boost your original stake amount up to 12x. The jackpot size is the same as with Railroad express on the 5 x 5 slot as is the return to player rate but the game also comes with the prospect of triggering cascades of jewels and chain reactions.
Gold Rush by Pragmatic Play

When Pragmatic Play sign off on a game, you know that it is going to be of great quality! And they certainly didn't disappoint when it came to their 2017 online slot Gold Rush. With a generous return to player rate of 96.5%, 25 bet lines to play across, a simple 5 x 3 grid set up and ability to snag yourself a jackpot prize of a tidy 312,500 coins there are more than enough reasons to give the online slot a go! Instead of just seeing the mining location as you do with Bonanza you will get to greet the charming characters which represent themselves on the reels including the miner and the donkey on the reels. Gold Rush also boasts a medium-high variance, wilds, free spins and scatter symbols which will make sure that gold rushes right into your bank balance.
Greedy Servants by Spinomenal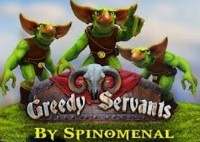 Greedy Servants may just be the wildcard feature on this list of similar games to Bonanza, yet the individualistic charm of the online slot game was more than enough to secure the position. Well, that and the fact that the game offers a super high return to player rate of 97.2% that's amongst one of the highest offered on Money Reels. There's a medium-level variance to the game which is set up over a 5 x 3 reel grid which offers 30 different ways to win and plenty of wild features to ensure that those wins are significant. Amongst them you will find sticky wilds, random wilds, bonus games and pick objects. If that's not enough to sway you, the 3D graphics may just be! And yes, we know the name of the slot is a little outlandish, but once you get into the gameplay, you'll see that the online slot is infinitely charming!
Gameplay on Mobile vs Desktop / Laptop.
Whether you log into Money Reels via your desktop or laptop or a handheld device, you're sure to appreciate just how well Bonanza plays on both. Older phones may have a little bit of trouble when it comes to keeping up with the graphics to Bonanza – remember, the graphics are only as good as the phone which is supporting it. Just remember to crank the volume up on whatever device you are playing on to be treated to the full Bonanza experience!
Due to the visual spectacular which is Bonanza it is recommended that you play on your desktop or laptop for the best possible visual experience. Yet, if you prefer to game on the go, or simply just from your smartphone on your sofa you certainly won't be complaining about how Bonanza feels to play! As with all of Big Time Gaming's online slots, a lot of thought was put into releasing the mobile versions of the game to make sure players are treated to a seamless gaming experience!
Bonanza News
Bonanza was dubbed as the most spun online slot of 2017, and since then, the online slot became even more available to players all around the globe through Microgaming's quickfire platform. After the partnership with Microgaming CEO of Big Time Gaming commented
"We have a longstanding partnership with Microgaming and the launch of Bonanza and Who Wants to Be a Millionaire has garnered a great deal of interest with casinos we have not been able to reach up until now."
So, even though Big Time Gaming celebrated plenty of successes in 2017 and 2018 the potential for even greater success is still infinitely exciting for the gaming company who are showing no signs of slowing down when it comes to the publication of high quality content.
Even though the game was released in 2016, Bonanza is never all too far away from the media's gaze. Gameindustry.com shed some light on just why Bonanza along with their other Megaways slots have become so popular in recent years:
"For players, game developers, designers, or just those with a passing interest in video slot technologies, Megaways™ are a fascinating example of how with innovation and creativity, new life can be injected into a pretty conservative gambling niche. Long may it last, and let's see where the revolution heads to next."
Big Time Gamings passion and dedication towards the games is just one of the reasons why Money Reels was so keen to include the title amongst the other 550+ HTML5 supported slots we include on our list of slot games. While we make sure that our games pack in plenty of diversity, what lies at the heart of each game on Money Reels is the true quality which will ensure that our players are treated to the best possible online slot experiences.