Caravan To Cairo UK Online Slot
Play Now and Win up to 500 Free Spins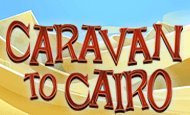 Caravan to Cairo is a 5 reel, 243 ways to win slot game with a 95.2% RTP. This UK Online Slot comes with Free Spins and Scatter symbols.
Go to: All Slots | Fluffy Favourites | Fluffy Too | Fluffy Fairground | Wolf Gold | Shaman's Dream
Caravan To Cairo UK Online Slot
There are so many UK online slots that share the essence of travelling and exploring. Be it the exploration we get to see in the jungles, or in the desert where the eye cannot make out from reality and mirage. Themes related to slots or any other game nonetheless exhibits not just this sense of adventure but shares a lot more than just that.
Imagine desert. The desert is filled with golden mountains covered with sand and up in the sky lies the blue roof which covers our head. On that very roof is the sun shining so bright. That is just a very simple description of how the desert looks like to the ordinary eye. The real sensation of a desert is felt only when one gets to see it in real life and bear the scorching heat and make their way from their starting point to the destination. It takes a lot of courage, stamina and valour to be able to stay alive in the desert and as you approach your destination, you may feel battered but successful in the end.
Caravan To Cairo - Developer
Eyecon are certainly one of the up and coming slot developers will come across in the online casino world.
There are so many games that come close to Caravan To Cairo. One of the most sought games happens to be Ali Baba slot game. Not only does the game promise great graphics but also manages to offer a lot of opportunities for players to get lucky.
Pirate Princess slot is one of those games that are not just remarkable but come close in offering the same RTP as Caravan To Cairo. Magnificent Jewels, Lion Dance, and Shore thing are also some of the games that make it in the list.
Play Caravan To Cairo Mobile Slot
One of the most unique features about the desert is the way everyone gets to travel in bands, or as the Arabic word for these bands goes, Caravan. It's nearly impossible to see how an individual alone can cross one edge of the desert all by themselves. While it is not nearly impossible, it is profoundly difficult and can certainly be a matter of life and death if one is not equipped with adequate tools. Caravans go places to places looking after each other and those who are joining them on their way to the destination. The group ensures that sufficient food is offered to everyone and everybody has looked after. A caravan is a slow but a steady group that at the end takes people to their destinations.
 Caravan To Cairo by Eyecon is an utterly fascinating game. For those who don't know, Cairo is the capital of Egypt. The city is situated in a desert sort of area, hence the mentioning of deserts, caravans, and now Cairo. It's not just about the theme and the name that concludes its overall image. Caravan To Cairo has a sort of magic in its theme which compels the players to try their luck and find their rightful fortune. But like how difficult it can be crossing the desert, it is somewhat similar in case of Caravan To Cairo. Surely you're not in a desert trying to find your destination but trying your luck is certainly not a walk in the park. As the case goes for every slot game there is, all it takes is your courage, willpower and most importantly the favour of luck. If you are there when luck knocks at your door, it is very likely to happen that you will be able to find all that Caravan To Cairo can provide. 
Caravan To Cairo Slot Features
Here are a few things you will be interested in Caravan To Cairo:
The RTP of this game is 95.2% which can be considered fairly good and sort of average. But that, of course, does not conclude everything about the game. The game has 5 reels in it and offers 243 ways of winning, that is 243 pay lines. That is quite a lot of payline for a game like Caravan To Cairo and promises a lot of opportunities for players. The important symbols used in this game are Camel, She-Camel, Cat, Goose, Monkey, Goat, Hippo, Snake and Alligator. These symbols have their unique points and should always be considered while scoring theme anywhere in the pay lines. The Alligator can let you have 40 points if you manage to get 5 of them in the pay lines. 32 points for scoring the snake 5 times anywhere in the pay lines.
The feature games come into the play when you manage to get the Scatter. The Scatter symbol can let you have free games as long as they are found thrice in the reels. Once you hit that you'll be given a selection of free games where you have to choose free spins over multipliers. For starters, you can have 20 free spins at the cost of 2 times multipliers. It goes on to decrease and you can end up with 5 free spins only but at the rate of a multiplier of 10 times. You can get more free spin if you manage to score Scatters thrice or so during the free spin round. The Pyramid symbol acts as the wild symbol in the game and if manages to get its way in the reel, it can replace all the symbols except the Scatter. The wild symbol can only be found in the 2nd, 3rd, and 4th reel.
As far as the game's conclusion goes, it should be remembered that the game offers a variety of pay lines. The game's RTP is impressive and keeping all this in mind, it should be emphasized that the game is all right as far as its technical details go and its featured offers. There aren't any big, jumbo bonuses that promise 100 times the multiplier or so. The features are more about choosing between the multiplier wins and the free spins. Nonetheless, both the features and their numbers are quite impressive and are worthy of praise.
If you're interested in finding games like Caravan To Cairo, MoneyReels.com is the place to try.