Fluffy Favourites UK Online Slot
Play Now and Win up to 500 Free Spins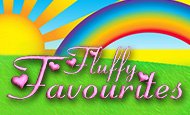 Fluffy Favourites is a 5 reel, 25 payline slot game developed by Eyecon with a 95.3% RTP. This UK online slot comes with Free Spins and Toy Box Bonus. Play Fluffy Favourites slot here at MoneyReels.com and win up to 500 Free Spins when you Join!
Play Fluffy Favourites Slot
Fluffy Favourites is an online slot game developed by Eyecon. it has 25 paylines and a modest 95.3% Return to Player (RTP). This slot game is famous for its Toy Box (Claw Grabber) Bonus Round and dancing pink elephant wilds that can triple wins during the Free Spins bonus rounds.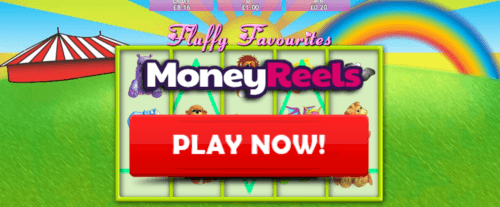 Bonus Features
Fluffy Favourites mobile slot has two bonus features, the same as the laptop and tablet version - ToyBox and Free Spins. The wild icon is the Elephant symbol it can substitute for any other symbols as well with the exception of the bonus symbol which is the claw.

TOY BOX FEATURE - This includes the Toy Box Pick! All you'll need to do to open up this feature is land three of the Toy Claw symbols on the reels, each of the claw symbols will grant you a cash prize, which you can see you rewarded with up to 100x your initial stake amount. The Claw game is based upon the old-fashioned amusement arcade claw crane machine and it is represented the below Toy Box bonus round.

FREE SPINS FEATURE: 3 or more Elephant Scatter symbols will give you free spins. How many free spins you get depends on how many Elephants landed on your reels:

3 Elephants gives you 15 free spins
4 Elephants gives you 20 free spins
5 Elephants gives you 25 free spins
Eyecon didn't just stop the free spins round there. The money which you've won in this free spins round will be boosted by the 3x multiplier and triple the money will hit your account!

If Fluffy Favourites seems a tad too complicated and you'd prefer to play an online slot with fewer things to remember, we've got you covered in the Similar & Related games section. Each online slot game is different, as is each player! Thankfully the range of online slots is now so diverse that there's a suitable option for everyone!  There are many fluffy favourites new sites out there but we know for sure you won't find anywhere better to play this award-winning game than here at MoneyReels.com
Summary of Fluffy Favourites UK
25 Paylines
3 rows
5 Reels
95.3% RTP
Toy Box Bonus Round - the 100x max multiplier of total bet
Free Spins Bonus Round - with all wins TRIPLED
Pink Elephant is the Wild / Scatter Symbol and DOUBLES all prizes
Made by Eyecon Gaming
Medium Variance / Volatility
First Released in 2006
Re-Released in 2016 with an Updated Mobile Version
£0.25 Minimum bet (1p x 25 lines)
A number of bet lines can be reduced for a 1p single line bet.
£50 Maximum bet (£2.00 x 25 lines)
Most Valuable Symbol is Purple Hippo (5000x Multiplier)
50 / 50 Gamble Bonus on any win up to £32,000 Maximum
Current game version 3 - Last updated 6th Feb 2018
Fluffy Favourites Return to Player (RTP) = 95.3%
50/50 Gamble Feature: Whenever a winning combination is made, you activate the gamble bonus feature. The gamble bonus is a feature (optional though) where guesses are required. You have to guess the colour or suit of the next card to be drawn with a 50/50 chance of winning. If you gamble correctly, your wins will be doubled. However, if you gamble wrong, you lose. So we know you might just want to play fluffy favourites for fun, but with the gamble feature, it might go wrong for you very quickly so caution is advised.
Jackpot: There is also a jackpot version of this game. In the jackpot version, there are 3 different jackpots up for grabs. Each of the separate jackpots holds a different amount of winnable money and the potential of winning them differs too. These different jackpots are the mini, mega and maxi jackpots. All jackpots are won by randomly triggered in-game spins.
Game Symbols
The purple hippo is the highest value symbol, with the pink dragon in 2nd and bear in 3rd.
Related Fairground Slots RTP's
1. Fluffy Favourites - 95.3%
2. Fluffy Too - 95.3%
3. Fluffy Fairground - 95.3%
4. Fluffy Favourites Progressive Jackpot - 91.89%
How popular is this slot game at Money Reels?
Fluffy Favourites is consistently the most played game here at MoneyReels.com, making us one of the very best Fluffy Favourites slot sites in the UK and one of the best online casinos with Fluffy Favourites in 2019.
Jan 2019 - Rank 1 - The most played Game
Dec 2018 - Rank 1 - Number 1 slot game
Nov 2018 - Rank 2 - The 2nd most played game (Claws vs Paws took the top spot!)
Oct 2018 - Rank 1 - The most popular online slot.
So if you are wondering which online slot game to try out today, then there is no doubt that Fluffy Favourites is our number one recommendation. We are always giving away free spins offers for Fluffy Favourites when you deposit more than £20, then we normally reward players with a free spin of the mega reel which very often gives out free spins for this special slot game.
The Definitive Fluffy Favourites Review 2019
Spin the reels from as little as £0.01 on the cuddly 5 reel 25 pay line slot. Win up to 5,000 on your pay line with the mega jackpot! Enjoy frequent wins with the 95.3% RTP. Play Fluffy Favourites on Money Reels today which is home to over 550+ slot games.
Game Design & Theme
Of all the online slot games, Fluffy Favourites is the one which should need no introduction, but if you're new to online slots and wondering why Fluffy Favourites has got everyone talking, we'll run you through a few of the features which have made this adorably themed slot just so popular.
Fluffy Favourites follows a fairly standard 5 x 3 reel slot, which gives you the choice of 25 different pay lines to place a stake on, yet, the simplicity of the game which has been designed from one of the industry's leading developers Eyecon is by far the biggest selling point. Well, that and the graphics which will take you right back to simpler times of cruising the arcades as a child. Back then, all we wanted to do was get our hands on the out of reach toys which sat teasingly encased behind glass while the claw refused to grasp them. Thankfully, Fluffy Favourites pays out much more frequently than your usual arcade games.
Which is just another contribution to Fluffy Favourites popularity, the 95.3% return to player (RTP) rate may not be the highest, yet, when you take into consideration the exciting bonus features and the size of the jackpot, you really couldn't ask for much more.
Fluffy Favourites is highly favoured by online slot players who are looking for hours of fun with small stake amounts. So, if you're working with a small budget, chances are you'll love the slot just as much as the thousands of people who log into casinos such as Money Reels.
The minimum stake amount is set to £0.01 while the maximum stake amount is £0.50. If you're looking for a larger betting range, we've covered a few articles down below. Yet, there's a lot to be said for the penny slot, especially if you're new to playing slots and you're wanting to get to grips with how they work before spinning with the other high rollers.
The bet amounts may be small, but that doesn't mean that you won't get the chance to win impressive amounts of money and multiply your original stake amount.
After you've chosen your stake amount, you will then need to choose how many bet lines you want to play on. You can play on one line, or all 25! (Top tip: betting on more lines gives you a better chance of scoring a winning combination!
I'm sure Eyecon won't mind us saying that the graphics to Fluffy Favourites aren't the most bedazzling, yet, that simply adds to the charm of the game which is set up on a colourful background depicting a fair in a field as the sun greets a rainbow and the sky. In the centre of the reels is the 5 x 3 slot grid which features a whole host of adorable characters on the breezy and light design which your eyes won't tire of, even after hours of playing.
Fluffy Favourites has a quieter set up than most, there's no chip tune music in the background as you play, giving you the opportunity to listen to your own music. You'll just get to hear the reels slot into place when you hit the spin button, and you'll definitely know about it when you win! The sound of arcade bells ringing will blare as you see your coin balance increase.
Unlike many of online slots, fluffy favourites doesn't incorporate standard symbols such as letters or numbers. Instead, each of the symbols is a new fluffy character and some of them are worth more than others.
From the highest paying symbol to the lowest the symbols are as follows: hippo, dragon, gorilla, panda, lion, turtle, giraffe, rhino, duck and goldfish. The poor goldfish never get it easy at the fair, do they?
There are also a fair few special symbols and bonus features featured in Fluffy Favourites which will help to make your gaming experience that little more immersive which we will cover in more detail down below.
About the Developer - Eyecon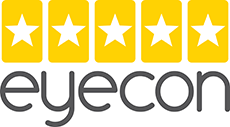 If you look at the most popular online slots around today, it wouldn't be much of a surprise if you found Eyecon's name behind it.
The company was founded in 1997 and operated as a computer game company, in the first two years after Eyecon's inception their most successful title 'Gore' received millions of downloads. Once they'd finished celebrating their success, they started to try their hands with online casino games and various other modes of gambling. The first online slot game which they produced was Temple of Isis which debuted in 2003. However, the game still remains popular today, which is a fairly common trend when it comes to Eyecon's games which you can also see from their most successful game to date Fluffy Favourites which is now over a decade old after being released in 2006.
Not many games stick around as long as Fluffy Favourites, it even came to Eyecon's surprise that the game is still just as popular today. While there are plenty of online slots to rival the reign of Fluffy Favourites, it doesn't look like it will be found far from the top online slot lists any time soon.

At the date of acquisition, Eyecon had over 40 games on their portfolio, but with big plans for the future, it should be no surprise if the best is still yet to come. Eyecon founder Scott Murray commented:

"We look forward to building upon Eyecon's reputation for delivering gaming excellence and taking the next step in development with Playtech."
Just how much is set to change, no one can say, but the prospect of the combination of Eyecon's specialist software and Playtech's distribution power promises best of class content for the future. Currently, it is the UK market which makes up for most of the revenue gained by Eyecon's online games, and they are currently looking for even more ways to appeal to new UK players. A full list of Eyecon's games are available on their website.
Similar & Related Games
After the success of Fluffy Favourites, Eyecon were keen to create a range of online slots which would recapture the magic of the iconic game. There are currently four games in the Fluffy Favourites series including Fluffy Too, Fluffy Fairground and the Fluffy Favourites Progressive Jackpot which all have unique features. We've outlined all the specs to make it easier to choose which online slot is the best for you to play.

1. Fluffy Too is the sequel to Fluffy Favourites which offers the same amount of pay lines (25) and a slightly higher RTP of 95.39%. As you can expect, the graphics have had a polish, and the set up is a little more contemporary and vibrant across the 5 reels. If you thought that the amount of bonus features included in Fluffy Favourites was generous, just wait until you see what Fluffy Too has to offer with the new coin pusher round – similar to the penny slots in the arcades where you'd hope for a cascade of 2ps. This bonus round will win you up to 100x your stake amount and anywhere up to 400 free spins!
2. Fluffy Fairground  - Fluffy Fairground invites you into the big tent to play with a 95.39% return to player rate and plenty of free spins to win. Fluffy Favourites may have been created around the claw machine and Fluffy too around the penny slots, yet Fluffy Fairground was inspired by yet another popular fairground slot game; hook a duck. The set up of Fluffy Fairground is a little different from your average 5 x 3 reel slot set up, yet, you'll get used to it in no time after a few spins of the reels. You'll have the chance to win up to 100x your original stake amount to look forward to, plus the 50 / 50 gamble feature which can be enjoyed at the end of every bonus round.
Fluffy Fairground - Hook a Fluffy Prize Pick Feature 
3.Fluffy Favourites Progressive Jackpot - There's no prizes for guessing how the Fluffy Favourites Progressive Jackpot slot sets itself apart from the other games in the Fluffy Favourites series. Alongside all of the fun bonus features, low stake amounts and colourful characters, you'll also be in for a chance of winning the massive progressive jackpot which works a little differently to your average online slot jackpot. There are three separate jackpots amount, all which hold a different amount of cash. The jackpots are constantly growing, and the winner of the jackpots is selected at random making Fluffy Favourites Progressive Jackpot the perfect slot to play if you're feeling lucky. The game also regularly pays out with the same RTP of 93.5%.
Related games not made by Eyecon

None of the Fluffy Favourite games tickle your reel spinning fancy? Or, are you just looking for your next favourite slot? Many game developers have tried their hands at cuddly and cute slots and many are also available to play via Money Reels. Here are the top 3 cute slots to play:
7 Piggies by Pragmatic Play - The 7 Piggies online slot has plenty of character to help you get immersed into the game play which is a little easier to get to grips with compared to fluffy favourites. There are only 7 bet lines on the game which boasts a slightly higher RTP at 95.99% and a max jackpot amount of 1500x your original stake. There aren't many who can match Eyecon when it comes to cute and cuddly games, yet, Pragmatic Play went above and beyond with their take on the slot theme.
Teddy Pets - Teddy Pets is a uniquely colourful 5 x 3 online slot game offering 95.14% RTP, 20 bet ways and an impressive 40,000 max jackpot amount which will go down a storm with any Fluffy Favourites fans, while the teddy pets may not be as cute as what you get with Fluffy Favourites. They still carry their own unique charm, as do the wild symbols, free spins round, bonus round and scatter symbols which help to make the game perfect for anyone looking for any reel players who are looking to cash out with a significant win!
Gift Shop by Play N Go  - The set up of the Gift Shop online slot has been modelled on the traditional land-based slot machines. While most slot machines have a 5 x 3 or 4 set up, Gift Shop is a rare 3 x 1 slot which only offers one bet way and an RTP of 94.12%. The maximum jackpot prize is only 1600 coins, yet Gift Shop still holds plenty of appeal especially for those who are looking to reinvoke their love for the classic slot machines!
Mobile Slot Gameplay
It should come as no surprise that Playing Fluffy Favourites is just as enjoyable via the app as it is through Money Reels' website. Even though the online slot is easily ten years older than the phones which many people play the game on, the game still plays just as well on the mobile as it does on a laptop or desk top.
You may find that you prefer playing the game in portrait mode instead of in landscape mode, as the reels won't expand to fill the reels. The reels can also appear as slightly too small depending on the size of your screen, but after a few spins, you'll definitely get used to spinning on the go.
With Fluffy Favourites, you won't have to worry about losing any of the graphic quality, as all of the graphics are fairly simple and there aren't too many animations for your handheld device to keep up with.
Which players will like this online slot?
Fluffy Favourites will be loved by players who like Fairground slot games. It is especially suited to the generation of players who enjoyed spending time at seaside amusement arcades playing with the classic claw grabber machine which is what the bonus round is themed upon. The other group of players this game may appeal to is those who frequently visited carnivals and fairgrounds and enjoyed time playing the stall games to win a cuddly toy. Nostalgia is one of the main appeals of this game and it's almost dated graphics help to appeal to adults.
Money Reels is a popular UK fluffy favourites casino site with fantastic offers for players including 500 Free Spins on First Deposit.  Whilst you can't play fluffy favourites demo here, you can play for real and experience the full excitement of this slot game.
Fluffy Favourites Cheats, Hacks and Free Spins
Quite simply, there is no way to cheat this game and there are no hacks that can increase the wins. Fluffy Favourites win results are fully determined by a secure RNG (Random Number Generator), this computer decides if your next spin will be a big one, a small win or nothing at all. It is all completely fair, completely statistically random and there is absolutely no human way of influencing a game result. 
Only time will tell if this blockbuster slot game will survive the test of time, but considering this game first launched back in 2006, it is still one of the top performing titles in 2018 and we are sure it will still be a player favourite into 2019 and beyond. Some sites will offer fluffy favourites free spins no deposit offers, but many of these have extremely low maximum withdrawals and extremely high wagering requirements. Here at Money Reels we are fair and balanced with our 500 Free Spins offer on First Deposit.