Gold Rush! UK Online Slot
Play Now and Win up to 500 Free Spins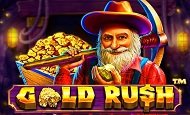 If you've always wondered what it would be like to have a little adventure down into a gold mine but don't quite fancy the reality of it, another solid option is to play Pragmatic Play's authentic online video slot. The action-packed video slot offers a 5 x 3 reel set up with 25 different bet lines to play across plus plenty of bonus features such as expansive free spins! You'll see plenty of frequent spins with the 96.5% RTP too!
Go to: All Slots | Fluffy Favourites | Fluffy Too | Fluffy Fairground | Wolf Gold | Shaman's Dream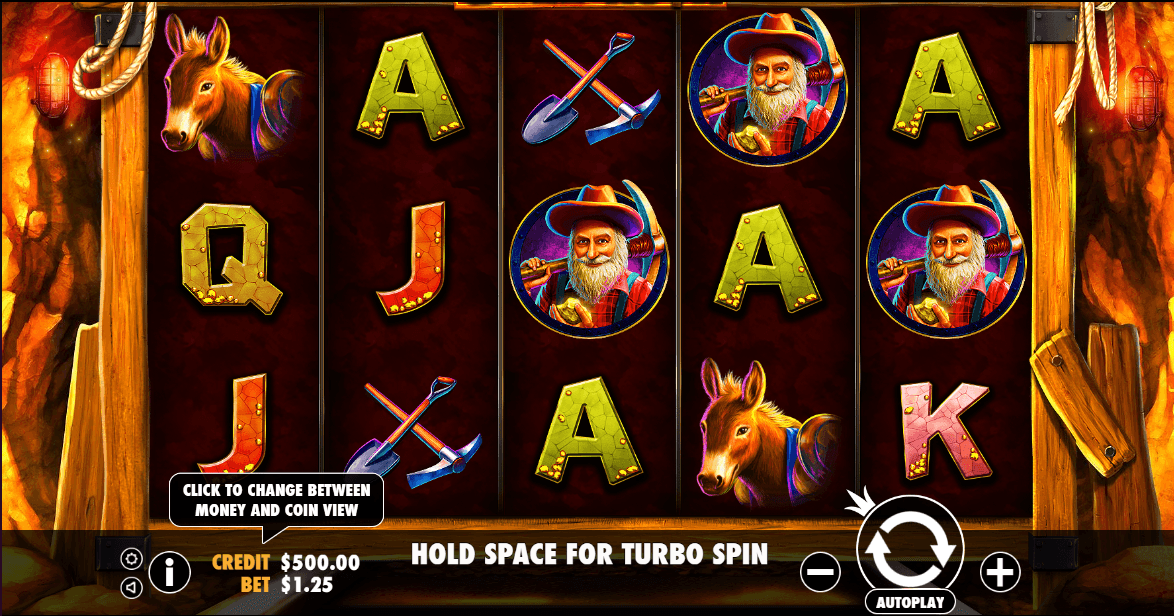 Gold Rush! UK Online Slot
If you've always wondered what it would be like to have a little adventure down into a gold mine but don't quite fancy the reality of it, another solid option is to play Pragmatic Play's authentic online video slot. The action-packed video slot game offers a 5 x 3 reel set up with 25 different bet lines to play across plus plenty of bonus features such as expansive free spins! You'll see plenty of frequent spins with the 96.5% RTP too!
Gold Rush Slot Theme
Over the past few centuries, America has had some pretty iconic time periods, some that I'm sure we will go back to for years and years to come. One of those defining time periods was the time of the Californian Gold Rush. As to why we still see this time period as so interesting to explore is a different matter entirely, but the level of intrigue never seems to fail us.
Pragmatic Play always have a way of exploring exhilarating new themes which make you feel right in the middle of the action. So, prepared to be propelled back through history where you can get an idea of just what life was like for those who lived the Gold Rush. While they may have cashed in on plenty of money, that wasn't to say that their lives were any easier than we have it now! Times were pretty tough for American's back then – especially the ones who had the unenviable job of going down the mines! Miner's lives may have been glamorised for the gloriously archaic online slot, but you can get a pretty good feel of how it felt for miners every time they uncovered a serious amount of gold! It's hard to imagine that is a feeling which will ever get old.
If you're not all too up on your American History, we'll give you a brief introduction to just what the Californian Gold Rush was all about.
The Californian Gold Rush happened all the way back in 1848 after one lucky chap named James W. Marshall had a pretty significant find. Upon hearing about his riches, it wasn't long until other people started to follow in his foot steps and pick up an axe hoping to strike gold. It is interesting to note that that's exactly where that phrase comes from – just in case you ever wondered. Lives were changed overnight, with just one find, people may never need to work again. And that was a pretty big deal back in 1848, there were no get rich quick schemes (legal ones anyway) which could help them to riches so easily – such as with online slot games!
Pragmatic Play have been incredibly clever with this game, they allow you to imagine that with every spin of the reel, it's just a swing of the axe which is bringing you closer and closer to the wins which you've always dreamed of! Even though there are a fair few online slot games from this time period and around this theme, Pragmatic Play's exciting offering should be played by reel fans at least once. It may not be the most visually striking slot game dedicated to gold mining but there is certainly a lot to play for!
While graphics may be everything to some players, for other people all the required excitement can be found with the gameplay experience. That's not to say that Gold Rush! is poorly designed, it's just a case of the online slot not matching up with some of the more show stopping HD graphics which are now available in 2019.
Aside from what is going on visually, the online slot game is paired with a soundtrack which will quickly become an earworm. You'll be serenaded by authentic Hillbilly music which utilises the mesmeric notes of the banjo, however you can be sure that the soundtrack will hot up when you are lucky enough to uncover a bonus round or create a winning combination on an active pay line in the main mode of play. With each new win, you will each and every coin won dropping into your coin balance! It is games such as Gold Rush! which prove that high-intensity graphics really are unneeded if there is enough excitement packed into the gameplay!
When you load up the reels you will literally be surrounded by gold! Even the rocks on the mine have an effervescent golden glow which invites you inside. Sadly, your view of the mine will be blocked by the 5 x 3 reel grid which will present you with some fun specially-themed symbols!
There's a good mix of specially-themed symbols and lower-value symbols which are represented by the highest numbers you will find on a card deck A, K, Q, J and 10.
But don't worry, Pragmatic Play have got a lot more inventive with the other symbols on the reels which have the potential to win you a massive amount of cash when matched! You're sure to come across the tools which the miners used to dig the gold, the lamps which helped them to guide their way, a cart full of glistening gold, and a charming miner who will help guide you through the online slot game!
That's the standard symbols covered, but there is also the wild card, which may be one of the most apt wild symbols we have seen featured in an online slot on Money Reels! Just as dynamite helped miners break through rocks and ground easily, the dynamite will also help you to uncover some gold for yourself! The wild in Gold Rush! will help you to cash out big after it has acted as a substitute for other symbols on the reels. The wild will be able to use its explosive magic on everything but the scatter card which will help you to unlock the bonus round!
Pragmatic Play have also been incredibly clever with the symbol they used for the scatter too, this time, they have chosen to go with a tunnel entrance which will show you multiple different tunnels. Which is exactly what you will see when you enter into the bonus round after you are swept away from the main gameplay.
Even though Gold Rush is classed as a highly volatile slot game (this means that you will win fairly frequently!) there is still the option if you would like to bet on up to 25 pay lines. This will increase your chances of winning with every single spin.
You may only be able to win up to 100 coins within the main mode of play, but thankfully, Gold Rush! becomes a lot more generous with the bonus round – which we will introduce you to now.
But if you feel that Gold Rush isn't quite up your street, we've also got you covered with some alternative slot game titles which may very well be of interest to you. At Money Reels, we know that each online slot player is different, which is why we've made an effort to ensure that there are games to suit every player! But we wouldn't recommend you deciding if the game is for you or not before you check out the bonus features which you will find in Gold Rush!
Gold Rush Developer - Pragmatic Play
If you have spent any time on online slots, it is guaranteed that you will have come across one of Pragmatic Play's titles, they've amassed a very impressive collection considering that they only started out back in 2007. Many of the other online slot developers had been around for much, much longer and still haven't managed to get anywhere near the portfolio size of Pragmatic Play!
With 100 online slot games under their belt, they have amassed a suitably sized collective of fans who never fail to be astounded by their new releases! Pragmatic Play aren't slowing down with their production either. You can expect plenty more to come from them in the next few years, however it is unlikely that their already released online slot games will be lost to history any time soon. Currently, their collection includes the popular titles Great Rhino, Peking Luck and Wolf Gold – Wolf Gold is one of the top played online slot game in the world! That one will be hard to top, but still, they won't stop trying, or releasing other quality content.
Another key element to Pragmatic Play's success is their commitment to using only cutting-edge tech to create leading talent. Their dedication to drive the experience of online slots forward has ensured that reel players who like to spin on the go can do so from their smartphone with ease. Pragmatic Play have mapped the changes in the trends when it comes to how their players like to spin the reels. More and more people are moving away from the laptop or desktop and instead opt to play via their smartphone. Yet, that doesn't mean that Pragmatic Play's games aren't also brilliant to play on desk top or laptop!
Going back to Gold Rush! here's what Pragmatic Play had to say about the online slot over on their website when the game was released in late 2017. You will be able to give the online slot a go for free there too! Just make sure that you head back over to us at Money Reels s so you can benefit from the perks we offer!
"Make a fortune in Gold Rush™, the 3 x 5, 25 lines video slot. The jolly prospector is using stacks of Wild dynamite on the reels. And in the Progressive Free Spins round, go deeper inside the mine and collect gold nuggets to advance the level and bring more top prospectors to the hunt."
Gold Rush Slot Bonus Features 
Every player has their own definition of a perfect bonus round, so, when game developers only choose to include one main bonus feature, players can be left a bit disheartened! There is however, a minimal risk in this happening when you find out just how ground breaking (literally!) the bonus round is.
It's generous, it's exhilarating, and you certainly won't find it in many other titles (if any)!
Essentially, the bonus round in Gold Rush is a free spins round, however Pragmatic Play have put their own nice twist on the classic offering of free games. It really is no wonder why two years after the release of this online slot that it is so popular!
To gain access to the bonus round you will need to uncover three scatter symbols (the open tunnel network) to unlock the game. However, the bonus feature will only be triggered if you see scatter symbols on the 2nd, third and fourth reel.
Everyone will get an initial offering of ten free spins. That may not seem all too generous, but don't worry! You'll have plenty of chances to win even more free spins while you play! You'll be awarded with two more free spins every time a scatter symbol pops up! This happens on average at least every four spins. Of course all good things must come to an end, but this means that you will be able to enjoy the bonus feature for quite a while, that is if your luck will allow it!
But that isn't all that the Gold Rush bonus round has to offer. You will notice that there is a new symbol amongst the old ones on the reel. This special elusive symbol will be golden nugget – I mean, that's what we all spun the reels on Gold Rush for, right?
This symbol doesn't work like the other symbols which we have gone over so far, as this is the only symbol which you will be able to collect and store as you spin. The more you collect, the more of the highest-valued symbol (the miner) will appear on the reels. This means that you are more likely to create massive winning lines!
With the start of every free spins bonus round, seven of the miner symbols will appear on the reels automatically. You can increase this number if you happen to find 5 gold nuggets. Then, the number of miner symbols will rise to 16. If you are lucky enough to find ten nuggets through your free spins you'll get 21 miner symbols. But here is where it will get really interesting; if you collect 15 golden nuggets, a whopping 29 miner symbols will be added to your reels. This pretty much guarantees a win with every spin – and a high one at that!
We do understand that when it comes to the bonus round, that nothing is quite certain. You may very well enter the bonus round and never find any nuggets, or any of the scatter symbols which will allow you to extend the gameplay. However, we'd say that adds an excellent element of excitement to the online slot. But if you'd like to play a little differently, don't forget to check out our other online slot games which may be better suited to your playing style!
Online Slot Games Similar To Gold Rush Made by Pragmatic Play
If you were a little let down by Gold Rush due to the uncertainty of the generosity of the bonus round, or the graphics, we have come up with a couple of other alternatives for you to explore. Each online slot game is different, as is every player of online slot game. But, we've amassed a nice collection for you down below to explore!
Gold Rush! Scratch Card by Pragmatic Play
Okay, so, maybe the Gold Rush Scratch Card isn't an online slot game, but it is a closely related game to play if you just couldn't get enough of the original Gold Rush, whether you fell in love with the soundtrack or the symbols, you're sure to appreciate what Pragmatic Play have cooked up with the digital scratch card. If you're not familiar with digital scratch cards, they work just as the traditional ones do! You just won't have to go outside to buy a scratch card!
Dwarven Gold by Pragmatic Play
Californians may have been fairly handy when it came to finding gold, but dwarves are also pretty well renown for getting lucky down in the mines! Put it this way, if we were stuck in mine with anyone, we'd probably want to make friends with some helpful dwarves. Pragmatic Play have really gone out of their way to create brilliant characters with the Dwarven Gold slot. There's a fairly strange plot to Dwarven Gold which will make every spin of the reels a little more exciting as you join them on the hunt for gold. Although, the dwarves may be lovable, but that doesn't excuse the fact that they are effectively stealing the gold. We don't condone that, but we definitely approve of the high RTP of this online slot which sits at 96.64%
Da Vinci's Treasure by Pragmatic Play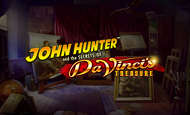 Okay, we may be stretching the theme association here, but, if you're just all about the gold, then Da Vinci's Treasure slot is the perfect option for you. There are some great characters in the game, but the best selling point of this online slot is how many bonus games are offered! It can be a little too much for some players, but anyone who likes the prospect of random bonus features being triggered at the drop of a hat (or a spin of a reel) will definitely appreciate that Pragmatic Play have cooked up with this online slot game! There's a reason why this online slot from Pragmatic Play is one of the most popular online slots around today. There's a good chance the high return to player rate of 96.53% is one of the main reasons for the popularity too!
Online Slots Similar To Gold Rush! Not Made by Pragmatic Play
If you didn't find that any of the alternatives we suggested from Pragmatic Play's extensive portfolio were quite your style. We've also looked into the portfolios from some of the other major online slot game providers who we feature regularly on Money Reels.
It isn't all too uncommon for game developers not to cover the same online slot game themes over and over again. They always like to make sure they have covered as much ground as possible to ensure that they are providing plenty of competition.
It is important to note that there are a fair few gold rush-themed online slot games, in fact, there are some online slot games which share the very exact same name as Gold Rush!
However, we're sure Pragmatic Play won't mind if you want to give some of these top alternatives a spin!
Gold Rush Online Slot Game by Playson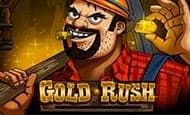 Playson's Gold Rush game provided plenty of competition for Pragmatic Play. The theme might be the same, however Playson went with an entirely different approach visually, there are many dark corners to explore on Playson's Gold Rush slot! It may look slightly dank, but there are plenty of bonus features which more than make up for this fact such as the expanding wilds and interactive features which help you enjoy some digging yourself! The interactive feature I made even more interesting as you will be able to choose which prizes you'd like to mine for. There are difficult mines to go down which will offer larger prizes but pay out far less frequently, or, you can always choose the mine which offers a greater chance of paying out, but you're guaranteed to walk away with a smaller prize!
Gold Rush by Rival Gaming
Fans of simple games are sure to appreciate Gold Rush by Rival gaming, it may be slightly dated – or should we say classic? Anyone who is having trouble transitioning from one-armed bandits should find plenty of reasons to love this slot which plays on a 3 x 3 reel grid and only offers 1 pay line.