Lost Island UK Online Slot
Play Now and Win up to 500 Free Spins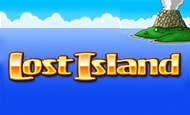 Lost Island is a 5 reel, 25 payline slot game with a 95% RTP. This UK Online Slot comes with Free Spins and you may reactivate exciting bonus up to 15 times!
Go to: All Slots | Fluffy Favourites | Fluffy Too | Fluffy Fairground | Wolf Gold | Shaman's Dream
Lost Island UK Online Slot
A very few numbers of UK online slots manage to find their way in mystic and adventure genre. Needless to say, these games manage to have a certain aura in them that qualifies them as an appealing and entertaining game for all.
Adventurous slots are entertaining and they have so much to offer not just from the perspective of the bonus feature that it holds but the game itself can be filled with many ideas. In simple words, a lot of adventure-themed slot games we know can have romance, action, treasure, and a lot of other things in it. Although a very few can be mesmerizing, entertaining and the kind of game that can make you feel that you're not just playing a slot game online but are also a part of the adventure. One of the very interesting game is going to be mentioned in this article.
Lost Island Developer - Eyecon
Eyecon is the software developer behind many classic slots, including Shamans Dream, Sugar Train, Stampede and Fluffy Too.
Because Lost Island is game filled with both adventures and mystery, a lot of games can make it into the category where they share the theme. Mystic Island is one of those games which remarkably resemble the Lost Island. The theme and the sounds are not alone the only similarity but the features are also somewhat like the Lost Island.
A Night of Mystery also makes it into the list for not just belonging to the Mystic category but also with horror and fun. Notable mentions also include Treasure Island Jackpots Casino, Dolphin's Island slot game, Crystal Mystery, Eastern Island UK slot and Kailash Mystery. All these games share a striking resemblance with Lost Island.
Play Lost Island Mobile Slot
Imagine yourself in a place which is claimed to have a secret treasure buried in it. You know it's there and you know that you're going to find it. The question is how are you going to that. A background that has a mystical atmosphere to it can easily manage to catch your attention in the mystery. Lost Island may very well be a slot game but starting from just the background it would appear that you are somehow in the island and are looking to fulfil your dreams of finding the treasure and mysteries in it.
Don't just take it from the background alone. The graphics, symbols, sound effects, the graphics featured in bonus rounds, all that sums up for the game to be not just attractive on a mystical and adventurous scale but it manages to help you feel as if you are participating in the adventure yourself.
  Let alone the apparent features, once your luck helps you win and score, you'll finally understand the worth and importance of the mysteries and treasure hid in the Lost Island. In simple words, the game is absolutely fulfilling its title and if you're looking for an adventurous and mystery game, Lost Island is a game you have to try.
Lost Island Slot Features
Here are a few things you need to know about the Lost Island:
The RTP featured in Lost Island is 95%. You can bet as much as €0.01 to 0.05 per line. The game has 5 Reels and 3 Rows but doesn't let such a minute and trivial number get to your wits. The game, at the end of every slot game, requires your luck and capacity to win. Aside from the symbols and their score, it is important to understand the relativity of the game's atmosphere. Only a single wild is sufficient to offer a handful of free spins and multipliers, that is if it manages to appear only. The multipliers can benefit the player depending on the number of the multipliers scored in the game.
The entertaining bit comes with Scatters. The more the scatters the more free spins you can get. You specifically don't have to land Scatters consecutively on a certain reel. All you need is at least 3 Scatters, to begin with. With 3 Scatters, you'll have the option to try 10 free spins. 4 Scatters offer 20 free spins and 5 with 30. It gets even better because if you manage to get more scatters in the free spin rounds, you'll be eligible for more free spins!
Lost Island by Eyecon offers a great deal of opportunity for players to try their luck. Starting with the graphics alone, they truly do capture the enchanted mystery that a mystic adventure game ought to offer. It doesn't quite end there to just the visuals and sounds. The game truly promises the expected score that any user is willing to accept. The game in the fairest possible way delivers exactly what the game's theme expects it to do. Lost Island may appear to be a game filled with mysterious prizes and offers but if you manage to get to the game's core, you'll see that you have, in fact, achieved a lot.
The features that compose the game's prizes and extraordinary offers are, without a doubt its multipliers, random boosts, and free spins. Scatters provide free spins and the number of free spins offers for Scatters is remarkable along with the number of multipliers. Often the mystic and adventurous games are not quite on the mark but Lost Island truly manages to land itself in a game worth praise and admiration. The game may appear to be minimal based on the very limited number of reels and rows but the game does promise the ones with luck extraordinary rewards and opportunities.
Lost Island Slot Game Review 2019
Similar games with features can be easily found on the internet. Lost Island may have a lot to offer to its players, nonetheless, there are numerous games that share the same features as Lost Island. The Haunted Horseman is one of the remarkable games that makes it into the list. Both Lost Island and the aforementioned game share the same RTP and are equally entertaining, not to mention sharing the same themes of adventure and mystic. Safari also makes it in the list for sharing similar features with Lost Island as far as the RTP goes.
If you're looking to find more games that have adventure and mystery in them, visit MoneyReels.com