Madame Destiny UK Online Slot
Play Now and Win up to 500 Free Spins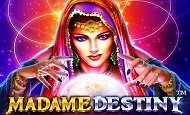 Madame Destiny is a 5 reel, 10 payline slot game with a 96.5% RTP. This UK Online Slot comes was released in June 2018 with SubstitutionSymbols, Free Spins, Multiplier and Scatter Symbols.
Go to: All Slots | Fluffy Favourites | Fluffy Too | Fluffy Fairground | Wolf Gold | Shaman's Dream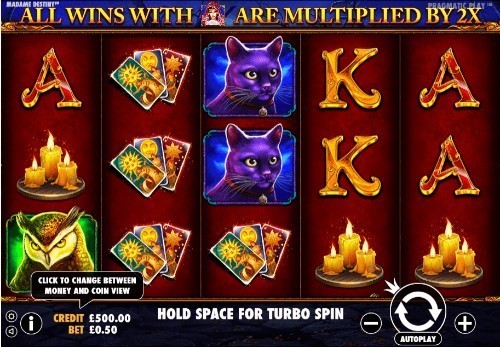 Madame Destiny UK Online Slot
There is something mysterious about fortune and luck about this UK online slot. Are they just a figure of probability as science would let us know or is it really something connected to a meta cosmical function that we are too primitive and naive to understand? Whatever your beliefs or ideas may be, one thing is for certain, we cannot control the functions of probability and we cannot be friends with luck. We do try to go for it and we always seem to chase it in different places. Sometimes we get what we want. Sometimes we don't.
Madame Destiny Developer Pragmatic Play
Pragmatic Play's Madame Destiny shares somewhat the very same feature that was mentioned in the previous paragraph. Perhaps Madame Destiny knows a thing or two about the status of luck and how people can find their rightful destiny. What is certain the fact that Madame Destiny can offer a lot of surprises and can bless the lucky one with plenty of rewards. All that it takes is the right time and, goes without saying, your luck on your side. Once you have those two factors, you can be the one with great luck and fortune. 
Madame Destiny UK Slot Features
Here is everything you need to know about the game and its details:
Madame Destiny is offered by Pragmatic Play and holds an RTP of 96.5%. The RTP concerning this game is needless to say quite impressive and is worthy of praise rightfully. This is being said not because of the theme but the game's RTP is perfectly just. As far as the other bits go, the game has 5 reels and pay lines. The game can be started with the minimum bet of £0.1 and can stretch up to as much as £50. The game offers very unique and rather mystical symbols that is a perfect way to pronounce this game to be a great mystical themed game. The traditional symbols include A, K, Q, J, 10, and 9. From A to K, the rewards are £6.25, £2.5 and £0.5 for scoring 5, 4, and 3 times respectively. The other symbols Q, J, 10, and 9 offer £5, £1.25, and £0.25 for scoring 5, 4, and 3 times respectively. A certain exception rather goes for 9 because it can offer £0.10 for scoring it 2 times.   
Moving on the more important symbols, there are Cards, Candles, Heart Shaped Perfume, Black Cat, and an Owl. These symbols carry a great deal of score. The Cards and Candles if scored 3, 4, and 5 times can offer £0.75, £3.75, and £12.50 respectively.  The Heart Shaped Perfume can offer £20, £5, and £1 for being scored 5, 4, and 3 times respectively. The highest can be achieved through the animal symbols, that is the Black Cat and Owl. Should you manage to find them 2, 3, 4, or 5 times, you can get £0.10, £1.25, £6.25, and £37.50 respectively.
Concerning the more important symbols of the game, the game's Scatter and Wild is to be concerned and you must look out for those symbols if you want to make the most out of it. The Wild Symbol constitutes the lovely looking Madame Destiny herself and Scatter is a magic ball. The Wild symbol can offer £450, £125, £12.50, and £0.5 for scoring 5, 4, 3, and 2 times respectively. The Scatter on the other hand offers, £250, £10, £2.5, and £1 for scoring 5, 4, 3, and 2 times respectively. Should you manage to get at least 3 Scatters, you can have not 1 or 2 but 15 free spins. It gets even better because if you manage to score Scatters in the free spin, you can still have 15 more free spins.
Play Madame Destiny Mobile Slot
At the end the verdict of this game is plausible and the game is true to its theme as well as its rewards. The game's RTP, for instance, is surely the kind that players look for in games sharing Madame Destiny's theme. While the mystic theme does bring out a charm in the game, not to mention waiting to catch a glimpse of the Madame Destiny herself, there is a lot more to the game than just the visual graphics. Some might say there are no bonus rounds or entertaining features that creative players mostly go for but that is not quite the case as far as Madame Destiny goes. The reason for this favour is because the game promises plenty of rewards only for those who try their luck at the right time. With a great Wild score and not to mention free 15 spins only by landing the minimum Scatters promises a lot about the game. Needless to say, there is no doubt that of all the Pragmatic Play's games, Madame Destiny is truly the game with the highest degree of variance.
Madame Destiny Slot Review 2019
All our winning and fortune is owed to a lot of things in practice. We owe it to our senses, our ability to understand the situation, but most importantly we rely on our luck to find out what we can do to achieve the most. It's not just limited to online slot games but every situation or game is dealt this way.