Montezuma
Play Montezuma Slot with 500 Free Spins at Money Reels
This historical slots game has been developed by WMS gaming and will reopen the history's pages for you in a very interesting and fun filled way. Slots having a history based theme are the best because not only do they teach you about different things but also are fun, entertaining and rewarding at the same time.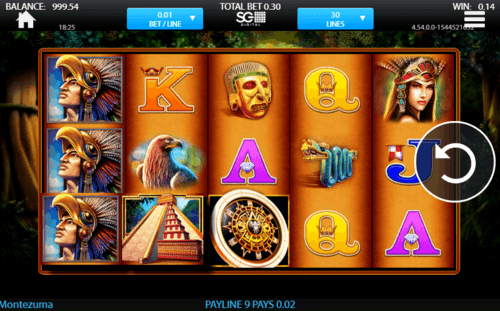 Montezuma Slot Game Summary
This slot will take you back into history right in modern Central American land where once the Mighty Aztecs ruled. The title of the game is derived from the Emperor's name Montezuma who ruled the Aztec Empire during the 15th century. Aztecs were an indigenous people of Central American land and initially consisted of only few tribes that were later on united and ruled these lands as a single nation. They were confronted by the Spanish who came with Columbus and later on were over run by Spanish expeditions. This slot takes you right into the heart of the Aztec empire where you will be seeing their culture, traditions and lifestyle in an up close fashion. Aztecs were considered one of the richest empires of their time thanks to their huge collection of gold and other precious resources that their kings stocked in the name of different gods. The Spanish and other people of the old world were also greedy after the rumours of this huge gold that the Aztecs possessed. You have got this chance in this slot now to inquire about the rumour and find out the truth yourself. If the legends are true then you can really change your destiny and get hold of a good amount of gold. This little history lesson will turn into a treasure hunting adventure. So be ready to live the Aztec life once again thanks to this slot, but don't forget that your aim is to collect the gold and not to be distracted by other things in the slot. There are many distractions as well in this slot which will distract you from your goals and aims. Be aware of the wandering Spanish patrols as well they are very greedy and up to no good even to travellers like you. You will have to watch after yourself otherwise you would find your reels and pockets to be of no monetary value. Test your luck in this historical based slot on Money Reels and see if you can win some Aztec rewards for yourself. This slot has an RTP of 95.86% and has got 5 reels with 30 paylines. An exciting historical treasure hunt awaits you in this slot. Don't wait anymore and try this slot now.
Why Play at MoneyReels?
✓ Free Spins on every £20 or more Deposits
✓ Win up to 500 Free Spins on First Deposit
✓ Up to 10% Daily Cashback
✓ 550+ Slots on Mobile, Tablet or Laptop
✓ Register and Deposit With PayPal
✓ 100% Safe and Secure
Join Now

Montezuma Slot Gameplay
Developers have focused the gameplay of this game to be around History and have tried to incorporate the element of fun and adventure with it. The theme is related to the Aztec culture and lifestyle in general while the gameplay not only gives you adventure feels but also a historical tour to this amazing land. Try to claim the great Aztec treasure or parts of it to make your fortunes spin as well with the reels. History has always been taken a boring subject by many but this slot will change the way you look towards history. History could be so rewarding? Nobody could have guessed that. This is the beauty of slots with a theme based on history. You will get to learn a lot about a specific topic while at the same time you will be spinning the reels and earning some historical wins. The genre of this slot is History. Background of this game shows a portion of the dense jungles of Central America.  The region which lied under Aztec control was mostly jungle and had thick green forests all over its terrain. The impact of jungles on the lives of Aztecs was very strong which is evident from their culture and their attires. The thick jungle is no place for the weak hearted. From wild animals to hostile tribesmen and the greedy Spaniards. This forest has all the possible evils you can imagine. So don't lose yourself in the greed of gold and step carefully into the forest as you search fore the Aztec gold. The music of this slot also uplifts the gameplay experience because it is related directly to the Aztec culture.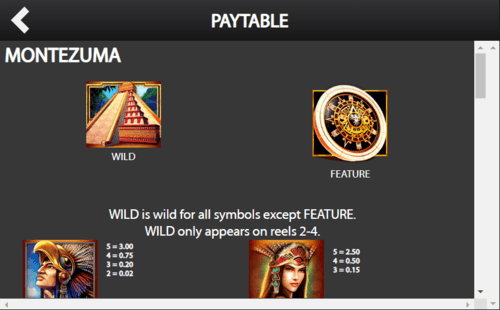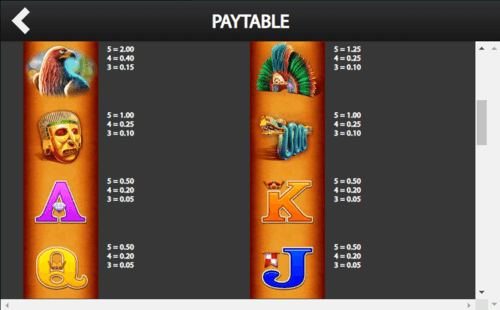 The animations which have been used in the slot will add more fun for you and give you a roller coaster ride of enjoyment due to the awesome graphics. Behind the slot thick bushes and trees are visible which are native to this area. The dominant colour that has been used is green and black to emphasize the thickness of the forest. The slot box is again a reminder of the great Aztec Gold and consists of a gold plated slot box. The border, background colour and the reels are all made up of pure gold which gives it a stunning view. There are two sets of symbols that have been used. The lower set is represented by the alphabets i.e. J,Q,K,A and 10 while the higher valued set is represented by a snake statue, a golden mask, a green headdress, an eagle, King Montezuma and his wife. The special symbols of the game include wild symbol and the scatter symbol.
Montezuma Slot Game Bonus Features
This game offers the following bonus features
Free Spins
Landing three or more scatter wheel symbols on the reels will trigger this feature. There will be a total of two wheels spinning where one will determine the number of free turns and the other wheel will determine the multiplier value for the total bet. This wheels are going to spin your fortune for you. Landing further symbols during the free spins will retrigger this feature.
Similar Games to Montezuma
WMS has greatly increased its fan base over the years thanks to the slots that it keeps producing. Other similar games that are quite awesome and having similar bonus features like Montezuma include Raging Rhino slot game, Zeus III, Amazon Queen, Lil Red Riches, Super Jackpot Party and Monopoly Big Event etc.
Top 5 Online Slots on Money Reels
1. Fluffy Favourites 
2. Starburst Slot 
3. Fluffy Fairground Slot 
4. Fluffy Too Slot 
5. Wolf Gold Slot