Star Raiders Slot UK Online Slot
The major desire players of online games seek for is an unforgettable experience and reward in the widest sense that will give them hopes for their bets. This exact feeling is what slot games from the stable of Pariplay inspires in you. Not just that, the thrilling and stunning originality of their product has no equal. 
Star Raiders Slot Summary
Star Raiders slot game is no different with its amazing 5 reel and 20 payline feature with 243 ways to play it. In the Star Raiders game, the features promises its players a great entertaining time.  Do you wonder where you can play this game with ease and convenience? Register at MoneyReels.com and let the fun begin.
Star Raiders Slot Gameplay
Star Raiders slot game possesses a modern outlook with a hi-tech scene across the background. It has electronic pictures around the spaceships that are on the reels. Again, the star sparks that are lurked in the sky and space vehicles usually move through as you play. This has a way of alerting you and keeping you aware of the criticality and urgency embedded in the game. The way the music plays is at a fast speed and is so pleasant to the ears. The symbols are framed in such a way that they have semblance with the space inventions. The symbols come in colours as purple, blue, gold, orange and green space ships that are in the middle with a wild planet.
The game is a 5 reel game and on the 5 reels and 3 rows, the player is given the less-valued icon A, Q, K, J, and 10 and also with the spaceships that comes with all of the colours. The flying saucer at the background is wild in this game and its icons is a replacement for other icons asides for the scatter icon which is Free Spins icon too. The wild icon brings an added energy as you journey through. Furthermore is a number at the right hand, lurking at the top corner of each the wilds. When this number lands, the wild icon will be triggered. When this is done, the wild remains stuck in a place for the number of that spin. It is usually from two to five spins. Five wilds on each payline awards 50x your stake. This is magnanimity at its peak! The symbols that pays the highest is the purple spaceship. It pays up to a thousand coins for five of its icons. The next spaceship that pays about six hundred coins is the green symbol. The blue and golden symbols pay close to three hundred coins and lastly is the orange spaceship that pays two hundred coins. The high cards have the lower payouts. You have the Jack that pays thirty coins. Again, is the Queen that awards about fifty coins and the king that awards up to seventy-five coins. The highest of symbols with a smaller payout is the Ace with a hundred coins.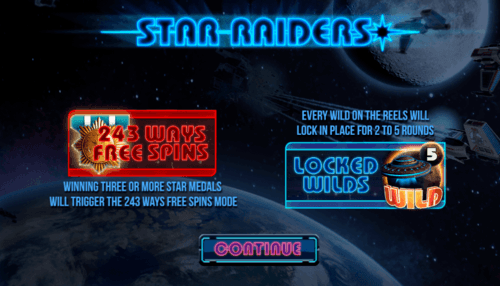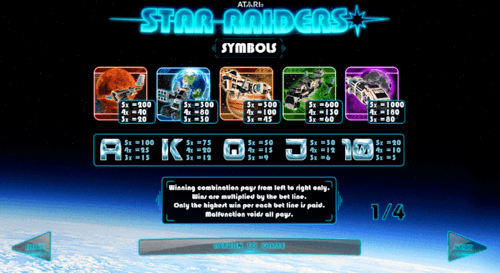 Star Raiders Slot Bonus Features
There are unimaginable bonuses in this game. As you dock three from the available Free Spins symbols in any position on the reels, you automatically trigger a very interesting feature in this game called the Red Alert Battle Mode (RABM). Once this is done, you are rewarded with 23 free spins that now appears as part of the 243 ways to play this game. This is really mind-blowing! More so, about 5 scatters will award you some other random number of free spins. What these free spins do is try to trigger another win. this feature can be re-triggered during play.
Interestingly, you can be a part of the fun. How? You can decide to ride from inside the ships as well and be a part of the fun by betting as low as  25 pence and running up to 13 pounds. Star Raiders slot game promises to take you through a mesmerizing and exciting adventure with modern and real characteristics that will keep you entertained with all the excitement.
Star Raiders Slot Developer
Pariplay is a gaming company that has been around for 8 years now. It was established in 2010 and despite the fact that the gaming company is quite new, you can attest to the fact that products and games from their stable are worth the hype. As the years came by, they have gained innumerable accolades and fame in and amongst their clients. Their development and innovation is widely and internationally spoken of. Pariplay is such a gaming company that cannot be doubted when they put their abilities and capabilities on a product. You can be sure you are filled with entertainment and modern ideas. Same with the quality of their themes and musics. Pariplay is surely a gaming company to be associated with.
Game with similar themes and graphics
There are a number of slot games that are similar in themes to the Star raiders slot game. It includes Strike Suit Zero, XenoRaptor, Bit Blaster XL, Voidrunner. Syder Arcade, Space thinger, Star hammer, Rodina, Wild guns reloaded, Reassembly, Dimension drive, The battle of sol and a host of others ones.
Games with similar features and bonus rounds
Games with similar features and bonus rounds with Star Raiders slot games include Immortal romance, Sugar pop, Gonzo's quest and more.
Gameplay on mobile vs desktop or laptop
Star raiders game can be played on the mobile, laptop or desktop and even on a tablet. There is no difference in the gameplay devices except for mobility and probably the wider screen that a laptop has. This wider screen is able to capture all details of the theme and features a bit more that on a smaller device such as the mobile phone.