The Goonies UK Online Slot
Play Now and Win up to 500 Free Spins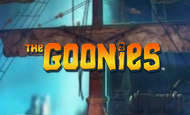 The Goonies is a 5 reels, 20 paylines online slot game by Blueprint Gaming. The Goonies has Wild, Multiplier, Free Spins, Bonus Symbol and Bonus Game features, and RTP of 96%. One Eyed willy's riches trigger 1 of 6 modifiers.
Go to: All Slots | Fluffy Favourites | Fluffy Too | Fluffy Fairground | Wolf Gold | Shaman's Dream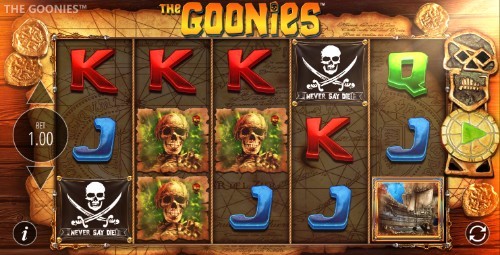 The Goonies

UK Online Slot

There are a few movies which will always remind us of the 1980s. "Ghostbusters" is one. "Top Gun" is another. If you liked science fiction, you probably loved "Back to the Future," but when it came to children's films, your experience of growing up in that decade wasn't complete without seeing "The Goonies." The charming adventure film has never lost its appeal and is still a guilty pleasure that some adults will watch 'with their children' whenever it turns up on television. Nostalgia is a powerful motivator when it comes to entertainment choices, so Blueprint Gaming has made a smart business move by adapting the film for the world of online slots.
Play The Goonies Mobile Slot
In case you're unfamiliar with the film's plot, the Goonies is about a gang of young misfits, united by their weirdness and the fact that all of their parents' homes are about to be demolished. They set out to try to prevent that, but through plot twist after plot twist, they find themselves drawn into a world of pirate treasure, bad guys, skeletons and underground caverns. It's every bit as over-the-top as it sounds, and it's worth a watch if you've never seen it. Why not get yourself in the mood for it by playing the slot game first?
Blueprint Gaming is known for the cinematic quality of the graphics in their online slots - especially their movie-themed ones, of which we have a few here at Money Reels - but their skills aren't instantly apparent in the base game of The Goonies. The reels are laid into the material of an old treasure map, and they're pretty basic. All the graphical flair will come later on in the slot, when you make it through into the bonus features. What may be lacking here in terms of visual attractiveness is made up for by the soundtrack, which sounds to us like it's been lifted directly from the film.
As is common with online slot games, the least valuable symbols on the reels are taken up by playing cards (J to A), but above them we have a set of scales, a pirate ship, a treasure chest, a skeleton and a Jolly Roger (the common nickname of the infamous pirate 'skull and crossbones' flag). The Jolly Roger stacks when it appears, which is a curious trait as it doesn't have any bonus feature applications.
There aren't a huge number of symbols or paying lines in the base game, which is common in Blueprint movie-themed online slot games. The slot is built around the bonus features, and so the base game is kept as simple as possible. To get into the bonus features, you'll need to find the bonus symbol. That's represented by the skeletal remains of One-Eyed Willy, who fans of the film will know was the captain of the good ship 'Inferno.' There's also a silver coin serving as a wild, which will substitute for everything apart from One-Eyed Willy.
The Goonies

Developer - Blueprint
Blueprint Gaming is backed by a German parent company, who decided to establish a base near Nottingham to further their goals in providing UK online slots. In their operations to date, they've shown a real knack for outstanding visuals, and they usually favour small base games with lots of bonus features. They have a range of licensed products in their catalogue, having worked with numerous bands, television shows, movies, and even the England football team.
Within the past twelve months, they've started making use of Big Time Gaming's 'Megaways' system, which has meant they've gone from making incredibly simple and standard base games to elaborate and complicated ones. If they can fuse that system to their bonus structure, they might change the game when it comes to what online slot games will look like in the future. You may try out King Kong Cash slot and Ted online slot from Blueprint. 
The Goonies Slot Bonus Features
This slot has been built using roughly the same template as 'Ted' - another of Blueprint's movie-themed online slots. Accordingly, there's a plethora of bonus features and reel modifiers to explore. The reel modifiers can happen randomly any time you spin the reels, whereas you have to earn the bonus features. That's done by landing three One-Eyed Willy bonus symbols on the same spin. Do that, and you'll be presented with a 'wheel of fortune,' which you then spin to decide which of the bonus features you'll be playing. We'll look at them first.
Landing on Skeleton Organ takes you to a new screen, where you'll be invited to select from an identical bunch of objects to find out what's behind them. This is a classic 'prize pick' bonus feature. Some of the objects are hiding multipliers, and one will take you through to One Eyed Willy's Treasure Bonus, which we'll talk about shortly. There are also Jolly Roger symbols hiding here, and if you find three of them, the feature ends.
Skeleton Organ is very similar in function to Fratelli Hideout, with the major difference being that you're looking for cash values instead of multipliers. Access to the One-Eyed Willy Treasure Bonus is still available through here, but so is an instant feature-ending 'exit' symbol.
The Goonies Slot Game Free Spins
This slot has three Free Spins features to offer, the first of which goes by the name of Goonies Go Wild. During the free spins, the slot chooses one of the high-value symbols at random and puts it to work as a second wild, meaning winning combinations should be easy to find. When your initial set of free spins ends, you'll be asked to choose from three copper containers. One of them will give you more free spins. One of them gives you access to One Eyed Willy's Treasure Bonus. The other, inevitably, exits back to the base game.
Super Sloth is another - almost identical - free spins feature that happens on a new set of reels. All the symbols on these reels are made up of characters from the evil Fratelli family except Sloth himself, who's a wild. The values of the symbols here are the same as they are in the base game. When you're out of spins, the same three copper containers will be presented to you as described above, with the same possible consequences.  
By far and away the best of the free spins features is Inferno Free Spins, because it offers you wild reels while the spins are happening. You might get one wild reel, or you may get two or three! Wins come thick and fast, and when the spins are over you'll be asked to choose from the copper containers again.
There's a good reason all the other bonuses can lead to One Eyed Willy's Treasure Bonus; it's the most lucrative feature in the whole slot, and can only be accessed either through the other bonuses or by striking lucky and getting all five of the bonus symbols on the same spin during normal play. It's another prize-pick feature, but the multipliers it's hiding are very high. Hit as many of them as you can without finding the booby trap symbol, because once you land on that your treasure hunt is over.
As well as all the bonus features, The Goonies offers players a range of reel modifiers which can happen on any spin. That means even if you can't trigger the bonuses, you could still be in for a treat on your very next spin. All of the reel modifiers are named after characters from the movie.
Mikey brings you his Hidden Riches, which translates as a reel turning wild next time you spin.
Chunk can give you Truffle Shuffle Wilds, and when he does it, he'll shake extra wilds onto your reels, sticking there for one spin.
Mouth's Lucky Coins are mystery symbols; they stick for one spin and then become matching symbols, hopefully making winning combinations when they do.
Data has a Colossal Symbol to share with you, fusing three of the reels into a 3x3 symbol. This can include the first three reels, which is a guaranteed big win.
The best of the modifiers comes from Sloth, whose Win Spin is a guaranteed win next time you spin the reels.
The cast wouldn't be complete without One-Eyed Willy, whose Bonus Boost adds more of his own symbols to the reels for the next spin and hopefully sees you through to the other bonus features.  
Whether or not you know and love the movie, this is one of the most action-packed online slot games you could ever hope to play. Don't take our word for it though - take it for a spin yourself!