Thor's Lightning UK Online Slot
Play Now and Win up to 500 Free Spins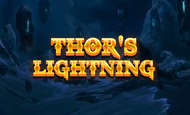 Thor's Lightning is a 7 reels, 10 paylines online slot game by Red Tiger Gaming. Thor's Lightning has Wild, Free Spin, Reel Modifier and Collapsing Wins features and an RTP of 96.08%. On any spin, the feature can be triggered and on random animal become wild, changing all its symbols into Wilds symbols for the current spin.
Go to: All Slots | Fluffy Favourites | Fluffy Too | Fluffy Fairground | Wolf Gold | Shaman's Dream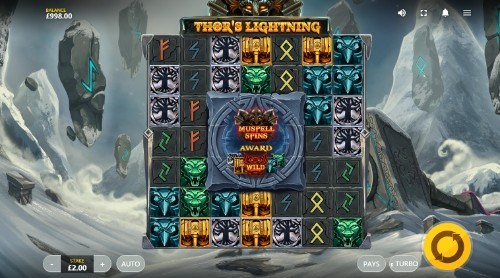 Thor's Lightning

UK Online Slot

We're seeing a lot of boundary-pushing ideas for online slots being released in 2019, and now we can add Thor's Lightning into the field. Red Tiger Gaming is a developer who exists to test the conventions of online slot games, and they're at it again with this 'Gods and Legends' themed release, which makes intelligent use of its expanded playing area to change the way we think about layouts. It comes off the back of their 2018 release Spin Town, which took the idea of wild symbols and turned them into something new.
 Play Thor's Lightning Mobile Slot
When we say 'expanded playing area,' we're not joking. Thor's Lightning comes with seven reels and seven rows, just-about squeezed into a truly stunning landscape with excellent visuals. We feel bad about saying this slot only has ten paylines, because it isn't really true - you could argue that it has hundreds or none at all. It's hard to define what should be counted as a paying line in this slot because it counts wins in clusters as opposed to lines. So long as five symbols match in adjacent spaces on the reels - the right to left left to right, or top to bottom - they will be counted as a win.
You won't get any prizes for guessing what the slot's major bonus feature is, because the words 'FREE SPINS' are printed right across the centre of this slot's grid. You'll have to reach it to trigger it, and it can only happen when you've managed to chain a sequence of wins together. If that sounds confusing, don't worry - it will all make sense by the end of the review. For now, focus on the beauty of the game world that Thor's Lightning creates - it's one of the prettiest slots in our whole Money Reels collection. The dynamic background changes from spin to spin and side game to side game, meaning the slot never looks tired or stale. Nothing on the screen stays the same for your whole game; everything is fluid and alive.
With a name like 'Thor's Lightning,' you know you'll be dealing with Norse myth before you even finish loading the slot. Every single symbol that appears on the reels comes from the tales and legends of Norse gods and their environment; the least valuable symbols are represented by colored runes, sitting behind an eagle, a wolf, the hammer of Thor and Yggdrasil (the tree of life) in terms of value.
While Thor's Lightning has plenty of bonus features, they're not activated by a bonus symbol. That means that unlike most modern online slots, there isn't a bonus symbol to look out for. There is, however, a wild - it's represented by Thor's warrior helmet, and it will replace any other base game symbol to make winning lines.
Thor's Lightning Developer - Red Tiger
Red Tiger Gaming is a young company, and they're full of the passion and energy of youth in their approach to creating products. They opened in the Isle of Man in 2014, and so had instant access to the UK online slots market. Although the company may not be very old, the people behind it have been drawn from various other online slots development companies; handpicked based on their experience and creativity.
Don't expect to find too may classic-themed online slot games under the Red Tiger Banner; they're far more interested in trying to find new ways to present slots, and building features that you won't find anywhere else. The last twelve months, with Thor's Lightning and Spin Town online slot, in particular, have seen them hit a new high when it comes to originality. If you'd like to try out one of their (slightly) less out-there slots, Cinderella's Ball slot is a good example.
Thor's Lightning Slot Bonus Features
You'll already have worked out that the main bonus feature in this slot is a free spins round, and it comes in two different styles. They're the only bonus features you can trigger from the base game, but if your luck's in you might find that Thor helps you out with a couple of reel modifiers.
There's also a Collapsing Wins system in place, which you'll be familiar with if you've ever played one of the 'Megaways' range from UK online slots developer Big Time Gaming. Every time you create a winning combination, each symbol involved in the win crumbles away, allowing new symbols to replace them by dropping down onto the reels from above. These new symbols will also be assessed for wins, and if there are any to be found then they, too, will crumble to dust. This carries on until the point there aren't any more wins to count up, and you can then spin the reels again.
We've mentioned that there are two reel modifiers, and the first of them is Thor's Lightning, which (obviously) takes its name from the slot's title. It's a literal title - Thor will use his supernatural powers to throw a lightning strike at your reels. All of the least valuable symbols will be destroyed by the shock, and in their place will appear either wilds or matching symbols.
If Thor doesn't feel like summoning lightning, he might be inclined to hit the reels with Thor's Hammer instead, knocking the symbols around into a new order and guaranteeing a payout. Again, low-value symbols can't survive the attack, and high-value alternatives will take their place.
Thor's Lightning Slot Game Free Spins
If you're waiting to find out how Free Spins work in this slot, the suspense is over. To trigger the round, you'll need a good cascade of collapsing wins, getting rid of the eight symbols which surround the 'FREE SPINS' core of the reels like a barrier. Once they're out of the way, the slot will randomly give you one of its two different takes on free spins features.
The first is called Valhalla Spins, named after the place that all heroes spend the afterlife according to Norse legend. The slot will randomly decide how many free spins you receive when the round starts, and they'll all happen on a new set of reels. The only symbol that can appear on these reels is a gold warrior's shield - the reels will otherwise be blank. When a shield does land, it will award you a multiplier and then stick in place for the remainder of the round. At the end of all your free spins, all of the multipliers are added up and then applied to your line bet, thus giving you a cash prize.  
The alternative free spins feature is called Muspell Spins. You'll once again receive a random number of free spins to begin with, and you'll find all the lowest value symbols have been removed from the reels, leaving you with only the best ones. If you know your Norse myth, you'll know that Muspell is the realm of fire. It's a hot place, and that's why there's lava pouring all over your reels as you spin. A lava shower will wipe symbols off the reels - which you don't want - but a full oozing lava flow adds matching symbols. This is a round that can both give and take!
Thor's Lightning feels fresh, and while not every new idea in online slots is a great one, this is. Players who like things a little more classic and traditional might not love it, but those looking for something new to try are likely to be pleased by what they find here.