Millionaire UK Online Slot
Play Now and Win up to 500 Free Spins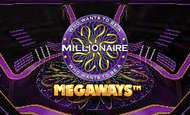 Who Wants To Be A Millionaire? is a 6 reels, 117,649 paylines online slot game by Big Time Gaming. Who Wants To Be A Millionaire has Scatter symbols, Multiway, Free Spins, Respins, Bonus Game, and Multiplier features, and an RTP of 96.27%. 
Go to: All Slots | Fluffy Favourites | Fluffy Too | Fluffy Fairground | Wolf Gold | Shaman's Dream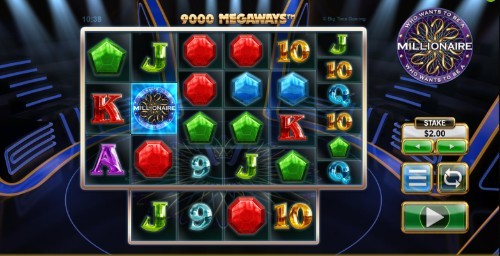 Who Wants to be a Millionaire UK Online Slot
It will take us a while to stop thinking of Chris Tarrant in the presenter's chair of 'Who Wants To Be a Millionaire?', But he's gone now, and he's been replaced by Jeremy Clarkson. A new presenter and a new era for the popular quiz show means there's also a new officially licensed slot game, which Big Time Gaming have been happy to create and release. There have been attempts to make online slots based on the show in the past, but we'll say right at the start of the review that this one has them all comfortably beaten.
Play Who Wants to be a Millionaire Mobile Slot
On the surface, you might not think that a television quiz shows make good themes for online slot games. After all, they rely on a contestant being asked questions, and therefore progressing through the game by giving correct answers. The Who Wants To Be a Millionaire slot doesn't do that - if it did, it wouldn't be a slot game. By the time you've taken a few spins of the reels though, you'll forget that anyone should be asking you questions at all. It manages to make you feel like you're part of the show without asking you a single thing.
A lot of the success of this slot is down to Big Time Gaming's signature 'Megaways' system, which allows for a huge amount of variation in the slot from one spin to the next. Who Wants To Be a Millionaire is a huge slot, with six reels and anywhere between two and seven rows on each reel. By using Megaways, the slot can provide small, medium or large versions of each of its symbols, and therefore vary the number and type of them on each row every time you spin, meaning no two games are ever the same, and things are never dull. The use of the system also means that at its maximum, the slot is offering you a staggeringly high 117,649 possible ways to win.
When it comes to graphics and visuals, the slot gives you everything you'd hope for. You're placed into the same studio the show is filmed in, with the audience and the presenter's chair visible, as well as the question stands. All the reels and rows are transparent. You may have noticed an additional row of symbols below the regular set - disregard them for now; we'll be discussing them in the 'bonus features' section of the review. If we turn our attention to the reels, we'll see that every single one of the slot's basic symbols has been directly imported from one of Big Time's other successful 'Megaways' slots - Bonanza. That's the only criticism we'll level at the slot - the importing of previously-used graphics is a little lazy. The least valuable symbols are playing cards going from 9 up to A, with four gemstones colored green, purple, red, and blue sitting on top of them.
We've promised you bonus features, so you're probably expecting there to be some bonus symbols to help to get you there, and you'd be right to! The slot's wild is a multicolored question mark, and it will replace any of the symbols in the base game to make winning combinations for you. There's also a scatter, represented by the TV show's logo, but that can only appear when it comes from that additional row, below the existing reels. To make space on the reels for it to appear, some of the symbols already there have to get out of the way. That's done by the first of the bonus features.
Who Wants to be a Millionaire Developer - Big Time Gaming
UK online slots hotshots Big Time Gaming has one foot in the world of online slot games, and the other in the world of video games. Their video-game style is obvious in the production of Who Wants To Be A Millionaire; the slot just wouldn't have looked this good in the hands of most other designers. They may have former Rockstar Games executive Ian Schmidt to thank for that, who now has an executive position at Big Time. All of Big Time's recent products look cutting edge and ultra-slick, with great graphics coming as standard.
The biggest contribution they've made to online slots isn't their slot games though; it's the 'Megaways' system, which marked them out as unique until they recently decided to license it to Blueprint Gaming. Players are getting used to seeing it used in slots like Chilli Heat slot game and Bonanza UK slot game now, but when it first came out a couple of years ago it was unlike anything that had been done before.
Online slots should be about taking everything that made physical slot machines great and adding digital innovation to them to make something bigger and bolder. Big Time Gaming understands that completely, and they're getting better at it all the time.
Who Wants To Be A Millionaire Slot Bonus Features
Collapsing Wins is the feature we're referring to, and it's as much a feature of Big Time's Megaways online slots as the variable reel and row layout. To put it simply, each time you make a winning line, the symbols that made it will crumble up and disappear. That creates a space, which is filled by the symbols on the extra row. Those symbols will then be checked against what's already on the reels and may make more wins. If that happens, the process will repeat itself.
The scatter symbol can only come from the additional row, and we'll warn you that it isn't easy to find in multiples. You have to get a little lucky with a sequence of wins to shake more than one of them out at the same time, and you need at least three to get the Free Spins feature up and running. Although it's hard, it's worth doing because it's the best part of the slot by a mile.
Depending on how many scatters triggered the round, you'll start either low down or halfway up the 'gamble ladder,' which is based on the prize money board from the TV show. Each rung on the ladder is worth more free spins. You can either 'take the money' and start the round with however many free spins you've earned, or you can gamble and face a 'question' to progress further up the ladder. You even get lifelines, as you do on the show! It's a lot of fun, but try not to get too lost in it and forget that you can lose all your free spins if you make a wrong move.
When you're happy with the number of free spins you're being offered, your free spins will begin. Every time a winning combination is made from within the free spins feature, an x1 multiplier is applied to your winnings. This is why it's worth going in with plenty of free spins; the longer you're there, the higher that multiplier will become.
This is as close as you'll get to playing 'Who Wants To Be A Millionaire' in slot game form, and it's a truly clever and well-executed product. We have no hesitation in recommending it - and yes, that is our final answer.