Blackjack Classic
Blackjack is an exciting, thrilling and intellectual cards game that offers you a chance to experience the excitement a table game can give. It was one of the very first games to make the big switch to the virtual world. The only difference between Blackjack online casino game and the traditional cards game is the freedom you get to play from anywhere you wish.
Blackjack Summary
Blackjack is one of the oldest and most popular card games of all times. As far back as the early 17th century, the game which was called twenty-one was already popular amongst folks in Spain. The game earned the name Blackjack after it was introduced in the United States.
The objective of the game is to beat the dealer. This is done either by scoring 21 points on your two first cards and also without a dealer Blackjack, thereby ending with a final score that is higher than that of the dealer without reaching 21 or allowing the dealer to draw more cards until the dealer's hand goes over 21. You can play Blackjack at MoneyReels.com.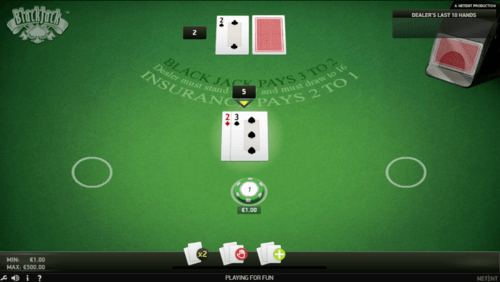 Blackjack Gameplay
As earlier mentioned, the game's aim is to defeat the dealer by amassing a count that is close to 21 without exceeding the 21 count. The 'face cards' which consist of the Queen,  the king, and the Jack are all rated ten. Aces are worth one or eleven. The sum total of the card values is referred to as a "hand's value".
You are required to place your bet before the deal begins. Your dealer begins by shuffling portions of the pack till all the cards are properly mixed. You will be dealt two cards that may either be facing up or face down. If your first two cards are an ace and a 10 card, which gives you a count of 21 in the two cards, this is referred to as a natural or "blackjack." If you have a natural and your dealer does not, your dealer will pay you one and a half of the amount of your bet.
However, If your dealer does have a natural, and then you do not, your dealer will claim all of your bet. If you and your dealer happen to have naturals, your bet will be regarded as a stand-off. When you are dealt cards, you will go first and will have to decide whether you want to stand (not ask for any other card) or "hit" (ask for any other card so as to get closer to 21).
Therefore, you may decide to stand on the two cards you were originally dealt or ask your dealer for more cards until you decide to stand on the total if it is 21 or below, or go "burst" if it is above 21. If the former is the case, you will automatically win. However, if the latter is the case, then your dealer wins and claims all the bets.
During a "double down", in an exchange for deciding to stand after you have received one more card, you will be permitted to increase your initial bet to about 100%.
Also, certain Blackjack games may give you an option to "surrender". This will happen when your dealer has checked for Blackjack. If you do surrender, you will lose half of your bet while the other half will be returned to you.
The combo of an ace with another card that is not a 10 card is recognized as a "soft hand". This is because you are able to count the ace as 1 or 11 and can decide to draw card or not draw. Meanwhile,  a 17 count is recognized as a "good hand" as you may decide to draw for a much higher total.
Blackjack Bonus Features
There is another offer on the online Blackjack game which is called the "sidebet." Side bets are additional fun. Some of the most attractive side bets are the ones that reward you if you can get a pair of cards before you get paid even more for a three of the same kind and also for a four of the same kind.
Blackjack Developer
Blackjack has been around ever since the early 17th century and was originally called twenty-one in accordance with the objective of the game which was to reach 21 points. The origin of 21 remains unknown but most people consider Spain as the place of origin. This is because the earliest reference to the game was found in a book by a Spanish author.
As far as online casino games are concerned, all major gambling developers have various versions of Blackjack that you can choose from. Popular software developers like Microgaming and Play Tech are not left out, with the production of the game Double exposure Blackjack and Blackjack Switch, respectively.
Games With Similar Themes
Blackjack is one of the many online casino cards games out there. Similar games include the following:
Baccarat: This game pits your dealer against you just like Blackjack. Its either you win, lose or you tie.
Pontoon:  Just like Blackjack, You need to make a count of 21 with the cards you are dealt with. If you exceed  21, you will go bust and lose the bet.
Poker: Poker is another card game that requires sound knowledge or strategy to play. The major difference is that as a player, you will compete against another player as opposed to playing against a dealer in Blackjack.
If you have enjoyed playing blackjack, you will probably like to play 25 card cash and casino hold'em as well.
Gameplay on Mobile vs Laptop/Desktop
These days, there are far more mobile gamers than desktop gamers. This means that the developers invest more of their time into making games for mobiles than computers. However,  there is no real difference between playing Blackjack on your smartphone or your computer. The graphics are similar, and the gameplay is also the same.