Nacho Libre Online Slot – IsoftBet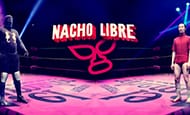 Pull on the mask, tie up the colourful cape and step into the wrestling ring in Nacho Libre Online Slots UK by online casino games designer IsoftBet, as there is a village of Mexican onlookers cheering and jeering and offering many chances to win real money on each spin of the reels. The backdrop to the reels displays an actual wrestling ring while the symbols are of each of the unique masked Mexican Lucha wrestlers, ready to fight. The gameplay is incredible immersive and when their symbol forms a win they come alive with quirky animations. Bounce off the 5 reels, 3 betting rows,10 fixed paylines to win, a nice and flexible wager span, an AutoPlay for a continual and back to back set of spins, and an average overall Return to Player of approx. 96.57%. While there is a Wild symbol that can lead to many win combinations in the main game, 3 or more Scatter symbols trigger the exciting Bonus Round. This then offers a choice of either 15 Free Spins with a Wild symbol that can be added or otherwise 10 Free Spins that remain locked on the reels for the entire round and thereby stand a better chance at forming wins.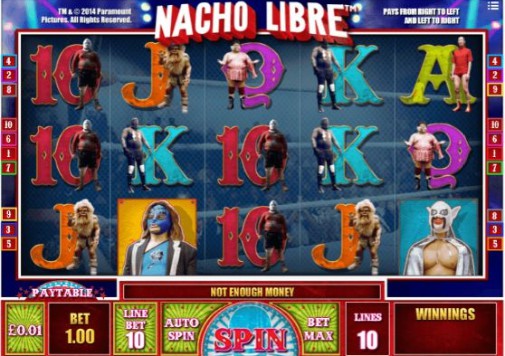 Lucha Rumble Online Slot – Eyecon Gaming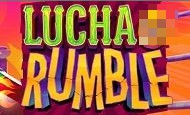 What is even more exciting than a Mexican Luchador wrestling match is a royal rumble Lucha match and, in Lucha Rumble online slot UK by the popular online casino games designer Eyecon Gaming, there are many thrilling rewards to literally unmask on any given spin of the reels. The background to the reels depicts a set of blaring stadium lights while the symbols are fittingly of the many different Lucha wrestlers. The backing music and sound effects, combined with the seamless gameplay, create an all immersive environment. This online slot has a giant 5 reels, 4 bet rows, a permanent 1,024 ways to win, a nice betting span between 10p and £12.50, an AutoPlay for nonstop and uninterrupted spins, and an averaged overall Return to Player of about 97.074%. This makes the slot of a higher variance whereby players are more likely to experience greater payouts that occur less often than smaller reward than happen with more frequency. There are 2 different Bonus Rounds that are activated by Scatter symbols and these consists of up to 25 Free Spins with x3 multiplier rewards per win as well as a Lucha Instant Prize Special Feature for multiplier wins of up to x100 your original wager.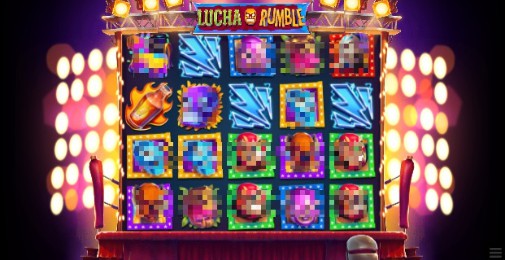 Lucha Maniacs Online Slot – Yggdrasil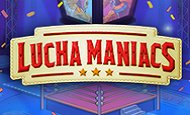 Find your most colourful mask, cape, and spandex as players are stepping into the ring in Lucha Maniacs Online Slot by one of the most recognized online casino games developers Yggdrasil, where the bell sounds out many thrilling rewards to be won. Yggdrasil is most famous for the incredible graphics and overall visuals of their online slot creations, and Lucha Maniacs online certain satisfies this with comical and cartoonish characters as well as an immersive wrestling ring backdrop. The wrestle proudly show off over the 5 reels, 3 wager rows, 20 fixed payways to win, an AutoPlay for consecutive and nonstop spins, a betting range that goes all the way up to £125, and an average and overall Return to Player of approximately 96.2%. There is also a unique 'Golden Bet' feature that will reveal extra special feature when active. What theses consist of are additional Wild symbols on the reels, greater Free Spins, sticky Wild symbol, only greater valued symbols on the reels, as well as x3 multiplier rewards. When at least 3 or more Scatter symbols land, there will be activated a special and exciting Bonus Round whereby players get to select from Luchador wrestler posters in order to either win 80 coins or 7 Free Spins.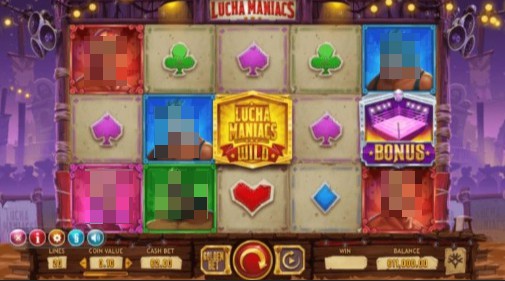 El Jackpotto Online Slot – Blueprint Gaming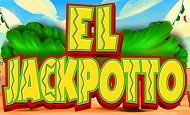 The comical and cartoonish Senor Burrito in El Jackpotto UK Slot by online casino games developer Blueprint Gaming, is living a dual life as a Mexican food vendor during the day and a masked Lucha Wrestler when the sun sets on his little village. Either way, he is serving up hilarious and generous portions of many amazing chance for large payouts. The reels themselves are creatively set again Senor Burrito's vendor truck, while the backdrop shows his sunny town somewhere in Mexico. Jump from the top rop onto the 5 reels, 3 wager rows, 20 fixed payways, a max of 100 AutoPlays for a consecutive gameplay, a huge betting range between 20p and £500, and an average and overall total Return to Player with an estimated of 96%. This makes this online slot of a medium to slightly higher variance. When 3 of the Senor Burrito lands on the reels, there will be 1 of 5 special features to choose from (which you can also trigger with buying a feature or gamble for a higher paying one). These comically includes certain features like smack an ass pinata for prizes, colossal farts, up to 40 Free Spins, and even a Big Money Bonus round of up to x10,000 multiplier awards.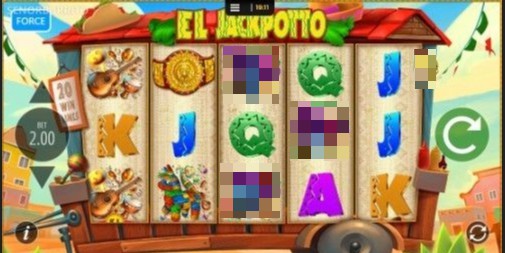 Lucha Legends Online Slot – Microgaming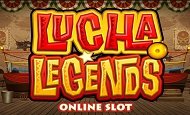 Players will never want to 'tap out' when they spin the exciting and colourful reels of Lucha Legends Online Casino Game by Microgaming, as there are many thrilling rewards to be won on any randomized spin of the reels. The backdrop shows a chop shop Mexican Lucha ring set up with posters of masked Lucha wrestlers on the walls. The symbols are of different, comical Luchadors of every shape, size, and costume. There are 5 reels, 3 betting rows, 25 fixed payways to win, a nice wager span between 25p and £37.50, a max of 100 AutoPlays, and an average estimated Return to Player of arounf 96.38%. Any symbol can become a Wild to create wins as well as 3x multipliers for the 3x multiplier for the Super Wild. A minimum of 3 Scatter symbols will trigger the Bonus Round with 10 Free Spins and only these Super Wild symbols appearing with the chances to reactivate the Spins. The highest prize on offer is an amazing 165,00 coin win which is a 2,200 multiplier reward.