Royal Charm
Royal Charm Scratch Summary
This scratch game by Pariplay was created as a kind of gathering for symbols of various themes that would prove very rewarding in their selected theme, therefore, making it some sort of meeting for the royalty. The game has no specific theme to it but rather takes on a more classical tone, from the music playing to the background in which the game is set it depicts that element of calmness in it. The scratch has no reels and paylines to complicate matters as most scratch games often don't but it does offer a variety of other ways to win with some of its features. We must emphasize that this online scratch game is not like your regular slot and doesn't have the conventional free spins, reels, and rows you are probably used to if you are a regular slot player.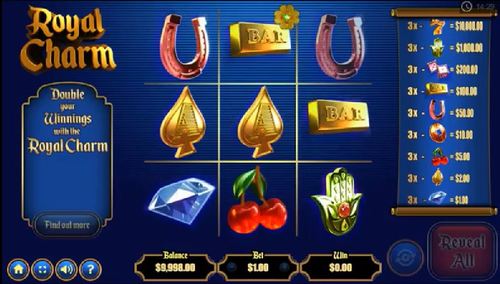 Royal Charm Gameplay
This scratch game is compatible with various mobile devices and so can be played at any time or place. This online game is set on a board with 3 rows and 3 columns against a background of blue and gold, therefore, furthering the royalty aspect of the game. You have your royal charm to your right which is used for picking out cards and the paytable which shows you the winning combinations.
The Return to player of the game is 85.00%. The maximum bet to be placed is £10 pounds while the minimum is set at 50p.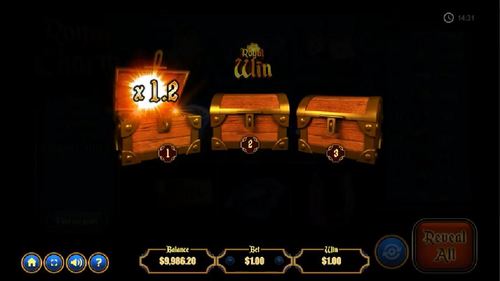 Royal Charm Slot Bonus Features
The playing of the game is very simple and basic with the matching of the symbols revealing cash prizes. The game does have a feature that enables you to win bigger, the lucky charm to your right is used to choose any square on the game before the game starts, this is where the aspect of luck comes in if you are lucky the square that you have chosen will be part of a winning combination. If this is so you get a chance to choose 3 treasure chests that will be presented to you with each one having a multiplier bonus with either a 1.2×, 1.5×, or 2× the original wager, therefore, making the game more fun and giving the player something to look forward to. You can check out this scratch game and so many others on this UK slots game site.
Royal Charm Slot Developer
Pariplay is one of the most technologically advanced gaming software companies around. They have over the years worked tirelessly to ensure seamless gameplay with all Pariplay developed games.  you will probably like to play Star Raders and Asteroids as well. They operate primarily across 5 platforms: Video Lottery, ilottery, Mobile on Premise, Social and the very popular groundbreaking iGaming.