Action Bank UK Online Slot
Play Now and Win up to 500 Free Spins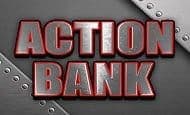 Action Bank is a 5 reels, 20 paylines Online Slot Game by Barcrest. Action Bank has Wilds, Scatter Symbols, Multipliers and Free Spins features, and an RTP of 96.16%. 
Go to: All Slots | Fluffy Favourites | Fluffy Too | Fluffy Fairground | Wolf Gold | Shaman's Dream
Action Bank

UK Online Slot

Action Bank is both old and new at the same time. The digital version of the UK Slot we're reviewing today was released by Barcrest in 2016, but if you think the screenshots look familiar, you might be right. If you've played physical slot games over the course of the past decade, you might easily have come across this slot before; it's been available for years in land-based casinos and bingo halls. It was so popular that Barcrest decided to digitize it and turn it into an online slot game in 2016. In the process of doing so, they've decided to give it a few extra bonus features to make it feel brand new again.
Play Action Bank Mobile Slot
They haven't tinkered with the presentation too much in the process, though. Action Bank isn't going to win any prizes for its graphics, because visually it's a faithful reproduction of the much older slot. Barcrest is a traditional online slots developer, and have never cared too much for cinematic graphics or slick animation anyway; they prefer to focus on the functionality of their online slots and ensure that players are having a good time when they choose to play one. Action Bank doesn't look clumsy, but it is blocky and solid when it comes to the visuals. The positive aspect of the design is that you can always see what's going on, and the symbols are easy to tell apart.
As is traditional of Barcrest and UK online slots from the 'classic' genre in general, the layout we're faced with in Action Bank is a 5x3 set of reels and rows, in which there are twenty paylines. You can get a sense of how old the original game is by counting the number of symbols in the slot; there are only four. Two of them come from the dawn of slot gaming; 'Bar' and a big, red lucky seven. There's also an X and an O, which sometimes makes the reels look like a tic-tac-toe board. The X is the lowest-value symbol in the slot, and the O is worth nothing unless you land all five of them on one spin. We'll explain why that's beneficial when we discuss the bonus features in a moment.
Action Bank comes with a wild symbol in the form of a joker, and he'll put a smile on your face by substituting for three of the other symbols to create winning combinations. The one he can't replace is the O, which functions as a scatter. Let's take a detailed look at the bonus features and tell you all about it.
Action Bank Developer - Barcrest
Barcrest has a great reputation among UK online slots players, but their popularity extends back far before the time of online slot games. There was a time when you couldn't walk into a pub, casino or bingo hall anywhere in the UK without seeing the Barcrest logo; they completely dominated the domestic scene when it came to providing physical slot machines and gaming cabinets. They were also one of the biggest names in all of Europe.
Times change though, and so have Barcrest. When the industry moved online, Barcrest decided to go with the times and start making online slots. In doing so, they attracted the attention of online casino giant Scientific Gaming, who paid big money to buy Barcrest out and add them to their own family of companies. They knew what the value of the name was though - especially in the UK - and decided to keep the Barcrest name alive and use it for the production of new online slots. A couple of years later, the development team came up with Rainbow Riches slot game and Rainbow Riches: Drops Of Gold slot which are the most popular of all the Irish themed UK online slots. Even though they're now someone else's property, Barcrest and their products are just a popular as they've always been.
Action Bank Slot Bonus Features
You've likely played online slot games before where landing three scatter or bonus symbols will open up the bonus features for you. Action Bank wants a little more from you than that - you need an O symbol on all five reels to get the bonuses triggered. That isn't as unlikely as you might think, though; as there are so few symbols to begin with, the chances of an O turning up on any individual reel are pretty high.
The inclusion of the bonus features is what makes the online slots version of Action Bank different from its physical predecessor. Neither of them exists in that version. If you've played and enjoyed the original Action Bank, you can consider these extra rounds a nice top-up on what was already there.
The first of the two bonuses is Free Spins, but it's free spins as you may not have encountered them before. To start with, you have to make a decision which will determine how many free spins you'll receive by choosing any one of the five golden vault symbols on your screen. The lowest number you could get is a miserable five, but the highest is the fantastic thirty! Don't be too disheartened if you get a low number; you can choose to gamble them if you wish, in the hope of winning more. If you do decide to gamble, have an awareness that losing will cost you all of your free spins, and you'll be returned to the base game to try to trigger the feature again.
Free Spins in Action Bank can be triggered again from within the feature if another set of O symbols appear. You'll also notice the addition of some new symbols while the feature is running; they look similar to the previous symbols, but they're worth double. Entering the free spins feature with a good number of free spins should mean that you'll have a nice pot of winnings by the time it's over.
The second bonus feature is arguably the one you should be hoping to get, and it's called Big Bank Bonus. If you opened the vault door of a real bank, you'd expect to see plenty of money and valuables, and that's the case here. Big Bank Bonus is a prize-pick feature; all you need to do is choose items from a grid, which is made up of a collection of precious jewels. The round will continue until you've won three of a kind, and your prize will be whatever's printed on your three matching symbols. Just as in the real world, diamonds are the most valuable of all the stones, and so if you have three of them, you'll be awarded 500x your line bet.