Ted UK Online Slot
Play Now and Win up to 500 Free Spins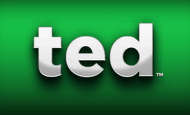 Ted is a 5 reels, 20 paylines online slot game by Blueprint Gaming. Ted has Wild, Scatter symbols, Free Spins, Reel Modifiers, and Bonus Game features and an RTP of 95.805%. Ted Can trigger randomly during any spin!
Go to: All Slots | Fluffy Favourites | Fluffy Too | Fluffy Fairground | Wolf Gold | Shaman's Dream
Ted UK Online Slot
We should probably put the sort of disclaimer here that you usually see on CDs or DVDs which contain swearing - Blueprint Gaming's 'Ted' slot is not for those who dislike abrasive jokes and drug references. Just like the movie it's based on, this slot is full of them. If you're reading this because you loved the film and want to know if the slot game based on it is worth playing, read on. If you're new to the hedonistic world of Ted, just be aware that he isn't the sort of teddy bear you'd want your child to own. If it's not for you then that's fine - that's why we have such a huge range of online slot games at Money Reels for you to choose from! We account for everybody's taste.
Play Ted Mobile Slot
Presuming you're still here, let's get into the meat of this review. The first thing we want to talk about is how incredible it looks. You seldom see a Blueprint Gaming slot with anything less than state-of-the-art visuals, but Ted is exceptional. The quality of CGI and animation would be worthy of inclusion in the movie. You should feel like you've walked into a living cinema the moment you load this slot up, but if you still need convincing Ted himself will welcome you to the slot. That won't be the last you see or hear of him, by the way - he has plenty of methods by which he might improve the way your game's going. We'll tell you more about that when we come to look at the bonus features! In the meantime he's catching forty winks at the bottom of the reels, having had one or five drinks too many at the party which is still going on behind the reels.
If you've played Blueprint Gaming's online slots before, you may already know that their standard approach to making online slots is to give you a simple base game, and then come in fast and hard with bonus features. True to form, that's the approach they've taken with Ted. The 5x3 layout is an industry standard, and 20 paying lines would be considered low under normal circumstances. If that's all there was to this slot we'd be disappointed, but there are so many ways to win from the bonus features that the number of paying lines doesn't matter.
The bottom four symbols in the Ted slot are J, Q, K, and A, and on top of those we have some elements of Ted's life making up the higher values; empty beer bottles; his bong, a pesky swan (you have to have seen the movie to get that), and a woman named Lori, who dates Ted's owner and just-about tolerates Ted. The top-ranking symbol is, fittingly, the logo of the movie.
As you'd hope for, you'll be seeing a lot of Ted as the slot progresses, starting with the wild symbol, which bears his adorable face. He can substitute any of the base game symbols to make new winning combinations for you, with one exception. That's the 'Thunder Buddies' bonus symbol, which functions as the scatter. Sadly, Ted doesn't sing the 'Thunder Buddies' song when it appears. That might be our only tiny criticism of this slot!
Ted Developer - Blueprint
Based down in Newark, Blueprint Gaming is the movie-theme specialist of the UK online slots market. As well as Ted, they've also handled officially licensed properties for 'Austin Powers' and 'The Goonies slot game' as well as many more. They have hard-earned reputations for producing fantastic graphics and innovative and exciting bonus features. In a crowded online slots market, those are great things to be known for.
The biggest news coming out of Blueprint recently is that they've agreed with a deal with fellow UK online slots developer Big Time Gaming to use their game-changing 'Megaways' system, which allows for dramatic variance in the way that online slot games look and function. They're still experimenting with their new acquisition, but recent releases like Primal Megaways slot suggest that they're getting to grips with it very nicely.
Ted Slot Bonus Features
Ted has a whole fleet of bonus features, and some of them don't even require any input from you. The features are divided up into reel modifiers and bonus side games, and the reel modifiers will occur randomly. We'll take the side games first, which are triggered by landing three of the bonus symbols. Ted will invite you to spin a wheel to decide which bonus feature you'll receive.
Anyone who's watched the 'Ted' movie probably likes the idea of going on a bar crawl with the character, and you can do that in the Bar Crawl Bonus, which is based on the 'Monopoly' board game. The further Ted gets around the board, the higher the multiplier applied to your line bet will be. The objective is to make it all the way around the board to collect the Big Money Bonus, but if the police catch up to him first, the feature will end.
Ted Slot Game Free Spins
If you're not heading out to the bars, you and Ted might be having a night in at home, in which case you'll need to hit the local store in Super Mart Free Spins. While the free spins are active, Ted will knock some wild symbols onto your reels from the shelves to help you out.
The second take on a free spins feature comes in Flash Free Spins, which is played on a new, expanded four-row set of reels. Each time you find a win, the multiplier applied to your next win goes up by x1. Getting on a good run here can lead to big money.
If Ted's wheel lands on Big Money Bonus, you won't get to play a side game, but we're sure you won't mind too much because you'll instantly win a large multiplier against your line bet.
Spinning one wheel may lead straight on to another if you land on the toilet-humor Wheel of Fartune. That gives you two choices - either accept a gift from Ted and find out whether he's hiding a cash payout or a free spins round, or spin the wheel of fartune to receive either a multiplier or the Big Money Bonus.
Even if you struggle to trigger the bonus features, you might get a reel modifier any time you spin the reels, and it will come in one of the following forms - all of which start with Ted waking up from his drunken snooze.
If he pulls out his Laser Gun, he'll fire it at the reels and turn any symbol he hits wild for the next spin.
With Psychedelic Super Spin, Ted will take a deep drag of his bong and blow magic smoke onto the reels, which causes several of the symbols to transform into Ted and then dissolve into matching symbols.
Beer Streak is the same as Laser Gun, only Ted's spraying beer onto the reels, and you get matching symbols wherever it lands instead of wilds.
Psychedelic Colossal Spin is more bong smoke, but this time you'll get a giant 3x3 symbol on the reels for your next spin. Psychedelic Bonus is very similar again, using the same method to deposit extra bonus symbols and increasing your chances of triggering the bonus features on your next spin.
If Ted pulls out the TV remote, he's not changing the channel - he'll hit pause and freeze the symbols involved in your most recent win where they are. The rest of the reels will then spin one more time and see if you can add to the value of that win.
Simply put, Ted is one of the best movie-themed online slots we've ever seen. It's impossible to get bored playing this slot; there's just too much going on, and the next reel modifier could only be a spin away.