Fluffy Too UK Online Slot
Play Now and Win up to 500 Free Spins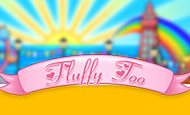 Fluffy Too is the sequel to Fluffy Favourites with a new Coin Pusher bonus round. This UK online slot has the same RTP at 95.39% and 25 Paylines.
Go to: All Slots | Fluffy Favourites | Fluffy Too | Fluffy Fairground | Wolf Gold | Shaman's Dream
Fluffy Too UK Online Slot
Eyecon has created yet another adorably themed slot in the Fluffy Favourites Franchise. There's plenty of the cute factor in the 5 x 3 slot which offers an RTP of 95.3%. Expect the same toy theme to run through the online slot, and once more they haven't failed to impress with their inventive bonus rounds which will switch up the gameplay!

Following up to Fluffy Favourites was never going to be easy, but it would seem that the game developer behind the famous franchise didn't struggle when they come up with Fluffy Too. Just when you thought their games couldn't get much more adorable, they pull out all of the stops with this game changing sequel.
The trick to the success what keeping a fine balance of what stayed from the original and what they would bring in to make the gameplay experience new and exciting even for those who have spent hours spinning the reels on Fluffy Favourites. You'll only have to spin the reels a few times before you start to appreciate that Eyecon's precision in the execution of Fluffy Too was nothing short of genius. Considering that Fluffy Favourites was released back in 2006 before it became an iconic game, you'd expect that plenty will have changed in the gameplay experience. And you definitely won't be disappointed.
If you're totally new to online slots and you aren't familiar with the former titles, and you're thinking that it just looks like an adorably sweet game, you're totally right. We'll introduce you to all the things that you'll come to love about Fluffy Too including the fun bonus features, the cuddly characters and exciting jackpot prizes.
One of the most distinctive unique selling points of Fluffy Too is the fact that the online slot really does keep it simple. With some online slots there are plenty of special symbols and up to six different bonus rounds, but with Fluffy Too, you can see that simplicity doesn't mean an online slot has to be boring.
As of 2019, there are plenty of online slot games already in the Fluffy Favourites franchise, but we'd have to say it makes a strong contender for the best one yet.
Play Fluffy Too Mobile Slot
One of the biggest changes to the online slot is where the background will transport you to. You'll step away from the fairground and take a little trip to a seaside resort which should be enough to send you on a nostalgia trip to your youth.
As with their other online slots, the graphics have been kept light and colourful. Some might say it's 'childish' but some may say it's light and breezy with the golden yellow sand and rainbows making the bright sky even brighter. Was anyone's trip to the seaside ever complete without you playing on penny slots and winning yourself a cuddly toy? Probably not. Although you won't be able to win any cuddly toys from playing the online slot you'll be able to win enough coins through the jackpot to buy yourselves hundreds or maybe thousands of cuddly toys for yourself!
When Eyecon pick a theme, they make sure that they go all out with it. So, you will be able to enjoy the theme in the music, on the reels and in the background. There'll be no alphabetical, numerical or standard slot machine symbols in sight on the reels.
With Fluffy Too, you won't see as many symbols as you do with Eyecon's other games such as Irish Luck, instead you will only see the adorable range of cuddly toys which have all taken the form of different wild animals.
Each of the symbols is worth a different reward if you are to match three, four, or five of them. Matching five of the lowest value symbol (goldfish and duck) will win you 100 coins, the rhino and the giraffe will win you 200 coins, lion and tortoise will win you 300 coins, while the panda and gorilla will win you 500 coins.
However, the symbols which you will really want to look out for are the pink dragon which can win you 1000 coins. But Eyecon got even more generous with the adorably squishy purple hippo, that charming little fella will win you 5000 coins if you are lucky enough to land five of them on the reels.
As with most Eyecon games, Fluffy Too comes with a wild card, in this case it is represented by the pink elephant – as it is with most of the other games. In Fluffy Too the wild will work in very much the same way as other wilds and replace each other symbol to help you form new winning combinations. But that's not all that Fluffy Too offers you with the wild. The wild will also double any win which it has been part of! The only symbol which the wild can't replace is the scatter symbol which will help you enter into the bonus rounds. Speaking of which, lets move onto the bonus features of Fluffy Too.
Bonus Features
If you're looking for an online slot which offers plenty of different bonus features, it's safe to say that Fluffy Too won't be for you. However, if you're looking for a simple online slot which offers some variable levels of excitement but keeps the game easy to follow and fun at the same time, look no further!
Fluffy Too really isn't a game that takes itself seriously, and you shouldn't either, revel in the childish simplicity of the game which allows to win significant amounts of cash.
There are two ways of winning Fluffy Too outside of matching the standard symbols in the game. However perhaps describing them as simple is unfair, maybe they are much better understood if we call them classic.
The first bonus feature to Fluffy Too is the free spins. Everyone loves free spins and no one is ever disappointed when they get to spin for free!
To enter into the free spins round you will need to find three or more pink elephants on the reels.
3 pink elephants = 15 free spins
4 pink elephants = 20 free spins
5 pink elephants = 25 free spins

But don't expect average gameplay when you're in the free spins round. As if you're lucky enough to get a winning combination in the free spins round, it is worth three times the amount you would see hitting your coin balance if you matched the symbols during the main gameplay. You really can't ask for fairer than that. Or maybe you could, considering that you can win even more free spins and re-trigger the feature while spinning for free.
Even though the free spins rounds may be a staple of online slot games, the coin pusher feature is definitely one you will only find with Fluffy Too.
If you find three or more of the scatter symbols you will be transported to the super exciting bonus round which will take you to a new screen and you'll see a tipping point-style game. We're sure you've already become fairly familiar with the style of game from your youth. The ones where you would insert 2p coins in the hopes of cascading the existing pile of 2ps. (did any one ever walk away from those things with any money left?) Obviously you won't be able to use 2ps to get your reward from the bonus round, instead, the bonus round will ask you to choose from different options and then you will reveal a prize. The best you can hope for with the Coin Pusher bonus round is a 100x multiplier which will be applied to your original stake amount when you entered into the bonus round.
Even if you don't win the 100x multiplier in this round, you'll still walk away with a multiplier to boost your coin balance.

Even though the main jackpot is earned in Fluffy Too through the main gameplay, there's still a lot of reasons to get excited when you are transported to a bonus round.
About the Developer - Eyecon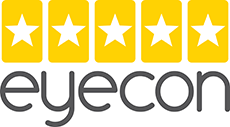 If you've spent any amount of time playing online slots, you're bound to have heard the name Eyecon before. There may be plenty of up and coming game designers around right now, but Eyecon's games have a very distinctive feel behind them. Which has a lot to do with the characteristic feel to their games. Their slots are always packed with personality and never short of a bonus feature or two. When you look at their bonus rounds, it is clear that they used to be heavily involved with videogames. In fact, that's how they first got started back in 1997 with their first ever game 'Gore'. It's safe to say they went in a totally different direction with their cuddly games such as Irish Luck and Fluffy Favourites.
It wasn't long until they released their first online slot, which came out in 2003 "Temple of Isis". Of course, back then the prospect of an online slot game seemed fairly alien to everyone! But they created the curve for the online slot industry. It wasn't until 2006 when Eyecon released Fluffy Favourites that the world really started to take notice of what they were cooking up in their headquarters which are located in both the Channel Islands and Australia. They're by all definition a global company.
There are currently 60 online slots in Eyecon's portfolio, although they have been cranking up the production rates in recent years, so you can expect plenty more from Eyecon in the coming years. A much more impressive statistic in relation to Eyecon's slots is the fact that in 2018 the reels were spun over 6 billion times. That's 11,500 spins every minute!
Here's what Eyecon had to say about Fluffy Too
"As you may know, Fluffy Favourites Slots is one of the most popular online slot games around. And now you can enjoy the sequel just as much!  Fluffy Too Slots is full of the cutest and most cuddly animals just like the original, and it has a nostalgic and fun fairground background theme. There are FREE spins and multipliers, as well as an incredible jackpot to be won! Fluffy Too Slots is simply irresistible, so start spinning today. Don't miss another minute! Good luck!"
Similar Games To Fluffy Too Made by Eyecon
It really should come as no surprise that we will be covering the other games in the Fluffy Favourites franchise in this section, because, well, you really couldn't get more similar! There are definitely plenty for you to choose from. We'll try to highlight the pros and cons the best we can.
Fluffy Favourites by Eyecon

We were always going to kick off this list with the original which was released back in 2006. No matter how many sequels are released, the charm to Fluffy Favourites is never going to be lost. Even though by any standards the graphics are extremely dated, there is massive amounts of appeal to the slot game which allows you to play from just 1p! Fluffy Favourites was definitely made with the budget players in mind. The bonus round here is the prize picker round which was also inspired by traditional arcade machines. It's pretty much similar to Fluffy Too slot game in every possible way. It even has the same RTP of 95.3%.
Fluffy Favourites Fairground by Eyecon


This online slot came a little later than Fluffy Too and it definitely provided plenty of competition for Fluffy Too. Eyecon really showed how their talent and tech have evolved with Fluffy Favourites Fairground. While you were only able to enjoy the fluffy characters in 2D in the previous slots, with Fluffy Favourites Fairground UK slot you get to see the cute characters in all their 3D glory. This time, the bonus round is a hook a duck style game, and as you can expect by the name, it's set in the fairground. Expect a very similar set up to Fluffy Too, just with a little aesthetic polish.
Fluffy Favourites Bonus by Eyecon


In the Fluffy Favourites franchise, they are fairly guilty of giving away just what the game is about in the titles. So, as you could expect the emphasis on this game is on the bonus rounds. It seems like they got feedback from their players, and they decided to create a game for reel players who adore bonus features. Even though Eyecon have already created some of the cutest bonus rounds ever, this time they've gone the extra mile. But don't expect your average online slot, nope. It's a digital scratch card where you will need to pair up the toys which you grew to love from Fluffy Favourites slot. Once the cute and cuddly characters have been matched up, they'll disappear. The most exciting part of this game Is the fact that you can win up to 10,000x your original stake amount. If that's not enough to make you try out the game then I don't know what would be!
Similar Games To Fluffy Too Made by Eyecon
As we've already said, no one does cute and cuddly better than Eyecon. However, that hasn't stopped plenty of game developers giving it a go. Whether they match up to the expectations which Fluffy Too set, that's for you to decide.
There are literally hundreds of cute online slots out there, so it can be a little daunting to go out and find an alternative for yourselves, so we've done all the hard work for you and found three of the best cute slots which are full of charm but slightly mix up the gameplay.
Big Top by Microgaming

If you're looking for a colourfully cheery online slot from another developer other than Eyecon, then the next best option will definitely be Big Top from Microgaming. They may not be as well renown as Eyecon, but they are certainly on their way with a little help from adorable slots such as Big Top slot. Once again you will be greeted by adorable characters in the setting of a fairground. However, Microgaming recognises that there is much more to the fair than fluffy toys! So, this is why they have included other circus acts and clowns in the online slot. However, it has to be said, Microgaming didn't quite succeed when it came to matching the charm of Fluffy Too or the other games in the franchise. But if you were looking for an alternative, here you are!
Teddy Bear's Picnic by NextGen


There is absolutely no denying that NextGen's slot Teddy Bear's Picnic is adorable. So if the cute factor is a big plus for you, you definitely won't be disappointed. The game developer took some inspiration from the
children's nursery rhyme which has been around since 1907
. Maybe Teddy Bear's Picnic will also be around in a decade? While that doesn't seem likely, the online slot is still popular enough today. As similar to Fluffy Favourites and Fluffy Too as the online slot is, there's definitely no impression that NextGen have straight up copied Eyecon. The gameplay experience is just all too cute, you'll need to help the teddies that you are sure to fall in love with find everything they need to have their little picnic. They have even managed to lose some of their party. If you help them out, you can win some pretty significant prizes. The only element of this online slot which slightly lets it down for many online slot players is the unimaginative bonus rounds. But when the theme is this cute, who is complaining?
Furballs by Core Gaming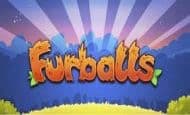 The creatures brought to life in the Furballs online slot by Core Gaming are brought to life in a fairly creepy way. Instead of looking to different animals for inspiration for the symbols, Core Gaming dove into science fiction to find truly alien creatures. But in creating the game, they also proved that aliens can be pretty cute! Although, how cute they are may quickly become a problem, as you will need to destroy them in the bonus rounds! If you can live with that, you will be able to enjoy plenty of fun features and win some pretty nice chunks of cash too!

Fluffy Too On Mobile
Given that Eyecon have been at the forefront of every technical revolution if they were to fail at optimising their games for mobile play something would definitely be amiss. But, as you can expect, you will be able to play Fluffy Too wherever you are!
The characters look just as sweet on a four inch screen as they will on your desktop or laptop. As long as your device has the ability to support HTML5 games, there will be absolutely no issue for you.
It wouldn't even be a stretch to describe the gameplay of Fluffy Too on mobile as perfect! The graphics are still as clear as they are on a larger screen, and you definitely won't get the sense that you're missing out on anything.
One slight difference is what you will get from the background on mobile is what you see with the background is slightly different as you will get to see much, much more of the background – helping you to drink in even more seaside nostalgia!
Fluffy Too News
As you would expect, there has been plenty of hype since the release of Fluffy Too, not all too many online slots make the news. Maybe they don't make for the best clickbait titles? But anyway, Fluffy Too made the news not for winning any awards or being one of the most popular slots around right now, nope.
The game was featured in a list curated by Daily Mail on ways to cut down on stress in your lives! We're definitely inclined to agree with them. Playing Fluffy Too is nothing short of cathartic.