Scratch Big Foot
If you have ever gone camping then you most likely must have heard about the myth of the Bigfoot which was used to scare children at night, well the people of NextGen decided to do a scratch game based on the theme and it came out wonderfully.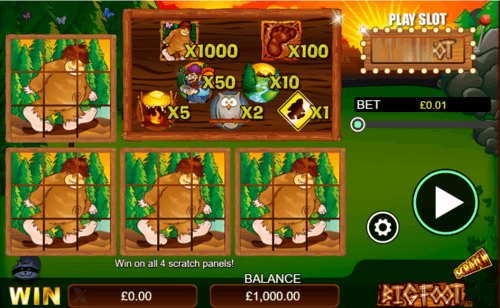 Scratch Big Foot Summary
This scratch game was designed entirely for the purpose of being fun which is contrary to the story being told about the theme which has been a cause for the majority of sleepless nights and nightmares experienced by kids. The scratch game is a very easy to learn game that has a lot going for it with various amount of prizes to be won on it. On MoneyReels.com the game can be played from anywhere at any time and is accepted by various mobile devices. The game might not have a lot of bonus features but it does have a lot of other things to attract players that is if the color and flashiness doesn't attract them already.
Why Play at MoneyReels?
✓ Free Spins on every £20 or more Deposits
✓ Win up to 500 Free Spins on First Deposit
✓ Up to 10% Daily Cashback
✓ 550+ Slots on Mobile, Tablet or Laptop
✓ Register and Deposit With PayPal
✓ 100% Safe and Secure
Join Now

Scratch Big Foot Gameplay
The game is designed in such a way that even if you have never played any casino-related game you will be able to play it. It has a certain ring to it that keeps the players coming back for more each and every time even though it doesn't offer that much. This online scratch game with 3 rows and 3 columns is said to be a very good game. The idea behind a scratch card is that it is supposed to be an easy to play game with not too many bonus features and reels to complicate the gameplay, so you actually shouldn't be expecting a scratch game to pay up to a regular slot. The game offers a return to player of about 90.86% which is a little below average but again based on the fact that this is a scatter game it can also be said to be pretty high.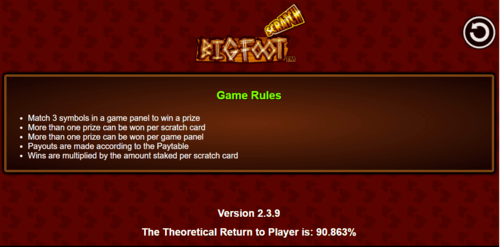 Scratch Big Foot Bonus Features
The game has no bonus features but it does have some features that present you with a big chance of winning big. Symbols like owls, bigfoot symbol, footprints, valleys and some other great rewarding symbols. The way of winning is by matching the set of symbols with the bigfoot symbol being the highest paying symbol offering a return of 1000× your initial stake. The game follows the same logic as most other games before it the higher you bet the bigger your payout is going to be with the game favoring all spinners be it high spinners or average rollers with the betting range going from as high as £200 to as low as 20p.
Scratch Big Foot Developer  
Founded in 1999, NextGen is headquartered in London with branches in both Stockholm and Sydney. They are an international organization whose sole aim is to ensure online casinos, as well as physical casinos, have enough content to feed their subscribers. In other words, creating and developing not just mediocre games but top notch, technology cutting slots for consumers is their priority.
NextGen, however, is more business-minded than other giant developers which we know. Knowing that they have made a name in the gaming market, and to increase their profits, NextGen licenses a whole lot of their games to other software developers like Playtech, Bally Waulf, Aristocrat and the other big names.
Another thing NextGen is loved doesn't which has made them so popular is the fact that about 99% of their slots are adapted for mobile play. Playing a NextGen  is like the easiest thing to do, just pick up your mobile, head on to MoneyReels.com and like magic, you can play any of their games.
Like you would notice in Scratch Big Foot, NextGen is also known for having the perfect blend of free spins, scatters, bonus games and they go out of the way to trademark certain features like the "Select A Play" function which you only find in NextGen games. If you've ever played Doctor Love slot game, 300 shields or 1 can 2 can uk slot then you've had a taste of what NextGen top slots are like. 

Games with similar theme/graphics
A very similar game to Scratch Big Foot is The Legend of Big Foot by gaming company Bacrest. This slots from both Bacrest and NextGen centers greatly around the Big Foot legend in all its glory. They share similar icons and symbols both on the reels and around the screen. We see the Giant Big Foot icon which sits on the screen in both games. If we didn't know better, we'd say both games were developed by the same set of people. You really should try it out and let us know what you think of both games. These two slots are guaranteed to win you real money online instantly.
Games with similar features/bonus rounds
Just as they share similar themes and graphics, both Scratch Big Foot from NextGen and The Legend Of Big Foot from Bacrest share similar features and bonus rounds. Like we said earlier, playing this two slots feels like playing the same game only with slightly different payouts. The bonus rounds, free spin options and scatters available in both slots are very similar. While we are not surprised about NextGen's generosity ( bonuses are their specialty), Bacrest really dug into the Santa hat to throw out bonuses on this game.
Gameplay on mobile vs desktop/laptop
This game from NextGen is available to play on both desktop and mobile. The truth is, whether you are playing this game on your mobile or on your desktop, you would rarely tell the difference seeing as NextGen seems to have mastered the art of making their games compatible on most devices while not shortchanging gamers. The only real difference you may notice is the change in graphics size on your phone and this wouldn't be a problem especially if you are used to playing games on your mobile. Apart from that, we would say the mobile version is perfect.  
Top 5 Online Slots on Money Reels
1. Fluffy Favourites 
2. Starburst Slot 
3. Fluffy Fairground Slot 
4. Fluffy Too Slot 
5. Wolf Gold Slot