Fluffy Too Jackpot
Play Now and Win up to 500 Free Spins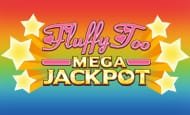 Fluffy Too Jackpot is a 5 reel, 25 payline slot game with a 89.9% RTP. This UK Online Slot comes with Free Spins, Scatter Symbol and Jackpot feature.
Go to: All Slots | Fluffy Favourites | Fluffy Too | Fluffy Fairground | Wolf Gold | Shaman's Dream
Fluffy Too Jackpot UK Online Slot
If you've never played any of the Fluffy series developed by Eyecon, you probably have been missing. Nonetheless, it is not too late since Eyecon has released another edition of the Fluffy games, and this time, you'll have the opportunity to play with fluffy toy animals featured in the game. For old-timers, all your favourite animals were featured in Fluffy Too and more new animals were introduced. Therefore, enjoy the breezy, bright and playful feels that come with playing any Fluffy slot game!
Fluffy Too Jackpot Developer - Eyecon
Eyecon, an Australian based company is the developer of the wonderful Fluffy Too slots. Born in 1997, Eyecon has successfully developed and released more than 70 games. In recent times, the company has optimized its games for mobile device users, making it easier for lovers of Eyecon games to play their favourites with more convenience. If you have enjoyed playing the slot games from Eyecon, you will probably like to play Fluffy Favourites Fairground Jackpot and Fae Legend Warrior slot game as well.
Play Fluffy Too Jackpot Mobile Slot
Fluffy Too is an online casino slot games featuring 5 reels and 25 paylines. It is themed with a background of summer carnival by the beach. Fluffy Too is an accessible game with bets ranging from 0.01 through 0.50 for each payline, and you can bet a maximum of 12.50 in one game. The auto bet feature is equally available if you feel like sitting back and relaxing while the spins roll by themselves.
Animals featured in the game are the dragon, clownfish, lion, duck, turtle, rhinoceros, giraffe and panda. Each of these creatures has some prizes to offer you, no matter how small the prizes may be. Nonetheless, the fluffiest of all the prizes will come into play when coming in contact with other special features in the game.
Fluffy Too online slots are available for play in demo version and for real money on some UK online casinos like Money Reels.
Fluffy Too Jackpot Slot Features
Coin Pusher: Eyecon has released series of the Fluffy game, but Fluffy Too stands out amidst its predecessors with the coin pusher feature. The feature is activated when a minimum of 3 scatter symbols land on any active reels. Each of the scattered symbols in the winning combination on the active reels will let you have a pick, and each of the picks has a value on it – the value that can rise to the too of 100 times multiplier on your total stake.
Progressive Jackpot: Like the other series of Fluffy, the jackpot in Fluffy Too is a progressive Jackpot, which increases each time the game is played, but the value wouldn't be claimed.
Pink Elephant: The wild symbol in Fluffy Too is the pink elephant.  And like the case is in other games, the wild symbol can stand in or replace other symbols to form a winning combination aside the scatter symbol. The wild symbol is also capable of doubling your total prize. In addition, when you land 3, 4 or 5 of the wild symbol on any active reels, you will be awarded free spins. 3 wild symbols will earn you 15 free spins, 4 wild symbols will earn you 20 reels, while 5 wild symbols will earn you 25 free spins.
Integrated Gamble: After you completed a spin successfully, then you'll have the opportunity of selecting the integrated gamble to increase your winnings up to 5 times in a bust format or in a traditional way.
Fluffy Fortunes: Wins in the game will be multiplied instantaneously by the amount you wagered per line. Also, paylines will pay from left to right. Bet from the range of 0.01 to 0.50 can be staked per payline and per spin, making a total of 12.50 per game. If you are the type of player who is used to staking more than the available amounts in Fluffy Too, you can explore the auto bet option. With the auto bet option, you can select consistent spinning for 10, 20, 50 or a maximum of 100 games. Simply set up the auto bet to your desire then watch as the games are played automatically.
Beautiful Theme: As it has been mentioned earlier, Fluffy Favourites is themed with a summer carnival by the beach. A number of toys that appeared in the previous series of Fluffy are present in Fluffy Too, plus a pack of new animals. The animals that featured in the previous series of the game are the turtle, dragon, clownfish, lion and the duck. The newly introduced animals are the giraffe, rhinoceros and the panda.
Fluffy Too Jackpot Slot Game Review 2019
As much as you may dislike machine slots, you cannot help but fall in love with Fluffy Too and its other series. Why? Because even if you do not really like slot games, you will like at least one of the toys (animals) featured in the game. If the duck isn't your favourite, then you will probably prefer the giraffe. If not the giraffe, what of the pink elephant? You will definitely like one of the featured animals.
The game is packed with a lot of features; like the progressive jackpot, coin pusher, integrated gamble, and others.
If asked, what makes Fluffy Too different from its other series (its predecessor)? The answer to that lies within the coin pusher option in Fluffy Too. The coin pusher option is initiated when 3 or more scatter symbols appear anywhere on any active reels. A player gets one pick for every scattered coin (with the combination that initiated the game inclusive). Each of the picked coins has a value it holds. And if you are lucky enough, you can select the pick that gives the highest value in the form of 100 times multiplier on your total stake.