3 Blind Mice UK Online Slot
Play Now and Win up to 500 Free Spins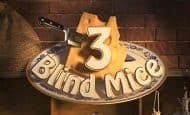 3 Blind Mice is a 5 reel, 20 payline slot game with a 96.16% RTP. This UK Online Slot comes with Bonus Wheel, Bonus Symbol, Sticky Wild and Wild feature.
Go to: All Slots | Fluffy Favourites | Fluffy Too | Fluffy Fairground | Wolf Gold | Shaman's Dream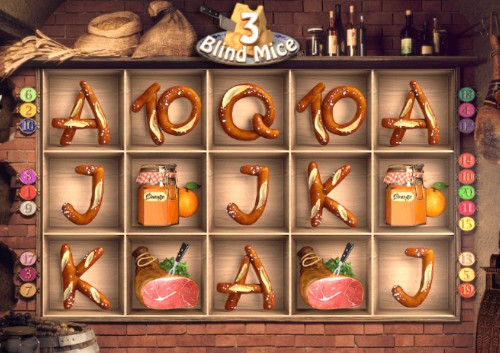 3 Blind Mice UK Online Slot
3 Blind Mice is one of the well known online slots game which is brought to you by Sun Fox developer. This game is designed with 20 fixed lines, 5 reels and 1000 coins. Enjoy this fantastic slot game on Moneyreels.com and have fun!
3 Blind Mice Developer -
Sun Fox
Sun Fox has been able to develop an attractive and innovative game library in this short time. Since their launch, they provide only high-quality video game machines and are much appreciated. 
With own math behind the slot machine sequences, Sun Fox has developed a unique and exciting game. Sun Fox will immerse you in a new world. Of course, they also offer something for fantasy lovers or even rockers, with a hard shell and a soft core. You may have a try Cash Mix slot from Sun Fox.
Play 3 Blind Mice Mobile Slot
As far as 3 Blind Mice game is a concern, Sun Fox has created a truly unique platform that along with advanced graphics, guarantees a dynamic gaming experience and ease of introduction to online casinos. Furthermore, the animations and graphics in their video game machines are thought through to the smallest detail and beautifully implemented.
The game 3 Blind Mice is presented with a dynamic and attractive interface and the graphics and animations found in the game are excellent. The game has 20 fixed lines, 5 reels, and 1000 coins. The average theoretical return (RTP) for the player in online slot 3 Blind Mice is 96.16%. Get 2, 3 or 4 cheese symbols in a horizontal line to activate a bonus round. When a mouse symbol reaches the Farmers Wife bonus symbol on roll 3, the entire roll will become an extended wild card and incomplete pay lines will be completed.
3 Blind Mice Slot Features
Hit the awarded number of mice with the hammer and win a cash prize for each hit or an additional number of hits. Play the number of throws you've won to get as far as you can in the bonus game 'Big Cheese Trail'. The further you get, the more you earn. The highest multiplier won when you run out of dice rolls is the one you will actually win. You can win additional dice rolls and advancements along the way. If you reach the 'Big Cheese' fortune wheel at the end of the road, you will have a huge guaranteed prize!
Enjoy a slot machine created by the company Sun Fox entitled 3 Blind Mice and you can unlock eight additional features where you can win a prize of 500 credits. 3 Blind Mice the video slots game has a 20 exciting pay lines, 5 reel slot video. This mice and food set of slot online shows its depth with orange and ham marmalade. Then to the 3 Blind Mice are delivering more with pretzel in the form of ace, queen, king, jack and 10 wraps up to the full feeling. Betting with 3 Blind Mice online game is very simple, starting with an initial bet of 0.01 up to a bet total of $ 200.
  In this online slots game, you will get many choices. Symbol of the wild cheese is used for every value. Whack a mouse, woman farmers, and a big sized trail prime cheese increasing your chances of a winning a great combination.
The best part of this game is wild woman farmers and whack-a-mouse. These will help to bring bonus slots for you which will give you a reward eventually. While playing this online slots game, you will also notice that more than 2 scatters symbol normally start rounds of the game of bonuses.
3 Blind Mice Slot Game Bonus Features
This Slot Bonus part of 3 Blind Mice is pretty cool. The following is the information about the bonuses that you're able to get. We really appreciate the 3 of Blind Mice of Special Bonus Features and the bucks it produces. It starts as you get the chance randomly that during any of the roll without any mice in the cylinders, the gamer can easily choose any of the 3 which offering its special hidden Bonuses.
When you will get a mouse that reaches the wild female parents constitution, bonus symbols on the reels 3 will spin a reel on the wildcards expansion as the bonus rounds start. These Wild Wives Farmers offers many great rewards. Once you get any mouse, you will get the whack-a-mouse bonus symbols in cylinder 4.
This Whack Mouse Bono is offering many great rewards. If you really like the fat one of the pay, the Great Cheese of the premium of the Trail would visible as it was brought for you. It is very easy to get a mouse to get to the big sized cheese road bonus symbol on the 5 reels for a big pay. We are sure you will realize that same as all rounds in Casino Bonus, this 3 Blind Mice features are where you can get your funds really on the track. The chance which you can earn more than the betting amount is a main and large part of this Bonus Games.
We guarantee you that you will find a game to your liking - their selection is not that big yet, but very promising. Enjoy this game on Moneyreels.com which is one of the genuine and authorized online slots games providers.