Astro Legends: Lyra and Erion UK Online Slot
 DPlay Now and Win up to 500 Free Spins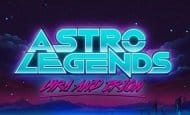 Astro Legends: Lyra and Erion is a 1x2x3x3x4x3x3x2x1 layout slot game with a 96.5% RTP. Respin is played with the same bet as the spin that triggered it.
Go to: All Slots | Fluffy Favourites | Fluffy Too | Fluffy Fairground | Wolf Gold | Shaman's Dream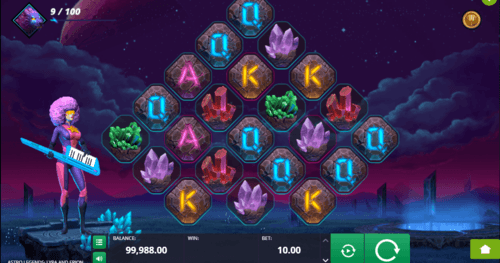 Astro Legends: Lyra and Erion UK Online Slot
This online slots game based on outer space and having a rock and adventure theme is developed by Foxium and promises an entertaining and full of adventure gameplay for the players. It is based on the outer space theme where you will be taken to a distant planet where humans have reached to mine the most previous element of the universe Hydroplonium.
Astro Legends: Lyra and Erion Developer - Foxium
Foxium offers a tough competition to other developing companies when it comes to slot games. Other games from Foxium similar to Astro Legends include Lucky Bakery slot, Fruit Z, The Odd Forest slot game etc.
Play Astro Legends: Lyra and Erion Mobile Slot
It is such as powerful element that its few grams are enough to light up the entire earth and at the same time it has enough destructive capability to destroy whole planets. Mankind has reached this distant planet in search of this precious resource which it believes will be its way out from poverty and a better life on planet earth. Along with the exploring team of astronauts, two rock stars Lyra and Erion have also arrived to this distant planet who will entertain us all by their amazing skills in electric jamming and rock music. Developers have in a very impressive way combined the two genres of outer space and music and integrated them into a single game in this slot. You will be getting a touch of outer space and the touch of rock music at the same time in this slot. What better adventure can there be when it's coupled with a touch of rock music and some hard party. Man the space ship right now at Money Reels which is about to leave for the distant planet and try to mine as much resources as you can. This game has an RTP of 96.63%. There are no reels and no paylines in this specific slot.  The bet per spin in this slot varies between £0.01 and £10. So pack your gears and get ready for an adventure to the outer realms of space because this hunt of precious resources is going to fill your pockets and make your luck spin in a very entertaining manner.
Astro Legends: Lyra and Erion Slot Features
This game's theme is based on outer space so everything in the game has been developed accordingly to suit this sci-fi theme. It takes the players into an unknown corner of the universe, where the greed of resources has led humans to land on some planet in search of Hydroplonium. You are a fellow astronaut in this game who has managed to land with the other teams on this planet and now with the ships damaged you people are stranded on this foreign planet. Need to worry not, you always have the company of the awesome rock stars who manned your ship while you were leaving planet Earth. The two rock stars will be giving you good company and a good time pass here on this deserted planet so that you can enjoy and at least while the ships are repaired should have a good time pass. With these awesome features this slot has a genre of Adventure and Fun. The background of this slot shows the environment of this outer planet with its dark theme and even more planets visible in its clear sky. This planet clearly has a dark blue coloured theme with an indigo coloured sky and a planet visible soaring above its clouds. Perhaps it is it's moon. The surface of this planet is unlike the surface of planet earth and shows different space shaped triangular features erected on the surface of this planet. On the left of the slot box Lyra stands on top of Hydroplonium growth of blue crystals with her music instrument. This planet looks very dull and haunted by its first look but in the presence of the two rock stars you would have a very good time pass here. Don't keep yourself indulged in music only , try to gather other resources as well which can ultimately pay you back such as the Hydroplonium.
The slot box is very different from other slot boxes which you normally come across in slot games. It is a diamond type shape with the maximum symbols in centre and a gradual decline in symbols as we go up or down. In the rear right background the element Hydroplonium mine is visible in the ground with its shining blue light. There are overall six symbols used in the game which are represented by a garnet, an amethyst ,a peridot  and the alphabets A,K and Q embedded into alphabets. The extra symbols of this slot include the wild symbol which only appears in pink edged positions on the reels and can reward a multiplier of upto 5x the total bet.
Astro Legends: Lyra and Erion Slot
Bonus Features
This amazing space travel to a distant planet will reward the player with many amazing wins and resources that other humans have not laid hand upon yet. All the virgin rewards and resources await being discovered by you. This game offers the following bonus features.
Sonic Respins
After a win in any base game , this feature can occur randomly and locks all the symbols that are involved. Erion will appear from the resource mine in the rear right of the slot box and jam all the reels while Lyra will blast all of them away. This extra ordinary feature will end when there are no more matching symbols left.
Stardust Collection
On a random basis a star will float on the reels which will be popped by Lyra standing on the left of the slot box and its value will be added to the top left hand corner metre. When the total count reaches 100 the Lyra bonus feature will start and turn her into a wolf. Nobody knew she was a werewolf. Now players will be prompted to select 1 out of 3 paths for Lyra to run upon.  These runs will reward the players with monetary wins and multiplier values.