Baron Samedi UK Online Slot
Play Now and Win up to 500 Free Spins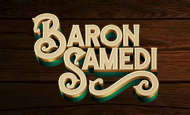 Baron Samedi is a 5 reel, 25 payline slot game with a 97% RTP by Yggdrasil. Each card shows the number of cards needed to trigger EXTRA FREE SPINS! See your card collection in the CARD BOOK!
Go to: All Slots | Fluffy Favourites | Fluffy Too | Fluffy Fairground | Wolf Gold | Shaman's Dream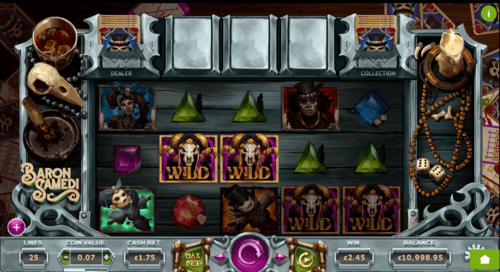 Baron Samedi

UK Online Slot

Keeping its tradition alive Yggdrasil has produced another unique and different slot game which is based on the Voodoo theme and revolves around the black magic theme. It is about a magical world where Voodoo is very common and used a daily life tool to fulfil the daily tasks.
Baron Samedi Developer - Yggdrasil
Yggdrasil has always developed unique games with a different idea which catch the attention of the players around. Other similar games to Baron Samedi include Cyrus the Virus online slot, Gem Rocks, Easter Island, Big Blox slot game etc.
Play Baron Samedi Mobile Slot
It takes the players into a mythical world where they find themselves in between magical powers that practice voodoo a lot. You will be surrounded by mythical powers in this slot which will keep you away form harm by using voodoo magic for your benefit. Be careful not to touch anything in this room where you will be taken because everything is dangerous in this magical slot. To further increase the fun of the gameplay the music has been given a mysterious touch to add some thrilling experience for you. This music will thrill you while you experience the voodoo's presence around you. Try the magic of this amazing world at Money Reels. This slot comes with a promising RTP of 97% and has got 5 reels with 25 paylines. Up till this moment in life you were afraid of black magic and other taboo items but now you won't be afraid anymore you will be using the same items for your benefit and to use spirits to locate and find different precious items spread across the land. To master thee black arts you will have to spin the reels first. So try your luck with the reels and see if you can find the hidden treasure items. The coin value of this slot varies between £0.10 - £125. Are you ready to be the wielder of black magic in this slot like the heretics from different movies and games? Then don't be afraid and play this slot today to test your luck and your wielding skills. Spin those reels and see the power of magic for yourself.
Baron Samedi
Slot Features
This game's theme is all about black magic and its powers. You will be exposed to voodoo magic in this game but don't worry the spirits and entities using the black magic are on your side and want to teach you the uses of black magic. They want to be rich with you by finding the hidden precious items which are spread around. To tame the evil one needs to be evil himself. This game has a genre of Mystery and Horror. Background of the game shows a table where the items of black arts are placed. It is with these items that the evil forces practice their dark arts. You will find many creepy things placed on the table on which the slot box has been placed. Things like a skull, a pair of dice, a tasbeeh and a red coloured drink are placed on the sides of the slot box which add to the freaky effect of the game. This room is full of evil powers and there is a lot of evil that is spread in it, do not touch any unnecessary items or try to do something rash in this room. Just spin the reels silently and feel the thrill and mystery behind the music.
The slot box is a magical type box placed on the table and covered by a metallic frame that surrounds it on all four sides. There is a beautiful frame on the sides of the slot box which depicts that it has been made by someone having amazing skills. Behind the table some mysterious items are visible which are used in black magic. The slot box is quite different from the slot boxes that are used in other games. It has a wooden background with different symbols that add more mystery to the gameplay. The dark grey coloured background adds a lot mysterious effects to the gameplay. Symbols of this slot game include red, blue and purple gems that depict the lower valued symbols where as the higher valued symbols are depicted by baron, a lady and two voodoo dolls respectively. The higher valued symbols are even creepier and will freak most of the players out. The buttons and information about the game progress is displayed at the bottom screen in a grey coloured bar. A pair of special symbols is also there for the players which will keep you enthralled all the time due to the special features that they bring with them. The wild symbol will cast magic and cause all symbols to disappear except the bonus symbol. Wild will help you in some extra wins. It is depicted by the Animal skull symbol. On the other hand the bonus symbol is represented by the skull which triggers the bonus features. Turn on the autoplay if you have got other job to do but still want to claim some wins.
Baron Samedi Slot
Bonus Features
Free Spins
For every 3, 4 or 5 skull bonus symbols that you land, you will get 7,12 and 15 free spins respectively. On each spin you will get three cards which will be added to your collection. If you complete the card collection then three extra spins will be rewarded to you.
Voodoo Respins
It is triggered by landing any two skull bonus symbols on the reels. You will receive three cards from the top left and all the bonus features mentioned on those cards will be applied to your game. Those cards will then be added to your collection.
Card Collection
The stack of cards on the top of the slot box is the player's collection of cards which he collects during the free spins and voodoo respins. These have different bonus features which are awarded to the player when they are given to him.