Centurion UK Online Slot
Play Now and Win up to 500 Free Spins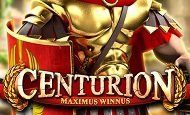 Centurion is a 5 reel, 20 payline slot game with a 95% RTP. This UK Online Bonus Slot comes with Free Spins, Wild and Scatter symbols.
Go to: All Slots | Fluffy Favourites | Fluffy Too | Fluffy Fairground | Wolf Gold | Shaman's Dream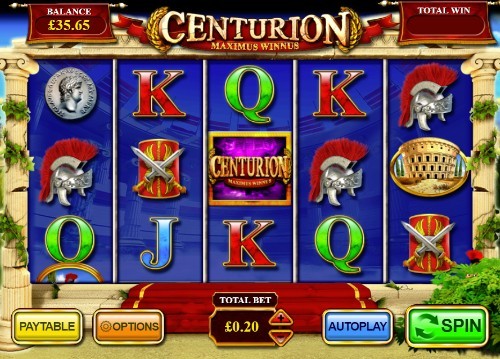 Centurion UK Online Slot
Discover the hidden treasures in the sleepy Roman-set up in the online slot brought to you by Inspired Gaming. Expect plenty of historic action on the 5 reel and 20 bet line slot with a 95% return to player rate and massive multipliers to be won. Play Centurion on Money Reels today which is home to over 550+ slot games. Our other top games include Starburst Slot, Bonanza, and Wolf Gold.
Strap yourself in as well as the Centurion's chins in their fancy helmets and prepare for one of the most immersive online slot experiences available online today.
Whether you spin the reels to appreciate a fine piece of world history, get your hands on the juicy multipliers, or simply want to appreciate how hard Inspired Gaming worked to make sure that Centurion was the success that it is today.
Centurion was first released on July 3rd, 2015, so if you still haven't given the reels spin, don't hang around for much longer. Even four years after the release the game has got everyone talking for the fun bonus features which leave you with an endless supply of entertainment.
It is almost hard to believe that we have shared a historical timeline with the Romans, back in the day where the internet wasn't even an idea, yet now it is how we come to appreciate the legacy of the Romans which will never be forgotten. Now, you may not learn as much about the Romans through playing Centurion compared to reading a history book, but there's no faster visual transport to the Roman Empire as it dominated Italy and the rest of Europe.
You'll be able to reignite your love for the Romans through the avid depiction of the characters in Centurion which has made sure that the Roman theme runs right through this exhilarating high slot which comes highly recommended by Money Reels. Thousands of players spin the reels every day, knowing just how easy it is to trigger one of those all exciting bonus rounds that come with serious multipliers.
Even online slots which were previously famous for their bonus features look relatively stingy next to what Inspired Gaming cooked up with Centurion. If you enjoyed games from the Rainbow Riches series, such as Pick n Mix, you're going to adore the range of the bonus features which makes every spin as exciting as the last!
The Romans never liked to take a back seat, and they certainly haven't in Centurion, you'll find them popping up through the reels with the symbols while the background will set the scene of just how Rome stood in the capable notorious hands of the Romans.
Rather than painting the background as a bloody battlefield with claret stained swords, inspired gaming went with a totally different approach to Centurion. Instead, you will get to see ancient Rome in a brief scene of serenity. But the sound of battle isn't too far. You'll be able to hear it as you spin the reels, and see the battle-ready warriors gearing up for battle once more. At least the Centurions could take the time away from war to feature in this awesome slot.
But why is Centurion called Centurion? If you snoozed through history class, you may have missed that Centurions were the name of the commanders of small fractions of armies. As you can probably imagine, you don't get to be the leader of a Roman army without being absolutely terrifying. You'll be able to see a stark portrait of that infamous ferocity and aggression with Centurion and get a taste for the excitement of battle from wherever you are spinning the reels.
You'll be able to set the Centurions apart from the rest of the Roman Soldiers by the feathered helmets which they wore. And you know that they will have done a whole manner of ungodly things to earn that helmet.
Moving onto the statistics of the online slot, Centurion is a solid online slot which ensures that players enjoy the benefit of playing a well-rounded online slot game with a 95% return to player rate, a 5 x 3 reel grid and twenty different pay lines to play across.
Whether you've got a high or low budget, you're sure to find Centurion of a high amount of appeal. Play your bets from the minimum stake amount of £0.20 or make your grab for Roman treasure with a stake amount as high as £250. Whichever amount you choose to play with, the exciting multipliers on the game will make sure that you are coming away with some pretty significant wins.
Play Centurion Mobile Slot
If you have ever played a slot by Inspired Games, you will know that they tend to go the extra mile with the quality of their graphics. So, even though Centurion was released before much of the latest design tech was brought out, you are still in for a highly visual treat from the moment you load up the game on Money Reels.
The game will transport you to an Idyllic, serene landscape which will give you an idea of just how much there was to fight for in Italy. If you took a trip to Italy today, then you'd see a very different country. So the background to the reels have been designed to move you in space and time whilst giving you the opportunity to win serious amounts of lifechanging cash. You can win anywhere up to 100,000 coins when using the multipliers with the higher stake amounts.
The graphics to Centurion are as crisp as they come, so whether you're choosing to play on your desktop or laptop or squeeze the slots to a four inch screen, you won't struggle to soak up the quaint charm of this online slot. Inspired Gaming didn't get their reputation of creating incredible games without ensuring that players who like to play on the go are well catered to.
If the soundtrack gets too much for you, the mute button isn't all too far away from the Spin button. But, to truly get the feel of the game, it's advised to whack up the sound and hear the trumpets as they roar, cheering you on through all of your wins big and small.
Even though the background is calm and still when you are in the original mode of play, once you hit a bonus round, the game really will spring into action. You'll slip away from the light and breezy backdrop of the slot which has been constructed with a soft, warm and light colour scheme which makes it infinitely appealing to spend hours spinning the reels. For an even more relaxed gaming experience you can choose to play Centurion in auto spin mode. In this online slot, the auto spin feature will allow you to set the spin number to anywhere between ten and forty spins which you'll be able to enjoy without lifting a finger.
The reels tend to take up most of the screen when you load up the game, however the reels will appear in between two Roman plinths which gives the whole visual experience a 3D effect. The 5 x 3 grid reels are easy to follow due to the silver lines. Everything you will need to know such as your stake amount and coin balance is in clear view while you are watching the reels spin.
The Roman-theme also runs through on the online slot through the symbols which are featured amongst the lower-valued symbols.
Here is what every symbol will win you on Centurion.
Q, K & J Symbols are the lowest value symbols in Centurion

3 letter symbols matched will win you 4 coins
4 letter symbols matched will win you 20 coins
5 letter symbols matched will win you 200 coins
While there's certainly is much to be won through matching the lower-value symbols, what you'll really want to look out for are the higher-value Roman-related symbols which are worth the following amounts of coins:
The Chariot Symbol
3 Chariot Symbols matched will win you 40 coins
4 Chariot Symbols matched will win you 160 coins
5 Chariot Symbols matched will win you 400 coins
The Centurion Symbol
2 Centurion symbols matched will win you 4 coins
3 Centurion symbols matched will win you 50 coins
4 Centurion symbols matched will win you 200 coins
5 Centurion symbols matched will win you 500 coins
Pair of Swords Symbol
3 Pair of Swords Symbols matched will win you 8 coins
4 Pair of Swords Symbols matched will win you 40 coins
5 Pair of Swords Symbols matched will win you 300 coins
The Colosseum Symbol
3 Colosseum symbols matched will win you 20 coins
4 Colosseum symbols matched will win you 80 coins
5 Colosseum symbols matched will win you 400 coins
Roman Era Coin Symbol
3 Roman Era Coin Symbols matched will win you 8 coins
4 Roman Era Coin Symbols matched will win you 40 coins
5 Roman Era Coin Symbols matched will win you 300 coins
Centurion Helmet Symbol
3 Centurion Helmet Symbols matched will win you 8 coins
4 Centurion Helmet Symbols matched will win you 40 coins
5 Centurion Helmet Symbols matched will win you 300 coins.
And those are just the standard symbols on the game. There are also the special symbols which are prone to popping up as you spin the reels on Centurion. Find out what the bonus features are all about down below!
Centurion Online Slot Bonus Features
You'll have noted by now that there are already plenty of symbols in the Centurion online slot, which can make it a little bit harder to strike a winning combination compared to online slot games which only offer 5 or 6 different symbols.
But, the prospect of finding a winning combination of the special symbols of the online slot is all too tempting. It may be classed as a medium volatility slot, but if you win through the bonus rounds, chances are you will win big.
There are two symbols which offer even more than the symbols which we have covered above.
The first is the fairly standard issue Wild Card, in Centurion it will be the Golden Wreath symbol which you will want to look out for. It works in the same way as it does with many of the popular slot games by replacing other symbols on the reels and increasing your chances to join together winning combinations.
The second symbol which really amps up the energy in Centurion. It is the Centurion logo itself which will hit you with an instant cash prize to the amount stated above. But that is not all, through finding three or more centurion symbols on an active line, you will be triggered into the bonus round with a difference.
The possibility of entering into a bonus round is always going to be exciting, but what's even more exciting is the prospect of having no idea which bonus round you will be entered into. That is left to chance through the wheel of fortune-style game. You'll get to spin the wheel and see which bonus game the needle lands on. Some may be more generous than others, but if luck is on your side, then there's everything to play for, no matter which bonus feature you are presented with.
The Four Bonus rounds include:
The Prizes on Parade Bonus Feature
This game is really simple. You'll see three Centurions holding shields. If you're lucky you will land on the Centurion which offers the multiplier, or the arrow which will allow you to play again. The third is the collect option which will end the game for you.
Caesar's Free Spins Bonus Round
Caesar is pretty well known for his salads, not his free spins, nonetheless, there's a fair few up for grabs. However, how many free spins you will be able to get your hands on depends on your luck in the free spins bonus round. Along with your free spins, you will also get to enjoy the benefits of the multipliers which are also awarded in this online slot.

Road to Rome Bonus Round
Roll the dice in the Road to Rome Bonus round as you lead the charming Centurion character throughout the game. If you roll high, the further your Centurion will get throughout the game. The further the distance, the bigger the multipliers you will be able to collect as you play the game which will be applied to your original stake amount when you entered the bonus game. You will have a certain amount of rolls to play with, but ultimately, you will need to land at the end, or on the 'go to Rome' square. If you are lucky to end the game where you are supposed to, a random but generous prize will be added to your coin balance.
Wild Power Spins Bonus Round
The Wild Power Spins Bonus round is pretty much exactly what it says on the tin. You'll be given three free spins, however the grid will appear a little different, as they will come loaded with wilds.
With two reels made up of wilds, and others containing two or one wild symbols, there is a high chance that you will strike a winning combination.

Reel Modifiers

If the bonus rounds and the special symbols weren't enough, then the Reel Modifiers will definitely sweeten the Centurion online slot deal for you.
The reel modifiers can pop up at any point in the standard gameplay and happen completely at random. You'll definitely see then coming as they will come with the sound of a Centurion horn being blasted, so you may want to crank up the volume to Centurion to really appreciate what Inspired Gaming has put into Centurion.
There are four different reel modifiers to look out for which include
A five of a kind win!

A 3 x 3 switch up of the reels which leaves you with more coins in your balance

The Big win modifier which can seriously increase the size of your win amounts

The super bonus reels are a super sweet offering which allows more bonus icons than usual to pop up on the reels.
Centurion Developer - Inspired Gaming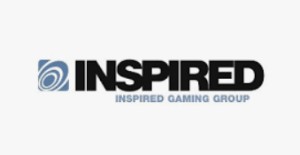 Inspired Gaming has come a long way from where they started in 2002. They started with 10 talented minds converging in an office in Central London. Switch to 2019, they are a globally successful company with over 800 employees dotted around in various places across the globe.
Money Reels is just one of the 100 websites which Inspired Gaming has connected with for their exceptional in-house content. They may be popular in the UK, but they are just as popular all across the world. In fact, they may have the greatest reach of all games designers as their games are played in 35 jurisdictions all across the world.
The top games to look out for aside from Centurion include Spin Doctor, Super Fire 7s, Super Fruits Joker, Maximus Payus, Diamond Gems, Chief and Gold Cash.
Here's how Inspired Gaming summed up Centurion:
"Centurion has been our strongest new game launch in the last two years. It's a testament to the team strength and what you can achieve when you bring best-in-breed expertise together. Players today increasingly want and expect strong omnichannel gaming content – Centurion delivers this in spades."
Similar & Related Games to Centurion
Centurion not your cup of tea, or do you just fancy playing a different game to mix up your online gaming experiences?
Here are the best two other options put together by Inspired Gaming.
Maximum Payus Online Slot by Inspired Gaming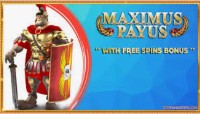 Maximum Payus was released in 2018, so the online slot benefitted from the advancement in tech and it absolutely shows. There's a 95% RTP, med level variance and a 5 x 4 reel grid with 1024 different pay lines to play across to win the jackpot of 42,000 coins.
Centurion Free Spins Online Slot by Inspired Gaming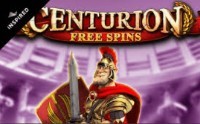 The name gives away the major perks of this online slot which was released in 2016. With the same 20 bet ways and RTP, the only two differences is in the game aside from the visual aspects are the 250,000 coin jackpot and the higher amount of free spins which you will enjoy from Centurion Free Spins.
Similar Games
Gonzo's Quest Online Slot by NetEnt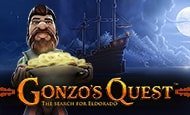 Gonzo's Quest shot to fame in 2013 and stayed there after offering a 5 x 3 grid set up, 20 betting lines and a 62,500 coin jackpot with some stunning visuals and graphic animation which really gives you more of a gaming experience than your usual cut and dry slot playing. If you haven't played a cascade-style online slot yet, Gonzo's Quest comes highly recommended.
Coins of Egypt Online Slot by NetEnt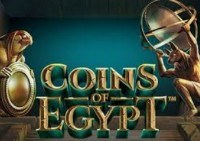 NetEnt have put out some fantastic historically themed slots, and Coins of Egypt is yet another which was released in 2018 which comes with a luxurious feel as you spin the reels on the 5 x 3 reel grid which uses 20 different bet lines which you can place down your stakes in the hopes of cashing out on the 30,000 coin jackpot.
Centurion on Mobile vs Desktop/Laptop
If you're worried that your mobile or tablet won't be able to handle the high-octane action of Centurion, you can always run through the game in free play mode through Inspired Gaming's website.
But we've done all the hard work for you and found that there are absolutely no issues when it comes to playing Centurion on an Apple or Android device.
Centurion News
It should have come as no surprise that Centurion picked up prizes after the release! Here's what the CFO had to say about the shortlisting of their game for the best game of 2015 award:
"We are thrilled that Centurion has been recognised for Game of the Year. We are incredibly proud of how, with William Hill, we have developed a game that has cut through the crowded market and become its own brand that players now trust and keep going back too for fantastic entertainment."