Cosmic Fusion UK Online Slot
Play Now and Win up to 500 Free Spins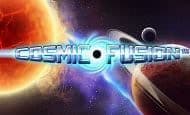 Cosmic Fusion is a 5 reel, 10 payline slot game with a 96% RTP. Win up to 3 Re-spins with a x5 multiplier.
Go to: All Slots | Fluffy Favourites | Fluffy Too | Fluffy Fairground | Wolf Gold | Shaman's Dream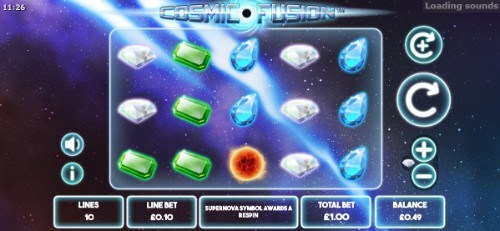 Cosmic Fusion

UK Online Slot

From the farthest corners of the outer space comes this slot game titled Cosmic Fusion. Leander has developed this title based on a theme of outer space and space ships. Beware not only new planets are formed by fusion of stars but precious gems and diamonds can also be found in the outer space. The game is based generally on Sci-Fi movies such as Star Trek where humanity has reached the far corners of the space and are in a competition with each other to get precious resources which are formed as a result of Cosmic Fusions. Slots are generally depicted by planets and precious gems.. It has 5 reels 10 playlines and 3 rows of symbols each. You can place a bet from 0.1 pound to 10 pounds. Awaken the explorer in you and explore the vastness of the universe. It hides many gigantic rewards for those who come here for adventures.
Cosmic Fusion Developer - Mutuel Play
Developing Bespoke Gaming Software & Systems for all Devices & Gambling Outlets Online or Otherwise. Bingo, Slots, Scratch Card mobile Game Designers.
If you loved this cute journey among the green full of bunnies and other cute creatures then you will also like to play like Ave Ceaser, Alice Cooper, Elements, Apollo : God of the Sun, Gustavo El Luchador, Wild Vegas.
Play Cosmic Fusion Mobile Slot
The theme of this game is the outer space and the background is depicted millions of stars in the background which shows that you are present somewhere in the far corners of the galaxy. The slots are also very well symbolized as per the space theme by different coloured planets and high valued gems. A thermal storm is also seen in the background with blue coloured effects. Unlike other slot games this slot game has a transparent slot box. You can see the background from the front of the slot box itself. There is no separation between slot reels and symbols as they all are merged with the background full of stars. Unlike basic symbols of other games this game has a set of space themed symbols each of which has certain values as per the provided paytable.
1. A Burning Star / Sun
25,75,500 for 3x , 4x , 5x wins in combination respectively
2. A Dark Plum planet with Rings around it
20,50,200 for 3x , 4x , 5x wins in combination respectively
3. A Moon
15,30,125 for 3x , 4x , 5x wins in combination respectively
4. A Diamond
0.1, 0.25, 1 for 3x , 4x , 5x wins in combination respectively
5. A Red Ruby
0.1, 0.25, 0.75 for 3x , 4x , 5x wins in combination respectively
6. A Green Emerald
0.05, 0.1, 0.5 for 3x , 4x , 5x wins in combination respectively
7. A Light blue exotic stone
0.05, 0.1, 0.45 for 3x , 4x , 5x wins in combination respectively
There are three special symbols for this game.
1. Super Nova Symbol ( Wild Card)
2. Giant Symbol
The Giant symbol will land randomly and upon landing will feel the reels numbered 3,4 and 5.If a supernova symbol is landed it at the same time then giant will act as a wild symbol.
The screen is very fancy based and friendly in interaction with the user. All the buttons are nicely put together at the right and left side of the page. From there user can select the settings, turn the sound ON or OFF, or spin the reels of his luck. The mysterious travels to the outer limits of space make this game a very interesting one, for each voyage of yours can be very rewarding for you. Huge amounts of rewards and prizes await you where you have to just reap them for your collection. All you need to do is to awaken the Traveller and the adventurer spirit inside you to explore the outer realms of Space. If you have it in you then the outer space can be a very rewarding phenomenon. Don't get too distracted by the lights and fancy coloured planets. Remember your aim that is to collect hidden and exotic rewards from the outer space. Make sure you don't run out of money and your ship does not run out of fuel.
The background sounds are very nicely merged with the background. They are as simple and elegant as the background itself. The simple clicking sounds on clicking the reels suit the simple background of this game. Just watch the bright stars and the silent sky and click on the Spin button. Maybe the lucky stars might bring you multiple rewards. Don't under estimate the silence of outer space for being too boring. It holds many surprises and big rewards for those who have the guts to explore its outer limits.
The AutoPlay feature like the Autopilot feature on aircrafts allows the space ship to float on auto mode in the space. You just have to give the wager value once to the autoplay feature and then you will be notified at the end of spins or if you win any reward.
Cosmic Fusion Slot

Bonus Features
Who could guess that a voyage into outer space to the far corners of the universe and to other planets could reward bonus features as well. Well it's just not the mysteriousness  alone which is attractive in this game. There are several bonus features available too for those who travel through these unknown realms of space.
Wild Respin Feature
The super nova symbol with the bright orange coloured symbol symbolizing a bright burning Nova is the wild card of this game. Upon landing on the 2nd, 3rd or 4th reel it will award a free respin to the player. During the gameplay if another supernova symbol lands during the spins then the player is rewarded with another free spin and so forth till the 3rd respin. This unending streak of respins takes you at cosmic speeds into unknown corners of the universe where you can reap all the rewards which others dream of. The first respin doubles the reward. The Second respin triples it and the third respin makes the reward five time the original waged amount