Crystal Rift UK Online Slot
Play Now and Win up to 500 Free Spins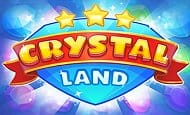 Crystal Rift is a 5 reel, 25 payline slot game with a 96% RTP. The Wild Grid feature can be retriggered after 3 consecutive falls.
Go to: All Slots | Fluffy Favourites | Fluffy Too | Fluffy Fairground | Wolf Gold | Shaman's Dream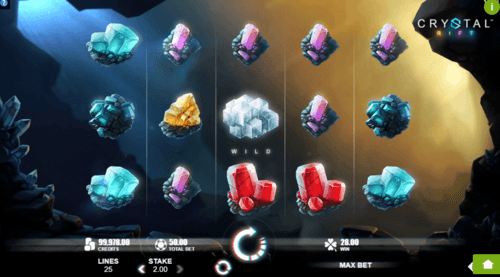 Crystal Rift

UK Online Slot

Welcome to the future in this outclass slot developed by Rabcat. The year is 2543 in this slot game and humans have managed to reach new depths in the underground mining where tons of new materials and minerals have been found.

These materials are far more powerful and useful than the resources and minerals found on the surface of planet Earth. You are a part of the scientist team that have come to these depths to explore the minerals and the new gemstones that have been found in these mines. No human has ever laid hand on these minerals and gemstones before. Try digging more into the walls of the caves to find more minerals and resources which can turn out to be fortune changers for you. Be careful as these caves haven't been explored before by any human being so anything might be lurking in these caves. This slot will let you experience a futuristic touch with the prospects of winning lots of money as it is all about gems and other precious resources in this game. The slot has some special bonus features to offer which are found in these depths of the underworld caves. Will you be able to dig out new resources and change your fortune forever? Or will you return empty handed to the surface? This game will give you ample of chances to try your luck in finding those precious resources. Try it today on money reels and see that if you can claim some wins for yourself. This slot promises an RTP of 96% with 5 reels that have 25 paylines on the sides. The bet value can be changed between 0.01 and 2.00.
Crystal Rift Developer - Rabcat
Rabcat stands upto its reputation of producing slots that are loved by the players and always has unique ideas up its sleeve that the players love. Other similar games like this one developed by Crystal Rift include Moby Dick slot game, River of Riches, Classic 243 etc.
Play Crystal Rift Mobile Slot
The game focuses on the future and the technology that will be used in the coming future. It's all about mining and finding out the new unexplored resources at these depths of planet Earth. Don't worry because you are in possession of state of the art technology and won't be left alone in these depths by anyone.  The graphics are amazing and offer some stunning animations while the reels spin on the screen. The graphics have been adjusted according to theme of this slot game. It offers a futuristic view of the world by using high tech graphics and colours which depict the advancement in technology. This game's genre is Sci-Fi and Futuristic. Resources on top of the surface have already gone very scarce and there is a huge prospect of wars between nations over these resources however by digging up the earth mankind has opened new prospects and managed to lay hands on some of the most precious and powerful minerals in the universe that were hidden up till now. Make use of the resources and minerals and get yourself some handsome amounts of money. The music of the game is also future oriented with a touch of thrill and style. It gives a very lively touch to the gameplay experience. Just keep listening to the music, keep on digging and keep the reels spinning. You will definitely come across some nice and hefty resources. The background of this slot shows the area which you have managed to access by digging this deep under the earth's surface. On the top left of the screen, a big hold is visible from where you have managed to dig inside this area and come here. The dark walls of this cave present a mystery for the players and make one wonder that what else might be lying under here that hasn't been explored yet. There are many more minerals yet to be explored so keep looking on and don't lost hope. The sensors show that this mine contains a lot of minerals and precious gemstones. The most stylish item on the screen is the slot box which does not has clear boundary but has got inter reel boundaries between them in the form of a stylish thin line. The absence of a border around it gives the slot box a very posh and futuristic look. The reels look stunning while spinning in this borderless slot box.
 The animations which have been used in this slot are stunning which bring the reels to life as they spin along while giving a stunning look to the symbols with shines and glowing animations. On the left of the slot box some mineral heads are visible which are just about to be dug out and will add a handsome amount to your pocket. All the symbols that have been used in this slot are related to the theme of this game and are depicted by different gems and precious stones such as a red, green, brown, golden, blue and other different shapes of gemstones. The additional symbols which will help you in claiming some extra bonuses and rewards is the wild symbol which will substitute for all other symbols on the reels and help you in some nice and hefty wins. Besides the wild symbol there aren't any bonus symbols of this game. You can always turn on the autoplay to play the game on an automated mode.
Crystal Rift Slot

Bonus Features
This tiring and dangerous expedition deep into the underground surface of earth has a lot of fun and entertaining features for the players. Besides the regular wins and rewards the game offers the following bonus features for you
Bonus Falls Feature
Whenever the player forms a winning combination, those symbols will vanish and the other symbols will lock in their places. New symbols will fall from the top to replace those symbols which just disappeared and this feature will keep on triggering itself till the time there aren't any more winning combinations left.
Wild Grid Feature
Whenever you will form a winning combo a reel will be randomly selected for a Wild Grid. It will be represented by an indicator.  Once you make three consecutive wins you will trigger this wild grid feature in which all the highlighted reels and their symbols will become wild and form a super win for you.