Dwarf Mine UK Online Slot
Play Now and Win up to 500 Free Spins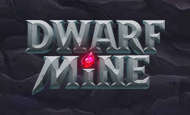 Dwarf Mine is a 5 reels, 1024 paylines online slot game by Yggdrasil. Dwarf Mine has Multiway, Scatter Symbols, Free Spins and Expanding Reels features and an RTP of 96.8%. Landing 3 Bonus Symbols awards 10 Regular Free Spins. Regular Free Spins take place on fully expanded 5x7 reels.
Go to: All Slots | Fluffy Favourites | Fluffy Too | Fluffy Fairground | Wolf Gold | Shaman's Dream
Dwarf Mine

UK Online Slot

We don't know when or where it was decided that dwarfs would work in mines whenever they appear in fairytales or fiction, but we suspect Disney had something to do with it through their cartoonish adaptation of 'Snow White.' Regardless of where it started, the connection between dwarves and mines is now a solid one in people's minds, and online slot games developer Yggdrasil has given us a whole workforce of them here, slaving away on the reels of Dwarf Mine.
Play Dwarf Mine Mobile Slot
The market for mining-themed online slots is somewhat saturated. There's a connected concept between mining and playing online slots - in both cases you're digging away and hoping that the next swing you take at it will bring you a fortune - so perhaps it's only natural that developers come up with so many takes on the genre. It takes something special to stand out from all the noise, and in the past few years, we've seen Big Time Gaming do exactly that with Bonanza. Blueprint Gaming liked that slot so much that they cloned it with Diamond Mine! Now we have Yggdrasil with this slot, released in March 2019, and if you'll excuse the pun, we think they've also struck gold.
Most online slots have a standard 5x3 layout, so Dwarf Mine makes a statement of intent by giving us 5x4 to begin with - and remember we said 'to begin with' when we come to the bonus features, because that isn't guaranteed to stay the same for your whole game! We expect any slot created in 2019 to look like it belongs in the HD era, and Dwarf Mine does. We're not talking Hollywood-style CGI here, but it's pleasant enough to look at, and comes with an atmospheric soundtrack to sell the theme to you. The reels are set into a mining tunnel entrance, and one of our mining dwarf friends stands to the right, dutifully cranking a handle that spins the reels whenever you tell him to. There are some boxes to the right-hand side for you to place any precious stones you might come across into for safe keeping. The more you get, the higher your prize. All of this will make sense once you've read the 'bonus features' section.
We always feel a little bit let down when we see a modern slot use playing card values for the lowest ranking symbols, but we at least appreciate the effort that Yggdrasil have gone to in making them fit the theme; they've all been carved out of wood. They're also represented by the symbols for spades, clubs, hearts, and diamonds instead of numbers or face values. Rounding out the symbols are the tools of the mining trade; a pickaxe, a spade, a lantern, and a helmet.
Playing against the conventions that players of online slots might be used to, there isn't a wild symbol in Dwarf Mine. Instead, the base game offers one additional symbol in the shape of a drill - the kind that might be used to carve out new tunnels inside the mine. Fittingly, it's used here to alter the shape of the reels or make you a path to the bonus features.
Dwarf Mine Slot Bonus Features
There's a connection between the bonus features in Dwarf Mine, which are probably easier to understand through playing them than reading about them, but we'll give it our best shot!
Up first is Free Spins, which is always a welcome addition to online slot games. In the case of Dwarf Mine, the free spins come with Expanding Reels to make for a fun and original take on the old feature. You'll need three of the drill symbols to get you ten free spins, but every individual drill symbol will add one extra row to the layout, meaning there can be a maximum of seven.
When you have at least six rows open, Collectible Crystals will now come into play. They can only appear on the extra rows (i.e., rows five, six, and seven when they open up to you), and come in one of three colors. You should recall us mentioning the boxes on the left-hand side of the reels earlier, and this is where they come in handy; every crystal you collect goes into one of those boxes. When you've got five of them in a box, you'll get five free spins. While those free spins are happening, many more symbols matching whichever crystal you just collected three of will be added to the reels. The crystals are much more valuable than the symbols you play with inside the base game, so making winning combinations with them is a profitable experience.
All of the above may sound a little complex, but we assure you that it's a lot of fun to play through. Individual drill symbols turn up quite regularly, so you're never more than a couple of spins away from expanding the rows and giving yourself more chances of finding winning combinations. The simple formula to success in Dwarf Mine is more rows = more wins!
Dwarf Mine

Developer - Yggdrasil
The first thing that Yggdrasil would like you to know about their name is how it should be pronounced; it's IGG-DRAH-ZIL. We mention this because they say it so often themselves on their website! It looks like it should be a Welsh word, but Yggdrasil isn't a UK online slots developer. They're based out in Malta, but fans of the hit television show 'Vikings' might recognize the name as being linked to Norse mythology, where the Yggdrasil is the legendary tree of life. That's down to their Swedish CEO Fredrik Elmqvist; an online slots and casino industry veteran who once held a similarly high ranking position with Net Ent.
Since they opened their doors for the first time in 2013, Yggdrasil has worn their Norse hearts on their sleeves by producing a series of online slot games based on Vikings, including Vikings Go To Tell, Vikings Go Wild and Vikings Go Berzerk slot. It seems a cruel irony that they weren't granted the license to make the official online slot of the 'Vikings' TV series, which went to a different developer. As evidenced by the existence of Dwarf Mine, not everything they do has a Norse theme; they've also released slots like Wolf Hunters slot game, which has been popular on the UK scene. After only five years of existence, they were voted 'Innovator of the Year at the International Gaming Awards in 2018. That's a huge achievement from a company that's still establishing its reputation.