Eastern Delights
Play Eastern Delights Slot with 500 Free Spins at Money Reels
The appealing slot game feature 5 reels, 3 rows with 21 paylines. Creatively designed by gaming giant Playson, this video slot is packed with exciting features and bonus round, come and have a closer look at  MoneyReels.com.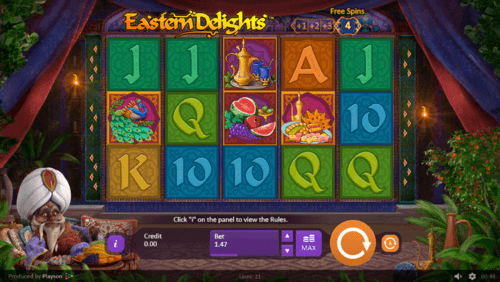 Eastern Delights Slot Game Summary
Easter Delights slot game was designed and created and designed by. It is Eastern themed and shows the luxurious East. Whenever we hear a slot game is themed after the plush Arabian Eastern world, what comes to our mind is the heavy show of opulence and luxury living. In this slot game, we are regaled with the princely lifestyle of a Sheikh's palace, and in this palace there are everything money can buy.
Why Play at MoneyReels?
✓ Free Spins on every £20 or more Deposits
✓ Win up to 500 Free Spins on First Deposit
✓ Up to 10% Daily Cashback
✓ 550+ Slots on Mobile, Tablet or Laptop
✓ Register and Deposit With PayPal
✓ 100% Safe and Secure
Join Now

This isn't only a show of wealth, it is also a show of power as wealth often comes with power. Every adornment in this slot game is sophisticated. If you have ever wondered how the inside of a rich Sheikh's palace looks, then here is it. What is really interesting about this slot game is that, the Sheikh despite his wealth and all, will be the one to show you through his palace himself. This Sheikh is indeed very hospital. The opening scene of the game shows the Sheikh amidst stupendous wealth and luxury with a show of right hand as a gesture welcoming you to his palace. Beside him is beautiful woman sprawled on a recliner and adorned with expensive trinkets that show opulence.
Eastern Delights Online Slot Gameplay
Playson modeled the Eatern Delights slot game with magnificent 3D graphics that players cannot take their eyes off. The plush and lush interior decoration of the Sheikh's palace is shown with great details. The reel table is cast against a background that seems to be the entrance of the Sheikh's inner chamber. The luxurious curtains are parted to both side with a golden hold. At the far view of the background are two brightly shone lights. Directly below them are decorated flows in flower pots. We cannot see these pots though, we can only assume they must be seating in a pot or vase since they are indoor. The reel table is sitting on a balcony divider that seems to separate the inner chamber from where the Sheikh dines. The reel table is another show of wealth and luxury. Inside the reel table are symbols that features assorted meals, wine and fruits. You shouldn't come to this reel table hungry, looking at the culinary display on this reel may frustrate you. And if you may have lost your appetite, looking at the different symbols. Even the normal traditional card symbols are decorated with ornaments.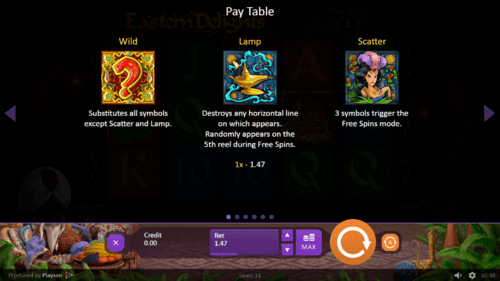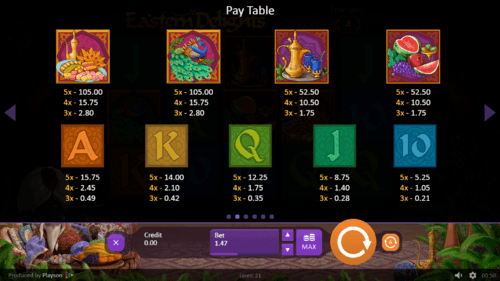 Sitting at center top of the reel table is the name of the slot game decorated in flowers. The start button of the game is sitting on something that looks like pizza. There is just food everywhere in this game. The Sheikh has more food in his palace and he is not afraid to show it. He pushes his liberty of food in our faces. You will certainly envy this Sheikh. At the left bottom of the reel table is the Sheikh himself dinning on a luscious meal, and the way he looks right at the place seems to be a subtle way of inviting them to dine. Beside both side of the reel table are numbers that show the number of paylines of the game.
The game also comes with an autoplay feature. Easter Delights slot game has an RTP of 97.6%.
Eastern Delights Slot Game Bonus Feature
This slot game is also filled with many free spins. The free spins are activated by the scatter symbols. To activate the free spin feature, you need at least three scatter symbols and you are on your way free spins to great rewards on your bet.
The wild symbol in this game cannot substitute two symbols, unlike in most slot games where it cannot substitute only the scatter symbols. The second symbol it cannot replace apart from the scatter is the lamp symbol. The lamp symbol only appears on reel 5 and has the potential of giving you up to 50 extra free spins as it activate the Drop Symbol feature. During the Drop Symbol, the symbols below the reel are replace by the ones on directly on top to giving you a winning combination. In this game also, the fruits and carafe symbols can give you more than 750 times your bets. The peacock and the feast symbols are the highest paying symbols, spinning them on the reel table can give you up to a whopping 1,500 times your stake. That's really incredible! The Eastern Delights slot game is a slot game that has as many bonuses as the delights in the Sheikh's palace.
Games with Similar Theme/Graphic
Fruits of Ra Aztec Empire, Aztec Rising slot game and Dracula's Family are similar games in this category
Games with Similar Bonus Features
Gold Rush uk slot and Bumper Crop are similar games in this category.  
Eastern Delights Slot Developer
Playson was founded in 2012 in Malta. It has been around for a long time now and has been churning out great games ever since. It has offices and licenses to operate in many countries like Malta and Ukraine and the UK. Playson has since 2012 created games that are definitive markets of great slot games. Their stables are filled with interesting games you would want to try out. Having different offices in different countries has given them the experience of knowing what works in different climes and with different people.
Gameplay on mobile vs. desktop/laptop
Playson made sure this particular slot game is both optimized for both mobile and desktop platform. Nothing really makes the experience of the game different from each of the platforms. However, individual preference may come to play. If you really love your slot game on a wider screen, then the playing this slot game on a mobile screen is not for you, you should play the Eastern Delight slot game on the desktop instead. The mobile platform though gives you easy access as you play the game wherever, in as much as your mobile device is with you.
Top 5 Online Slots on Money Reels
1. Fluffy Favourites 
2. Starburst Slot 
3. Fluffy Fairground Slot 
4. Fluffy Too Slot 
5. Wolf Gold Slot