Happy Birds UK Online Slot
Happy Birds Slot Gameplay Summary
Inspired by the animated films such as angry birds and the android game flappy bird. Isoftbet has come up with the colourful fun to play title on slot gaming that is Happy Birds. From the name of it the game sounds fun and full of colourful birds ready to have some fun with the player who is the visitor in their world. As goes in slot games if you manage to befriend the birds and make yourself at home in their world they will definitely reward you with many times your wagers along with bonuses. The game has a light music and light theme and based on lives of birds.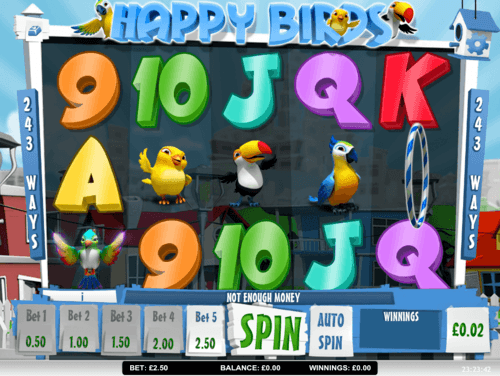 Money Reels has took the step and sponsored the birds to stay on their website, so try this game on their site now. This Game has an RTP of 95.64%. It has 5 reels 243 playlines and 3 rows of symbols each. The coin value varies between 0.01 to 0.1 pounds. Do you have the traveller and adventurer inside you who can claim the rewards which you desire? Venture out in this game to find out your luck  and that do you have what it takes to befriend the Birds. Will the Birds allow you to collect rewards? Will they take you as their own? Or will you return empty handed? To find out, play this game.
Why Play at MoneyReels?
✓ Free Spins on every £20 or more Deposits
✓ Win up to 500 Free Spins on First Deposit
✓ Up to 10% Daily Cashback
✓ 550+ Slots on Mobile, Tablet or Laptop
✓ Register and Deposit With PayPal
✓ 100% Safe and Secure
Join Now

Happy Birds Online Slot Gameplay
The game is centred around Animated Birds and their colourful world and funny interactions which have been very famous and common these days due to animated movies and games based on Bird lives and themes. From parrots, toucans, penguins, pigeons and so many other colourful birds who soar the skies in this game. This game adds fun to the regular slot gameplay by introducing the colourful birds into slot gaming. For the fun, colours and bird loving players this game is a must try. The theme of the game is beautifully centred around a toy town in the background which houses different bird houses made of wood, The clear blue sky in the background adds a very light touch to the game itself . Lush green grounds with wooden lamp posts are also visible in the background. The slot symbols themselves show the different types of birds which soar the skies in this created world. The slot box of this game is enclosed in a white wooden frame, who knows a bird just might come and sit on the frame itself. The slot symbols are enclosed in transparent square shapes and enclosed within the slot box in an arranged pattern. Alphabets point towards the lower valued slots whereas the Symbolic slots are the higher value and special slots.
The lower symbols in this game include (One BET 1 = 2.50)
1. A Symbol
2.5,10,15 credits for 3x , 4x ,5x  combinations respectively
2. K Symbol
2.5,10,12.5 credits for 3x , 4x ,5x  combinations respectively
3. J Symbol
2.5,7.5,10 credits for 3x , 4x ,5x  combinations respectively
4. Q Symbol
2.5,7.5,12.5 credits for 3x , 4x ,5x  combinations respectively
5. 9 Symbol
1.5,5,7.5 credits for 3x , 4x ,5x  combinations respectively
6. 10 Symbol
1.5,5,10 credits for 3x , 4x ,5x  combinations respectively
The upper slot symbols with symbolic shapes and rewards include
1. A Blue and Yellow Parrot
10,25,200 credits for 3x , 4x ,5x  combinations respectively
2. A Yellow Bird
5,20,35 credits for 3x , 4x ,5x and 6x  combinations respectively
3. A Toucan
5,25,50 credits for 3x , 4x ,5x and 6x  combinations respectively
There are three special symbols for this game.
1. A Group of Birds (Bonus)
2. A Colourful Humming Bird (Wild Card)
3. Magic Hoop Symbols
The colourful Humming bird is the wild card of this slot game. It replaces all the symbols on the screen and forms winning combinations for the user except that it does not replace the scatter symbols
The screen is very light and colourful in display like other animated them. It is  friendly in interaction with the user. All the buttons are nicely put together at the bottom of the page. From there user can set the bet, turn the sound ON or OFF and spin the reels of his luck. The music is also very light and enjoyable. It suits the animated birds theme and makes game more fun to play
The AutoPlay option will ease the gameplay for you if you do not want to play the game manually . Clicking it enables the automation of the reel spin feature.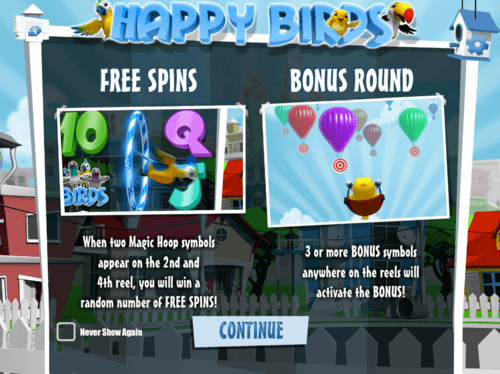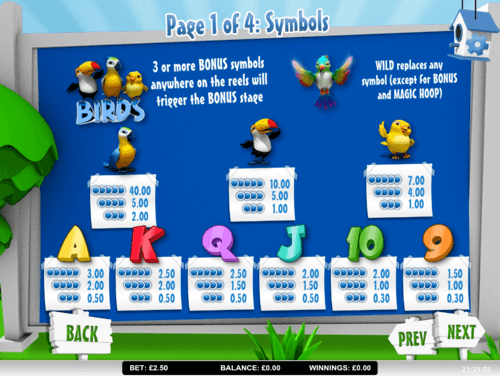 Happy Birds Slot Game Bonus Features
Those who go out to interact with the birds don't come back empty handed. If you feed the birds the legend says then the Birds give you access to treasures left behind by other travellers like you. Do take lots of bird feed when going out in this game and try befriending some birds.
Free Spins
When 2 or more hoop symbols appear on the screen on reel 2 or 4 a random number of reels are rewarded to the user.
Bonus Rounds
A combination of 3 of more bonus symbols anywhere on the screen activates the bonus round features which takes the user into skies where they have to shoot balloons. The balloons have lots of rewards within themselves like reward coins and multipliers. It is on your luck that which balloon you shoot.
Similar Games to Happy Birds
There are several other fabulous pieces by Isoftbet similar to Happy Birds. If you loved journey with the birds then you will surely love the following titles
2. Absolute Super Reels
4. Cashapillar
5. Beetle Jewels
6. Booster
Top 5 Online Slots on Money Reels
1. Fluffy Favourites 
2. Starburst Slot 
3. Fluffy Fairground Slot 
4. Fluffy Too Slot 
5. Wolf Gold Slot