Humpty Dumpty UK Online Slot
Play Now and Win up to 500 Free Spins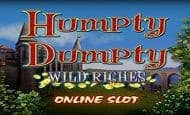 Humpty Dumpty is a 5 reel, 30 payline slot game with a 96.05% RTP. This UK Online Slot comes with Free Spins and Wild feature.
Go to: All Slots | Fluffy Favourites | Fluffy Too | Fluffy Fairground | Wolf Gold | Shaman's Dream
Humpty Dumpty UK Online Slot
Based on the children's rhyming poem from nursery this fun and interesting slot game is developed by 2 by 2 gaming and played on moneyreels.com. It focuses on the children's poem and the background which surrounded that Poem. Knights, horses, soldiers, castles and medieval lifestyle is the main area of focus on the theme of this game. It takes the user into another world temporarily.
Humpty Dumpty occasionally appears as a wild card and if you please the chubby fellow enough then He will splash into pieces for you and every piece will trigger further rewards for you. This is a must play game if you are into fun and light themes with low intensity and fun to play dynamics. Game has a RTP of 96.05%. It has 5-6 reels 30 playlines and 3 rows of symbols each. The coin value varies between 0. 3 to 30 pounds. This fun to play and simple in appearance game has a lot of rewards hidden behind its symbol combinations for the players. You can acquaint yourself with Humpty and He will help you in earning new and bonus rewards. Right now Humpty Dumpty is sitting on a wall on www.moneyreels.com, go and check it out.

Humpty Dumpty Developer - 2 by 2 Gaming
There are several other fabulous pieces by 2 by 2 Gaming similar to Humpty Dumpty. If you loved this fun and rewarding trip among the medieval-themed fun world then you will also like to play such as Spell of Odin, Bar Bar Black Sheep slot game, Gunsmoke, The Voyages of Sindbad and Snow Queen Riches online slot. 
Play Humpty Dumpty Mobile Slot
The most special feature of this slot game is the simplicity and colourful nature which is depicted in every aspect from the background to the slot symbols of this game. It takes the players back to their childhood when they used to sing the rhyming poem of Humpty Dumpty in their schools and dreamt of befriending that chubby guy. Worry no more, you can now befriend Humpty Dumpty in this slot game and being a loyal friend that Humpty is, He will do all He can for you to make sure that you earn lots of rewards and bonuses in this game. The background is set in a medieval stage and it shows towers of a huge castle. The picture depicts Castles and their defences in one go. The castle is connected to the mainland via a bridge which crosses over a moat as used to happen in medieval times. The plains are lush green which further beautifies the scenery. 2 by 2 gaming has made sure that since it is a slot game based on Children's poem so the essence of childhood and fun and simplicity should not die out despite the presence of strong military aspects in the game i.e castles, knights, horses, kings. The simple and elegant colourful background elevates the simplicity of this game to a next level. The symbols are unique in the sense that they are few, simple and peculiar to the poem itself. The slots box is surrounded by a light yellow coloured frame which has shields on all 4 corners. Top of the slot box shows the values of gold, silver and bronze pots. The slot symbols of this game include
The lower symbols in this game include
1. A Symbol, 5,30,50,100 for 3x, 4x ,5x and 6x combinations respectively
2. K Symbol, 5,30,50,100 for 3x, 4x ,5x and 6x combinations respectively
3. J Symbol, 3,10,30,50 for 3x, 4x ,5x and 6x combinations respectively
4. Q Symbol, 3,10,30,50 for 3x, 4x ,5x and 6x combinations respectively
5. 1O Symbol, 3,10,30,50 for 3x, 4x ,5x and 6x combinations respectively
The upper slot symbols with symbolic shapes and rewards include
1. A Knight On Horse, 30,100,500,2000 for 3x, 4x ,5x and 6x combinations respectively
2. A Soldier in Red Dress, 25,60,300,1000 for 3x , 4x ,5x and 6x combinations respectively
3. A Castle, 15,40,100,200 for 3x, 4x ,5x and 6x combinations respectively
4. A Bag of Gold, 10,35,75,150 for 3x, 4x,5x and 6x combinations respectively
5. Mushrooms, 10,35,75,150 for 3x, 4x, 5x and 6x combinations respectively
6. A White horse, 20,50,150,500 for 3x , 4x ,5x and 6x combinations respectively
There are some special symbols for this game.
1. Humpty Dumpty Card ( Wild)
2. Bonus Card
Humpty Dumpty Slot Features
Humpty Dumpty is the wild card of the game and substitutes all other cards on the screens to form winning combinations except the bonus cards.
The screen is very easy to use and friendly in interaction with the user. All the buttons are nicely put together at the bottom of the page. From there user can select the settings, turn the sound ON or OFF, spin the reels of his luck. The simplicity of this game's interactive menu is another reason to choose this game over others. It is easy to learn and even easier to play.
Unlike other games, there is no autoplay feature in Humpty Dumpty game. So the user has to manually play this one
Those who are lucky and befriend Humpty Dumpty are the lucky ones because Humpty Dumpty rewards them personally and also helps them in achieving further bonus rounds. The bonus features of this game are
Humpty Dumpty Slot Game Free Spins
If all the positions on reel 3 are filled by Humpty Dumpty then He as a loyal gesture explodes into the number of pieces which adds an extra reel (6th) to the screen. Reel 3 and 4 go completely wild thus increasing the chances of reward for the user.
The free spin feature is triggered when the user is able to get a combination of 3x bonus symbols anywhere on the screen on the second, third and fourth reel in the slot box.  The user is prompted to further two types of free spin modes which he can choose from
It grants 8 free spins with six reels and static wilds on reels three and four. Over the reels two characters called Humpty and Dumpty are on either side of a trail and each time a scatter symbol arrives on reels two or five they move one place towards one another. When they meet two additional spins are granted and every residual win is multiplied by 2. So if you feel lucky enough already then what's the wait. Spin the reels already.
It awards 10 free spins to the user and Humpty and dumpty characters are once again on the rails moving towards each other with each move the player makes. When they meet 3 x extra spins are rewarded to the user and the rewards earned are multiplied by 2