Imperial Destiny
Play Imperial Destiny Slot with 500 Free Spins at Money Reels
Imperial Destiny is a game developed by popular casino game developers Eyecon, with the plot of the game set in China in the year 220BC. The storyline is based on Shi Hwangoli, who is believed to be the first emperor of China. In this game, you are presented with the opportunity of travelling back to 220BC and also standing side by side with the callous emperor. This new Eyecon game features a stunning 5-reel as well as 25 pay lines slot.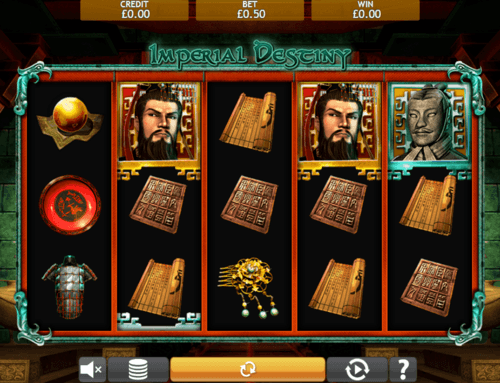 Imperial Destiny Slot Game Summary
In the game, you will be tasked to look for hidden treasures which are engraved in the free spins as well as prize picks. You can win prizes that are as much as a hundred times of what you staked. There are also many exciting bonuses and features programmed into this online slot.
Just like most slot games, Imperial Destiny has an Asian theme, and as you would expect, it is themed in a unique and original way. The story of the Imperial Destiny follows the life of the Qin dynasty leader, who is also the first emperor of the Unified China. The dynamic of the story, along with the unmistakable ancient themes are sure to convey the full prehistoric experience of the Chinese palace. The designers of this online slot game did not spare any supporting element in putting together a masterpiece; this is observable in the deluxe designs and the large statues present in the view of the slot at both ends of the five reels.
This online slot is lushly adorned with colorful high definition graphics and classical art effects that go to deliver a surreal and amplified gaming experience.
Why Play at MoneyReels?
✓ Free Spins on every £20 or more Deposits
✓ Win up to 500 Free Spins on First Deposit
✓ Up to 10% Daily Cashback
✓ 550+ Slots on Mobile, Tablet or Laptop
✓ Register and Deposit With PayPal
✓ 100% Safe and Secure
Join Now

Imperial Destiny UK Slot Gameplay
Just like other Eyecon games, Imperial Destiny has been made to be compatible with iPhones, Android smart phones, Tablets and Desktop computers.
Like most online slots machine games, Imperial Destiny does not have fixed play lines; the outcomes and wins in this game happen without a defined order. Your winnings are neither pre-programmed by manufacturers of the game nor by any individual. Rather, they come by landing three or more combinations of bell symbols that are identical on any reel during the base game.
The game is quite rewarding, you can win for yourself up to 100 times your original stake given that you meet the requirements. The theme of the game revolves around Chinese Imperial dynasties dated as far back as 220BC, where you as the player will get to play some role there. It came with an impressively attractive background donning different symbols such as Shi Huangoli (the first Unified Chinese Emperor of the Qin dynasty), a warrior, a wooden scroll, a Chinese Dream catcher, a tablet with Chinese writing, bells, an Ancient Bronze Ritual Tripod used to serve wine as well as other ancient historical and cultural objects.
Imperial Destiny UK Slot Bonus Features
This game comes with highly beneficial free spins that buoys your chances of winning big! During game play, if you are able to land three, four or five bell icons anywhere on the slot reels, you will be rewarded with 15 to 25 free spins. While playing with your free spins, the emperor Shi Huangoli wild icon will at first be visible on slot reels one, three and five and later, will go on to be seen over other reels. You can choose from the statues on the reels to reveal warriors who will awards you multiplier and exciting prizes.
The higher the statutes that trigger the multiplier feature, the more the picks you will get to make. Players have the capacity to retrigger the free spins for 15 times or more each time they land scatter symbols of three or above, this way their chances of winning is increased incredibly.
The Imperial Destiny online slot game also has an optional mode known as the Bonus Mode. In the Bonus Mode, you are expected to make a guess of one of either a jade or a gold bangle; when you guess correctly, your winnings will be doubled. This Bonus Mode can be played up to 5 times and up to a  credit limit of 3,000,000. This mode only comes to an end when you select 'take win' or when you make a wrong guess.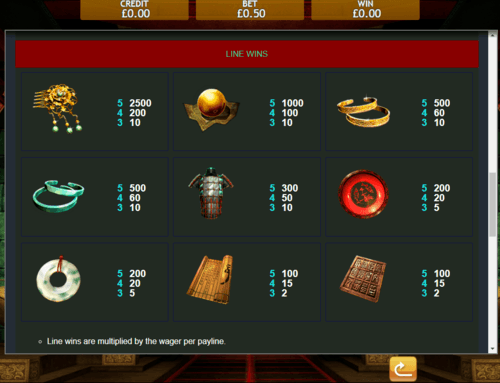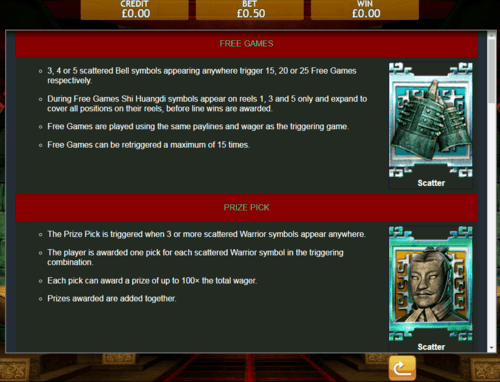 Imperial Destiny UK Slot Features
The very obvious feature of the online slot machine is the stunning interface it spots. It is geared to have a five reel slot with three rows and has up to twenty five pay lines. Each of these five reels are made up of large red banners, and they have an interior that looks like the classical Chinese temple or palace.
All the symbols used in the game have everything to do with the theme of the game, and they include various jade jewelries, gold jewelries, scrolls, printing blocks as well as armours. The slot also features a symbol of the Emperor Shi Huangoli who only appears on the second and fourth reel, swapping for all other icons, with the exception of the stone warrior and the bell scatter icons.
The Imperial Destiny online slot game is a terrific creation guaranteed to give you borderless satisfaction.  This game comes with a sweet RTP of 95.30%, this indicates that for every stake you make, you will get almost 100% returned back to you in time.
Brace yourself for massive wins with this online slot, it is easy to take advantage of the many bonuses and free spines that this game brings. To complement the many good points this game has, it is all the more comforting that it is a delight to look at considering its graphic design and themes.
Imperial Destiny UK Slot Related Games
Here are a few similar games you might also want to check out:
Emperor Gold: With this slot machine game, you get amazing features like Bonus Rounds, Free Spins and more.
3 Kingdoms Battle of Red Cliffs slot: An mystical game based on an Battle theme!
Would you like to try out this amazing game? Hurry now to MoneyReels.com and get the fun started!
Top 5 Online Slots on Money Reels
1. Fluffy Favourites 
2. Starburst Slot 
3. Fluffy Fairground Slot 
4. Fluffy Too Slot 
5. Wolf Gold Slot