Jack In A Pot UK Online Slot
Play Now and Win up to 500 Free Spins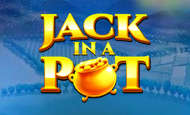 Jack In A Pot is a 5 reel, 25 payline slot game with a 95% RTP. This UK Online Slot comes with Free Spins and chance to win a maximum jackpot up to 300,000 coins on this slot.
Go to: All Slots | Fluffy Favourites | Fluffy Too | Fluffy Fairground | Wolf Gold | Shaman's Dream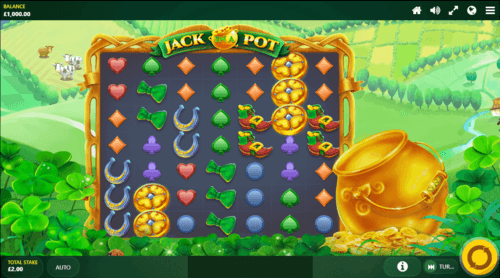 Jack In A Pot

UK Online Slot

It will be a challenging task but the players who have developed some skill and impressive hunting skills will be able to locate the pot in no time. Try your luck in this slot game that will you be able to search the pot or catch the Leprechaun or will you return empty handed back to your world? Be very careful and proceed very carefully because it is not an easy task owing to the cunning and clever nature of the Leprechauns. They will go to any extent to guard their treasures and will try with all possibilities to not let you near the great pot of gold. They do not believe in sharing even a tiny bit of the great treasure that is in their possession. It will be a hard task locating the Leprechaun and trying to convince him to give up the pot of gold for you but it will be worth it. Try your luck on Money Reels now and see if you can claim the pot of gold. This slot game has an RTP of 96.06% and has got 7 reels. The bet value can be changed between £0.2 to £40. Pack your stuff and get ready to go on an adventure, the likes of which you haven't seen before. This is going to be one of the most rewarding adventures of your life. Just keep those reels spinning with high wagers and you will see the results.
Jack in a Pot Developer - Red Tiger
Red tiger has once again developed an awesome slots game and managed to surprise us by its innovative and awesome themes. This time the game is based on an Irish theme which will take you the Irish green lands and your luck will be tested there to its extreme. You will be on the hunt to search for the famous Leprechaun's pot that is rumoured to be filled to the top with shining gold.
Red Tiger offers competitive titles for its fans which are unique and difficult to find in collection of other slot developing companies. Other similar games from Red Tiger include Dragon's Fire slot game, Divine Ways, Rainbow Jackpots slot, Five Star etc.
Play Jack in a Pot Mobile Slot
Developers have given a green touch to the screen in this slot because of the great Irish theme. Green is an ever friendly colour and uplifts the overall friendly nature of the screen. It gives away friendly vibes to the players because of it attractive and catchy nature. This game focuses on the element of Luck because only the lucky people are able to find the Leprechaun's gold. Someone cannot totally rely on skill to lure the Leprechaun in. A lot of luck is also required for this. Will you be able to find the gold pot or not? Play this slot right now to find out. It has a genre of Adventure. Background of this slot is the most beautiful background you would have come across in slot games. It consists of huge Irish fields with beautiful greenery trees along defined paths. It gives a very serene and calm feeling to the eyes of the players. The green lush fields are a hallmark of Ireland which is said to be full of such beautiful sceneries. Groups of cows are standing in the fields and enjoying their grazing sessions on the fresh grass. Around the slot box a lot clovers are growing, who knows what hides in these green fields? Perhaps the legendary Leprechaun is also present here somewhere and observing you with very cautious and ever ready eyes. The slot box Is beautifully encapsulated between a golden frame made from pure gold which gives a very nice look the graphics.  It consists of dark themed reels which don't have any segregation between them. As compared to slot boxes of other slot games this slot box is relatively a huge one and contains 7 reels with many rows. The lower valued symbols of this slot include card deck symbols such as clover, diamond, heart, spade and a circle (all of which are shown in different colours). The higher valued symbols of the game include symbols pertaining to the theme such as the Golden clover, Shoe, a horse shoe and a bow. The green free spin symbol and the rainbow wild are the bonus symbols of this slot game and will trigger the bonus rounds. If you want the leprechaun to be traced automatically then turn on the autoplay mode and enjoy the rest of the game on an automatic mode.
Jack in a Pot Slot
Game Bonus Features
The leprechaun has always been an icon of mystery in the Irish folklore. Getting into its close circle of friends will lead you to more prizes and rewards but for that you will have to work hard and spin the reels with full enthusiasm.  This Leprechaun search is no doubt tiring and exhausting but it is also a fact that the bonus features and the rewards are worth the time of the players. This game offers the following bonus features
Free Spins
Being able to land atleast 4x bonus symbols on the reels will grant you with free spins.
Beer Reels
Whenever a winning combination will be formed the symbols will disappear and new symbols will appear in their place in the form of fresh beer. This feature will keep triggering itself till the time there aren't any more winning combinations left to claim.
Rainbow Swaps
Whenever a rainbow wild forms part of a winning combination a giant rainbow will appear on the reels and will swap random symbols for bigger wins for the player.
Magic Pipe
Whenever it will form a part of a winning cluster the leprechaun on the sides of the reels will blow his pipe and convert random symbols into giant mega tiles that will cover more reels.
Hat Trick
When the Leprechaun will throw his hat at the symbols, it will suck away all the lower valued symbols of the game and only the higher valued symbols will be left.