KGB Bears UK Online Slot
Play Now and Win up to 500 Free Spins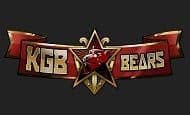 KGB Bears is a 5 reel, 50 payline slot game with a 96.01% RTP. 3 or more Scattered Camera symbols trigger the KGB Bear Free Spins feature. The KGB Cress Wild symbolis Wild and subsstitutes for all symbols except the scattered Camera symbol.
Go to: All Slots | Fluffy Favourites | Fluffy Too | Fluffy Fairground | Wolf Gold | Shaman's Dream
KGB Bears

UK Online Slot

Games, no matter to which genre they belong or platform they need, every slot game has a particular theme in it. It is that very theme that helps count the very existence, as well as, the essence of the game. But there is a catch sometimes in the theme where two different aspects are combined to form a great and remarkable game.

Imagine the time just 50 years ago. It's okay you don't have to be literally 50 years old or so to imagine that time. Where was the world back then? Into a very dynamic stage where so many developments were being made. One of the most fascinating as well as a very grim even that was being witnessed by millions, in fact, everyone around the world was the cold war. It was literally the west versus the east. However, it is all over now and the east is no more what it was perceived to be 50 to 30 years ago.

One remarkable aspect of the events that occurred at that time was how things were being manipulated from the back end of both sides. Secretive, organized, deterministic, and opportunistic values were being set for every side to have their will done. That being said, the secret institutes of both the countries were doing their best to make the most of their resources. One of the names that may not quite be known but was essential in keeping the cold war alive was the KGB. While what KGB really stands for is not going to be mentioned because it is a Russian word. The simple translation of KGB would be Committee for Security State.

What is there more the game has to offer? Let's find out.
Play KGB Bears Mobile Slot
Meanwhile, without getting into too many details, let's talk about KGB Bears. They're not utterly manipulative or even remotely villainous. They are cuddly, cute, and they belong to the KGB. Giving the game a little twist with the combination of both KGB and Bears makes the game quite attractive and very entertaining to play. The game reflects an aura of the cold war days where the spies and the secret agents were high and trying their best to do their work for the motherland. These KGB Bears may look determined but are sophisticatedly silly and entertaining. You may or may not take sides and be rather on the correct side of the history, but this game has got a lot more to offer than just being secret KGB agents.
KGB Bears come with an RTP of 96.01% which is quite impressive for a game that shares the theme of bears and somewhat history. The game is entertaining and looks quite attractive not just from its theme but its symbols are also remarkably cute and entertaining. The symbols used in the game are quite like Russian English and are A, J, K, 9, and 10. The other symbols include the bears. The symbols to look out for are the Wild and Scatter symbols. The Wild symbol is a Red Mighty Star with Wild written on the bottom. The Scatter symbol is a flash camera. KBG Bears Paylines are 50 and the game itself is of 5 Reels. For each line, you can enter only 1 coin and the minimum coin size is 0.05 and it can go up to as much as 50. The jackpot hits on 500 and the game is offered by Obodo.  
KGB Bears Slot Features
This might come not as a surprise but the game doesn't actually offer a bonus round. The game does have the simple free spin rounds and multipliers which can go at least 3 times or so. Other than that KGB Bears don't offer fancy features and bonus rounds. As far as the free spins go, you need to have at least 3 Scatters anywhere in the payline. If you manage to land Wild anywhere in the reel, you are likely to get a multiplier and have a boost at your winnings.
 As far as the verdict of the game goes, KGB Bears may have caused a lot of anticipation among players who are interested in history, animals and of course other adorable themes. Nonetheless, the game does look attractive and the graphical work present does make the game look aspiring, that is not to say that the game is equally fair in terms of rewards and offering players an advantage for winning. While it is true that the game does have a splendid RTP and makes it one of the most entertaining and promising games, not to mention with a great theme, it doesn't make up for the lack of bonus rounds. Had there been any bonus round in the game, possibly something related to action or adventure, the game would have been praised and appreciated by both critics and players. The game is simple and there are free spins and multipliers but that doesn't quite suffice the game and does not excuse it. The game could have been a lot better had there been at least one bonus feature.
 For more slots and games similar to KGB Bears, visit MoneyReels.com.
Similar theme games with KGB Bears:
As far as similar theme goes, a lot of games can come close to KBG Bears. One particular game that comes is Jungle Bucks. It is quite close to the animal or jungle theme and has somewhat a resemblance with KGB Bears minus the KGB bit. As far as KGB goes, there are two particular slots that come close to KGB Bears. Russian Grocery and USSR Slot comes remarkably close to KGB Bears. Both these games share not just the old USSR theme but are quite like KGB Bears as far as the theme goes.
 Similar feature games with KGB Bears:
Retromania can be regarded as one of those slots that come close to KGB Bears as far as the RTP percentage goes. One remarkable mention goes to Sovereign of the sea and Age of Troy slot.