Paranormal Activity UK Online Slot
If you like horror movies and gripping games, you'll love the new Slot Paranormal Activity from iSoftBet. The slot is based on the horror film 2007, it brings everything that horror fans can expect, and offers good odds.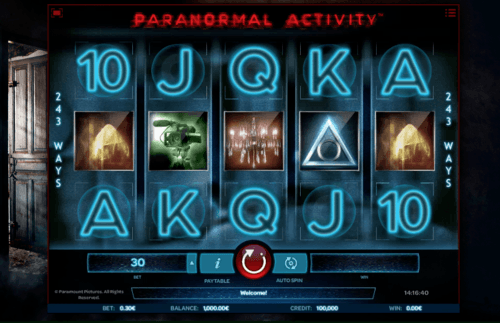 Paranormal Activity Slot Game Summary
Paranormal Activity is specially designed for those players who love horror movies and a bit of gambling. This game is a good way to pass the time pleasantly.
The slot machine is based on the horror film from 2007 and the latest slot machine from the company Paranormal Activity offers everything that fans of the genre can expect.
Why Play at MoneyReels?
✓ Free Spins on every £20 or more Deposits
✓ Win up to 500 Free Spins on First Deposit
✓ Up to 10% Daily Cashback
✓ 550+ Slots on Mobile, Tablet or Laptop
✓ Register and Deposit With PayPal
✓ 100% Safe and Secure
Join Now

Paranormal Activity Slot Game Gameplay
The developer of this horror slot game is iSoftbet. Already music and sound effects can awaken you and the icons and animations will be known to the fans of this genre. Paranormal Activity will definitely grab your attention.
If you really want to get involved in this adventure, play in the dark when you are alone at home. Paranormal Activity offers you 243 pay lines as you can activate various special features during the game. A paranormal activity feature is triggered randomly and adds up to five wild symbols on the reels. However, you can trigger three different free spins.
Alone this fact makes the game interesting. In the paranormal free spins, you play until you have five winning spins with a rising multiplier. The Possessed Free Spins to offer 10 Free Spins with an additional wild symbol, and the Demon Free Spins feature 15 Free Spins with a Demon icon that turns other symbols into Wild Symbols.
Paranormal Activity Bonus Features
If the bonus symbol appears three times, then a wheel of fortune starts. Better a scary but the profits can be seen. Among other things, an instant win is waiting for you. There are three different types of free spins. Once the first stop when you have five times a profit. The more money there is then also the multiplier increases.
The other free spins will give you ten shots with stacked wilds. These many extra wild cards make winning a lot easier. There are additional Joker symbols waiting in the 15 Demon Turns. So you probably can get a lot of extra winnings in these free games as well.
Paranormal Activity is a pretty scary movie. If you have not seen it yet, you should do it as soon as possible. It is best while playing this online slots game for free here on the MoneyReels. And we can assure you that it all looks so scary at the beginning, it's definitely not the slots game, because this can bring you profits.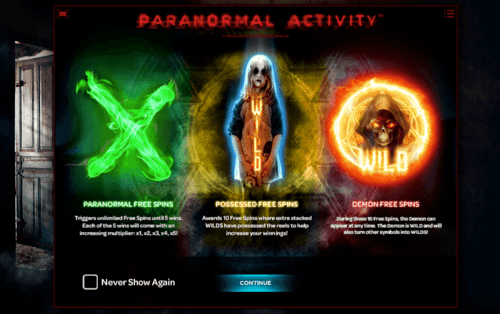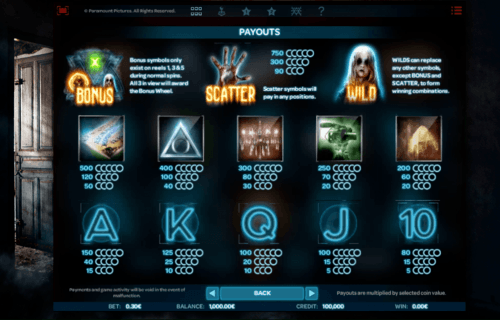 It is amazing that the individual profits are not that high. But if the symbols do not, then that should not scare you either because there are the more frequent profits especially if you start the free spins. Thanks to the bonus symbol. The extra jokers make it pretty easy.
The fact that the 30 paylines cannot be changed may disturb one or the other, but experienced online casino players would like many of them. Therefore you will not take it too bad. Concentrate better on the line missions.
The card symbols in Paranormal Activity look a bit like the ghosts of the corresponding cards and they are only surrounded by Ectoplasm.
The winning multipliers are multiplied by the set line bet when the corresponding symbol is turned 5x on a payline. The profit that results from doing so is greater if you play with a larger round. To make a profit at all, at least 3 equal appearances have to be turned on a payline. This does not apply to the scatter symbol because that counts at any position of the screen and is therefore also referred to as a single symbol. The winnings are settled here from left to right on the line.
Paranormal Activity Slot Game Design
iSoftbet is a company that not only has classic slot machines in the program but as you can see at Paranormal Activity, well-known movies are turned into online slots as well. However, no matter what topic is processed in the slots, the bonus features and features are crucial. Just like the payouts, they can be seen.
The music and the sound are guaranteed to chill the player. Fans of the horror movie will be familiar with the icons and animations of this slot. The slot will not leave the player without tension for a moment. If you really want to experience the horror factor of this slot, you should play it in the dark when it's all alone.
Paranormal Activity Slot Game Special Features
During the main game, you may happen to see a paranormal event, which adds extra winnings. Because it will be placed before a turn, up to 5 additional wild symbols on the reels. These remain then until after the rotation, fixed in position.
The bonus wheel starts spinning when three or more bonus symbols stop on the reels. You then turn the wheel to get one of the 4 possible wins. Very good are the Paranormal spins of which you get an unlimited number until you win 5 times. There are also multipliers.
Another win is the poses spins which means a total of 10 free spins with added stacked wilds for much higher winnings. Probably the most rewarding feature is the Demon Spins you can win. 15 free spins are waiting for you where each spin can spawn and stop a game that spreads to the other reels and gives your bankroll a massive boost.
After all, there is the instant cash prize that you can win, which is decent, more fun, and higher winnings, however, with the aforementioned free spins.
If you want to not only scare while playing, but also want to feel the thrill, then you should play this online slots game not only free on MoneyReels.com, but also for real profits in the online slots UK casino. There you have to be willing to risk something, but you can also earn real profits accordingly.
Top 5 Online Slots on Money Reels
1. Fluffy Favourites 
2. Starburst Slot 
3. Fluffy Fairground Slot 
4. Fluffy Too Slot 
5. Wolf Gold Slot