Rosellas Lucky Fortune
Play Rosellas Lucky Fortune Slot with 500 Free Spins at Money Reels
Core Gaming has once again developed this exciting new slot on a unique concept. It takes the players straight away to the home of Rosella the great fortune teller. She will decide your fate in the slot game and she is the one who will tell you about your future.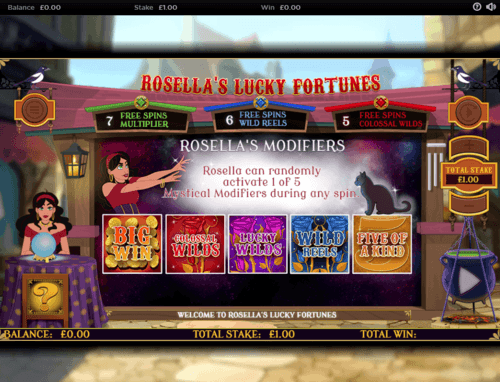 Rosella's Lucky Fortune Slot Summary
How well you play, what move you make and what awaits you in future, Rosella knows everything and will tell you about your future as well.  The game is exciting and fun to play as nobody knows what the future holds and would to know about their future. Rosella has no fees. Just place good wagers and see the future unfold for you yourself. High rewards, huge bonuses and a lot money await you at Rosella's place. The game can be played on Moneyreels.com as Rosella is visiting the site these days too. This game has a RTP of 94.51%. It has 5 reels 20 playlines with 3 rows of symbols each. Rosella awaits for you and is ready to tell you your fortune. Are you ready to know that what the future holds for you or do you believe that you will make your fortune yourself? Find in this slot game by playing today.
Why Play at MoneyReels?
✓ Free Spins on every £20 or more Deposits
✓ Win up to 500 Free Spins on First Deposit
✓ Up to 10% Daily Cashback
✓ 550+ Slots on Mobile, Tablet or Laptop
✓ Register and Deposit With PayPal
✓ 100% Safe and Secure
Join Now

Rosellas Lucky Fortune Online Slot Gameplay
The gameplay revolves around Rosella and the veranda of her house. The players act as visitors to Rosella's house where she awaits to tell them their fortune. The colours used in the game are a bit dim to add more suspense touch to the fortune telling element of this game. Rosella is the main character of the game who is a mid-aged attractive lady sitting on the left side of the reels holding a fortune crystal globe in her hands and trying to read your fortune for you. Do not lose your focus from the reels because of Rosella's beauty. Some say she is over 100 years old but has cast a spell to keep herself beautiful forever. The background of the game consists of Rosella's home which is shown behind the slot box. Different items are placed in her veranda which show her mysterious nature such as green fluid filled cauldron and a black crow sitting on right top of the screen. Rosella sits on left side with her eyes closed deep in trying to find your future information. The slot box is nicely merged with the background in the form of the veranda wall. The reels are separated by thin dotted lines. In the far background green hills are visible which in an indicator that Rosella does not live alone but in isolation and away from the local population. The symbols of the game are typical like most of the other slot games with the lower values slots being represented by alphabets and the upper value slots being shown by Symbols
The lower valued slot symbols include
1. A Symbol
1.5, 10, 25 for 3x , 4x and 5x combinations respectively
2. J Symbol
1, 2.5,10 for 3x , 4x and 5x combinations respectively
3. Q Symbol
1, 2.5,10 for 3x , 4x and 5x combinations respectively
4. K Symbol
1.5, 10, 25 for 3x , 4x and 5x combinations respectively
5. 10 Symbol
1, 2.5,10 for 3x , 4x and 5x combinations respectively
The upper symbols in this game are represented by
1. A Hand Symbol
2.5, 12.5 , 37.5 for 3x , 4x and 5x combinations respectively
2. The Sun
2.5, 15, 50 for 3x , 4x and 5x combinations respectively
There are some special symbols for this game.
A Rose (Wild) : 10,25,125 for 3x , 4x and 5x combinations respectively
Rosella : 10,25,125 for 3x , 4x and 5x combinations respectively
Bonus Symbols
Lucky Symbols: 5,20,75 for 3x,4x and 5x combinations respectively
Wild symbol is represented by the Rose which will replace all other symbols except the free spin bonus symbols of the game.
If Rosella is boring you with her closed eyes and silence while you want to do other tasks then you can turn out Autoplay mode and get on with your multi-tasking.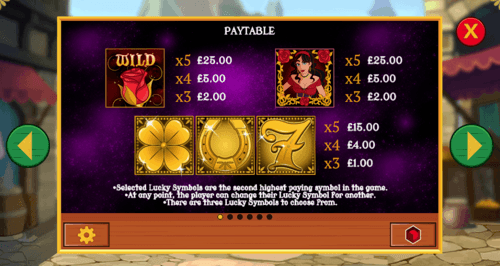 Rosellas Lucky Fortune Slot 
Game Bonus Features
Rosella has a good reputation of always telling the truth about someone's future and she will not be reluctant in telling the truth about your future to you. She is also generous in nature and does not let her guests return empty handed.
The game contains the following bonus features
Free Spins
The game contains a free spins feature as well in which if the player manages to land the bonus symbol on reels 1 , 3 and 5 the free spins is triggered. There are further features in it.
1. If two scatter symbols are landed than a magpie will fly over the reels and give the player an extra spin.
2. If the colour of the scatter is green then the player is rewarded with minimum 7 free spins and multiplier rewards that start from 1x and go upto 10x
3. If the colour of the scatter symbol is blue then a minimum of 6 free spins are rewarded while wild reels are being added to it.
4. If colour of the scatter symbol is red then a minimum of 5 free spins are rewarded to the player with the colossal wilds that are huge in size and help in achieving more rewards.
Wilds Feature
There are 5 random reel modifier features of the game
Big Win Feature: User is rewarded a mega win
Colossal Wilds Feature: Huge wilds are created by Rosella to help the player win more rewards
Lucky Wilds Feature: If a lucky wild lands in a winner combination then reward is multiplied by 7x
Wild Reels Feature: Random number of reels may turn wild
Five of A kind feature: 5 of a kind win is sure short to be granted to the player
Similar Games to Rosella's Lucky Fortune
Other similar games by Core Gaming are
1. Balthazar's Wild Emporium slot
2. Captain Cashfall
3. Carry on Camping
4. Pacific Boom
Top 5 Online Slots on Money Reels
1. Fluffy Favourites 
2. Starburst Slot 
3. Fluffy Fairground Slot 
4. Fluffy Too Slot 
5. Wolf Gold Slot