Stones and Bones
Play Stones And Bones Slot with 500 Free Spins at Money Reels
Coming from EyeCon this uk slot again is another marvel of innovation and uniqueness. This time EyeCon has decided to take us to pre historic times in this slot. Pre Historic times have always been a big discussion in history classes and a point of great attention in movies and cartoons. From sabres, huge birds and mammoths we all have heard a lot about these pre historic times where the human race struggled to survive amongst these huge and dangerous species of birds and animals.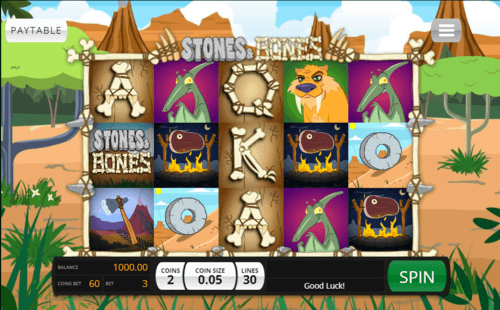 Why Play at MoneyReels?
✓ Free Spins on every £20 or more Deposits
✓ Win up to 500 Free Spins on First Deposit
✓ Up to 10% Daily Cashback
✓ 550+ Slots on Mobile, Tablet or Laptop
✓ Register and Deposit With PayPal
✓ 100% Safe and Secure
Join Now

Stones and Bones Slot Game Summary
At that time humans weren't so advanced in technology as well which led to additional problems and more exertion when it came to survival. It was a tough but fun time to live in. This slot will take you back to this era to meet Mr and Mrs Cave Family who have been surviving in these wild conditions for many years now. They will remind you of the Flintstones the famous cartoon from Hanna Barbara. This simple and cute family lives in the caves to protect itself from harsh weather and other dangerous animals. They need new technology and protection. You in the role of a time traveller will provide them with new technology and in return they will show you places which contained untouched resources and precious items like gems and diamonds etc. Be careful in your journey in this slot though because this is a very different type of time on earth. There are no human governments and everywhere there is only one thing prominent that is the rule of the wild creatures. EyeCon has added the element as well in this slot by adding colourful graphics coupled with a background music that will keep you busy in the game. You can have an access to the Pre Historic world on Money Reels. This game has got an RTP of 94% and on the screen it shows 5 reels with 30 paylines.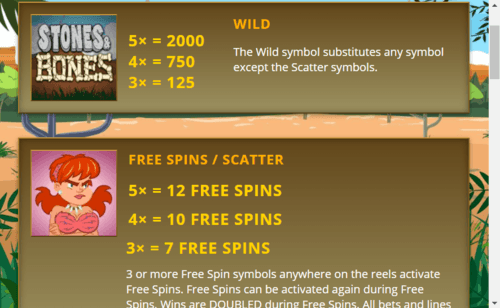 Stones and Bones Online Slot
Gameplay
This gameplay of this slot is all about surviving and searching for resources in a world where you are surrounded by mortal dangers on every step. Yes it is the Pre Historic world. This slot will give you twisty ride in the created world. The cave family will be accompanying you as well in this adventure filled journey. All you need to do is to provide them better means of protecting themselves and tell them about better technology. They will be more than happy to guide you to wins and rewards. Keep the reels spinning at a high wager which would definitely impress the Cave Family that such a brave player is providing them help. This genre of this slot is History. Pre historic world was a very cruel world to live in. Humans hadn't dominated like other species and every step you took landed you into the territory of another dominating species which took it an offensive step by you. Survival wasn't easy and humans survived by sharp skills and use of better technology. Most of the animals you will see in this slot have been a part of movies, cartoons and books as well. The background of this slot shows the terrain of the prehistoric world. Mother earth looks like a virgin here because humans hadn't dominated the earth up till now and everything was clean and environmental friendly with fresh terrain all around. Different forests and bulging features are visible in the background. Be careful because some very large species of animals might as well be hiding in these forests and the top of these hills. This background shows nature in pure form before we humans made it worse. The slot box is made up of bones of different animals which act as the border of the slot box. The game draws it's title from the structure of the slot box i.e. the bordered bones and stones. There is no distinction between the reels and all the symbols are apparently joined together without any gap. The amazingly designed logo of the game is placed on top of the slot box.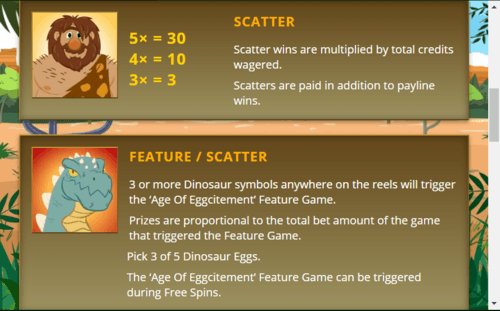 All the information about the game is shown on the bottom of the screen from where the players can interact with the game by using the interactive buttons such as spin button and set wager etc. The music is yet another awesome feature of this slot which will recreate the pre historic world for you and will amplify its effects making you enjoy more and more and help you in in indulging in the slot. There are two groups of symbols in this slot. The first one is the minor group that shows alphabets as its symbols i.e. J,K,Q and A .The second group is different symbols related to pre historic life which also act as  the higher valued symbols of this slot. It includes a rolling stone, an axe, a bar b que, a Pterodactyl, a Sabre and a Mammoth. To add some more challenge to the survival skills of the player the wild and scatter symbols have also been introduced which are depicted by the wild game logo, Mr caveman , Mrs Caveman and the great dinosaur.
Stones and Bones Slot
 Bonus Features
This game offers the following bonus features
Free Spins
Landing any 3,4 or 5 free spin i.e. lady of the cave symbols on the screen will grant you with 7,10 and 12 free spins. These free spins can also be reactivated during the gameplay. All wins are doubled during the free spins.
Age of Eggcitement Feature
If you get to land at least 3x dinosaur symbols on the reels then it will grant you with this bonus feature. In this you will pick the shown number (3 out of 5) of dinosaur eggs on the screen which will reward you respectively.
Similar Games to Stones and Bones
EyeCon has a unique sense of ideas and innovation. Other similar games from Eyecon which are similar to Stones and Bones include Sands of Fortune online slot, Temple of Ausar, Secret Garden II and Unicorn Bliss slot game etc.
Top 5 Online Slots on Money Reels
1. Fluffy Favourites 
2. Starburst Slot 
3. Fluffy Fairground Slot 
4. Fluffy Too Slot 
5. Wolf Gold Slot