Wacky Panda UK Online Slot
Play Now and Win up to 500 Free Spins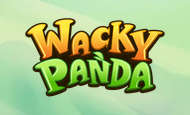 Wacky Panda is a 3 reel, 3 rows online casino with a 96% RTP by Microgaming
Go to: All Slots | Fluffy Favourites | Fluffy Too | Fluffy Fairground | Wolf Gold | Shaman's Dream
Wacky Panda UK Online Slot
This online casino game has been developed by Microgaming and will let you go lost in a world full of pandas and enjoy their fluffy company. Pandas have always been a subject of movies, games, books and slots. Their addition to any of the category mentioned in the above lines will double its entertainment. If you like to have some fun and enjoy the company of innocent animals then this is the perfect slot for you because it will allow you to enjoy the panda's company and get your senses refreshed. If you had a tiring day and just want to relax for a while then open this slot because regardless of your wins or losses you will come to love this slot because it has got all the fun elements in it which are any player's favourite. Pandas are not only loved in China but are also an internationally adored animal. People of China gift pandas to their allies as a sign of true friendship and long lasting relationships. Pandas themselves are an endangered species that lies on the brink of extinction if proper care is not taken. A lot of awareness has been spread internationally about the importance of Pandas and their last few surviving numbers. Thanks to this awareness in the form of inclusion of Pandas into books, movies, slots, comics and television people now understand the importance of protecting this endangered species. Travelling into a domain that is filled with Pandas is going to be a totally new experience. Pandas are unlike other animals and have a very inquisitive and innocent nature, they just love to poke around and explore things for themselves. 
Wacky Panda Develpered - Microgaming
Microgaming is one of the oldest and most renowned slot developers in the industry. Other similar slot games from Microgaming include Adventure Palace slot, Alaskan Fishing, Avalon 2 and Book of Oz slot etc.
Play Wacky Panda Mobile Online
In this slot you will find many cute pandas that are there around you trying to figure out your purpose. Feed the pandas by spinning the reels and they will show you the path to the ancient Chinese treasure that is buried here somewhere. The lush green environment of this slot is going to take you into another world where all your senses will be mesmerized and you will have a refreshing stay while you play this game. Pandas of this slot love human company and would love to see you in their domain as they love playing with human visitors. Try to keep their tummies filled so that they may also help you in finding new rewards. The beauty of this game is the graphics by which the screen has been designed. They are slightly cartoonish graphics that allow you to enjoy the view of the whole environment while maintaining a light and cute touch of cartoons. The pandas with the black circled innocent eyes will be staring at you throughout your stay in this amazingly lush green world. With an amazing waterfall in the background you are sure ought to be impressed by the graphics and animations which have been put in by the developing team to make the slot game. Try this slot on Money Reels and test your luck. It comes with an RTP of 96% and has got 3 reels with 1 payline. The pandas will let you place bets between £0.01 - £15.
Wacky Panda Online Features
This game's theme is all focused on the pandas. You will see that the theme, the screen, the background and the symbols etc. everything in the game is based on the lives of Pandas. The developers have tried to take the players into a virtual world where these innocent pandas are found roaming around with their innocent looks and cute features. The game has a genre of Oriental and Animals. The background of the game shows the lush green habitat of these animals with a lot of bamboos. Bamboos have been shown intentionally because these bamboos constitute the diet of pandas and are loved by them. Pandas love green grass and love to roll on it so you will find a lot of green grass in the background in addition to a fresh water fall. The slot box like the theme is also an evergreen portion of the screen with 3 reels. It is made by bamboos and covered in green shoots of bamboo as its top border. The symbols that are used in the game are either depicted by the pandas or the fruit symbols. There are no special symbols of this game like other slots. You will have to rely on basic symbols and baseline wins to make your time pass in this slot.
Wacky Panda Online Casino Review 2019
Unlike other slot games, this game does not offer any bonus features or extra features except the baseline wins of this game. That is because the developers want the players to get a traditional touch of slots. Basic slots were without any bonus features and did not contain any extra spin symbols etc. These bonus symbols have become more common on online slots whose aim is to make the gameplay of the game more and interesting. However, some people still prefer the good old slots with simple baseline wins and fun themes to play around which are also available on the casino sites. You will be able to play this slot on different coin levels that will allow you to explore more reward options in the game. If you love traditional slots and that too with simple and colourful themes then try this game, it has got all the right ingredients for you.