Wild Bazaar
Play Wild Bazaar Slot right here at Rose Slots and get up to 500 Free Spins!
Taking you deep into somewhere in the middle east in a small town this slot developed by NetEnt is going to give you roller coaster rides up and down the pipeline. It is an awesome online slots with a wonderful display, light animations and excellent bonus features. The game aims at giving you a wild travel experience to the middle of the desert.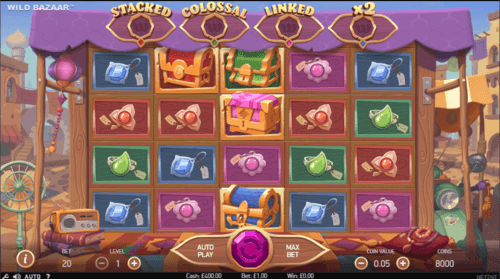 Why Play at MoneyReels?
✓ Free Spins on every £20 or more Deposits
✓ Win up to 500 Free Spins on First Deposit
✓ Up to 10% Daily Cashback
✓ 550+ Slots on Mobile, Tablet or Laptop
✓ Register and Deposit With PayPal
✓ 100% Safe and Secure
Join Now

Wild Bazaar Slot Game Summary
It has a basic theme whose focus Is to give the players a feel of the middle eastern society. You will be in the role of a traveller who has stumbled upon this town in the middle of the desert while on your adventures in the Middle East. This town looks like the ones from the movie like Aladdin where the great Genie himself maybe hiding somewhere. Nevertheless try to explore this town in the slot game, there is a lot to see and a lot to experience in this eastern bazaar. You will see a lot of colourful items and stalls who are selling exotic and unique items which have a very heavy value in monetary terms back in your country. This little desert trek could become an Eastern adventure if you look carefully and try to search for the treasures. Middle Eastern bazaar's are full of exotic items and its never too difficult to find some unique piece. You will come across some rare chests as well which you can open to find some surprises so this visit to the bazaar wont be any ordinary one. You can always check out this Bazaar at Money Reels. It has an RTP of 96.15% with 5 reels and 26 paylines.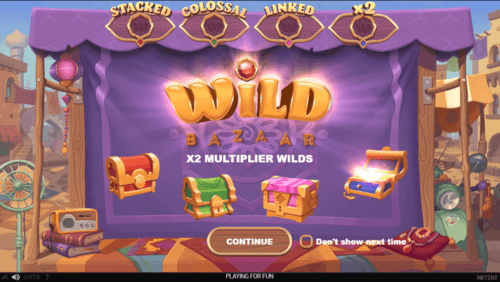 Wild Bazaar Online Slot Gameplay
Theme of this game is all about Middle East and its bazaars so the screen has been adjusted in terms of colours and graphics accordingly. You will find many elements on the screen that will recreate that eastern environment for you. The colours used are mostly related to Golden to create the desert effect on the screen. This slot comes straight out from an eastern fairy tale or movie because such towns are normally found in the movies or adventure series. They are no ordinary towns but special jewels of the desert. It is not a co incidence that these towns are located in the middle of the desert, your luck and you will to win had brought you over into this town. Get ready to be surprised and to win more rewards. The genre of this slot is Adventure. Background behind the slot box shows a very busy, dusty and messed up bazaar. The messed up part is there because of the frequent sandstorms that hit this town. The busy bazaar is full of stalls, shops and different buildings.
You get to witness the eastern architecture in the background in the form of different buildings and a huge minaret probably of a Mosque on the right side of the screen. The colours of the building are of mud colour depicting that the majority of the buildings have been constructed by mud. At the bottom of the screen and behind the slot box many different exotic items are placed which are on sale by the desert merchant. Search carefully among them because you will find a lot of exotic items and several precious products that no one else has laid hands on. The clear blue sky in the background is another visual hallmark and adds to the beauty of the slot screen. A fan is placed on the left of the slot box that keeps you cool in the hot desert heat and helps you in deciding on what to pick because otherwise you would just be concerned about the hot weather and would be unable to decide about the bazaar and its products. The slot box is like a stall in this game and is under a cover to protect it from the rugged sun. It is made up of wooden background with a plum coloured cloth covering it. You just need to visit the shop, spin the reels and if you win any prizes collect them. This stall is simple as that. The symbols are also quite unique and precious like the gems which represent the lower valued slots and the treasure chests of different colours which depict the higher valued slots. Unlike most of the other slots this game does not has any wild or scatter symbol, it has its own built in bonus features that will give you a crazy ride. Deserts have their own way of tiring their travellers down. It can make you feel dehydrated and down and if you do so then just turn on the autoplay feature and rest in the shade, the reels will take care of the rest.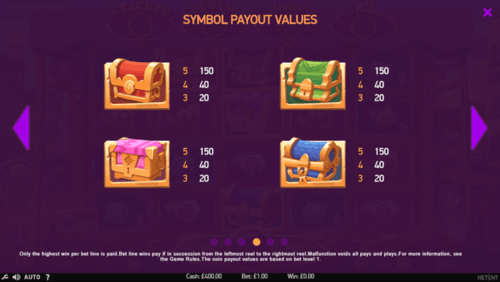 Wild Bazaar Slot Game Bonus Features
Few people enjoy the desert and its uniqueness. Even fewer realize the hidden rewards that lie in wait to be explored in the centre of the desert in towns like these. This game offers the following bonus features to the players.
Wild Spins
This feature is triggered when the player wins any combo of the higher valued symbols i.e. different coloured chests. For each number of symbols in a winning combo you will receive an equivalent number of free spins and the colour of the shown chests will determine that which additional bonus feature you will win. Different colours correspond to different features such as Red Chest Stacked Wilds, Green chest Colossal wilds, Pink Chest Linked Wilds, Blue Chest Multiplier wilds.
Similar Games to Wild Bazaar
NetEnt is giving other developing companies a very tough competition in regards to slot gaming and quality of its slots. Other similar games like Wild Bazaar from NetEnt Copy Cats, Big Bang ,  Attraction , Blood Suckers slot game etc.
Top 5 Online Slots on Money Reels
1. Fluffy Favourites 
2. Starburst Slot 
3. Fluffy Fairground Slot 
4. Fluffy Too Slot 
5. Wolf Gold Slot