Wild Scarabs
Play Wild Scarabs Slot with 500 Free Spins at Money Reels
Slots continue to intrigue us not along with their background, theme, features, and bonuses but it goes way beyond than that. It is slots that sometimes help us wonder about things we may not have known in the past. A lot of things can be learned and understood if we choose to research our interests.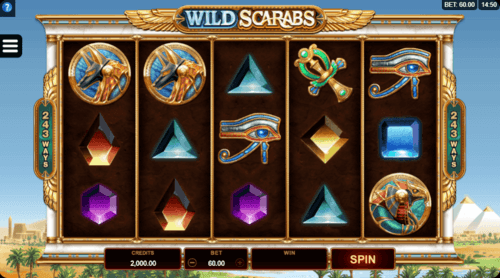 Wild Scarabs Slot Game Summary
Imagine a game where you are taken back in time where the world was not quite in its primitive ages but life was worth living. There was no technology that we have today since it is 3,000 BCE or so. But one of the most developed and sophisticated civilizations were being born in that time and one of the civilizations, which left its traces still on this earth is the Egyptian civilization.
Why Play at MoneyReels?
✓ Free Spins on every £20 or more Deposits
✓ Win up to 500 Free Spins on First Deposit
✓ Up to 10% Daily Cashback
✓ 550+ Slots on Mobile, Tablet or Laptop
✓ Register and Deposit With PayPal
✓ 100% Safe and Secure
Join Now

Wild Scarabs offered by Microgaming is not just limited to graphics and symbols that represent the game and its unique features but it goes a lot more than just that. With features offered by the game, and of course, your luck, one can easily win so much in a very small amount of time provided that you have your lucky side on you. Wild Scarabs may appear to be a history based slot but it can be considered a lot more than just that. It has the essence of adventure as if you were on your way to an adventure or quest of some kind. Not to mention, the most important bit of the game lies in the treasure which could be yours if you choose to select the right choice and are of course given the right ones as well. In simple words, an online slot like this one can easily help you not just have entertainment but the symbols used might intrigue about the actual history of Egyptian civilization. 
Wild Scarabs Slot Features
Here are some of the important things you need to know about Wild Scarabs.
First thing's first, the RTP of Wild Scarabs is 96.28% which can be considered an impressive RTP seeing the genre and theme of the game. Because the game has a historical background to it, not to mention a bit of adventure, 96.28% serves the game right. The game consists of 5 Rows and has 243 Paylines which gives users a tremendous opportunity to try their luck and win as much as possible. As for the symbols that are used in Wild Scarabs, they are jewels of colors Dark Blue, Purple, Green, Aqua, Fire Color, and Yellow. The symbols to keep your eye open for are the Egyptian God symbols which include, Ra, god-shaped like a bird; Set, god-shaped like a dog; the rattle like symbol, and at the end eye of the Horus, which has an eye in the symbol. Furthermore, the symbols to really look out for are the Wild and Scatter symbols which are blue stone and aqua goldish stone respectively.
Moving on to the more specific and important part of the game, Wild Scarabs offers its users two feature games. The first one can be easily scored if you manage to land the Wild symbol anywhere in the 3rd reel only. Do bear in mind that this game can only be won provided you are engaged in a non-winning spin. Once this feature is activated, you get to have 4 Wild symbols in the reel placed in random position. Then the game will entirely depend on your spin and if you land any combination whatsoever, you'll be winning big.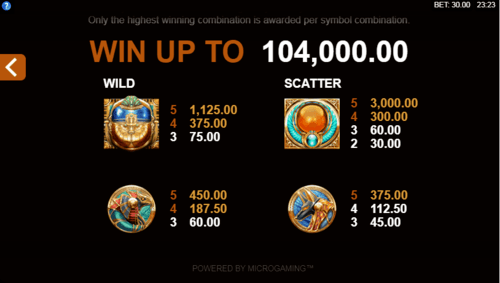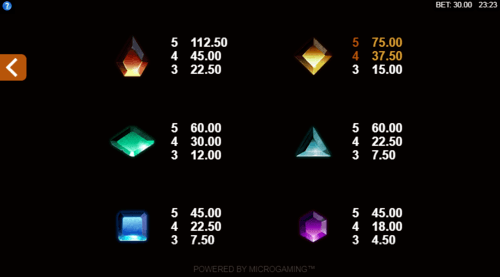 The second bonus round appears when you manage to land Scatters at least thrice anywhere in the reels. When this happens, you are awarded 10 free spins. During this round, Wild symbols can be seen stacked on the top of the reel. During the spins, should you manage to get 3 Wild symbols anywhere in the reel, they will be distributed in the next spin in random locations. However, if you manage to land Wild symbol at least once during the end of the free spin round, you will be able to have more additional spins so long as you manage to get at least wild symbols in the reel.
As far as the game goes overall, the game is okay as far as its features go and what it has to offer to the users. No doubt the RTP of Wild Scarabs is quite impressive and had it been more, it would have been regarded as some of the most sought games in history genre of slots. Nonetheless, 96.28% can still be counted as impressive. Although, that is not everything as far as any slot in consideration goes. The feature games offered by Wild Scarabs are only 2 and that may have been sufficient had those games offered more and would have been favored more by players.
There is no denying how spectacular the graphics are and not to mention how vividly the give players the experience as if they are part of the ancient civilization. The game is designed beautifully and truly gives the experience of being a part of ancient Egypt. Had the game been more interesting or engaging in its feature games and had the bonus rounds offered more, the game would have been far more interesting than it is presently. Still, the game is interesting if you're looking for a history slot with no complicated features and offers. The game is pretty simple and you may be able to win big provided that your luck is on your better side.
Similar Theme Game With Wild Scarabs:
Slots that give the same vibe and feeling as Wild Scarabs include Temple Cats, Geisha Slot, Age of Troy, and without a doubt, the most relatable game, Treasure Raider slot.
Similar Feature Game With Wild Scarabs:
Games that share just about the very same features as Wild Scarabs include Pyramid Treasure and Age of Troy. Their RTP are not the only features that resemble but the features included are very close.
If you want to explore more genres and slots, Moneyreels.com is the place to go.
Top 5 Online Slots on Money Reels
1. Fluffy Favourites 
2. Starburst Slot 
3. Fluffy Fairground Slot 
4. Fluffy Too Slot 
5. Wolf Gold Slot