Double Da Vinci Diamonds UK Online Slot
Play Now and Win up to 500 Free Spins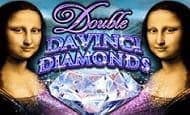 Double Da Vinci Diamonds is a 5 reels, 40 paylines online slot game by High 5 Games. Double Da Vinci Diamonds has Wild, Scatter Symbol, Bonus Symbol, Cascading Wins, and Free Spins features and an RTP of 94.90%. 
Go to: All Slots | Fluffy Favourites | Fluffy Too | Fluffy Fairground | Wolf Gold | Shaman's Dream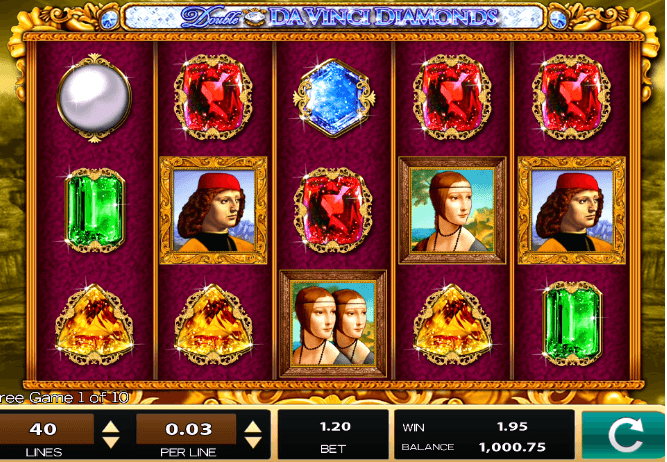 Double Da Vinci Diamonds UK Online Slot
Double Da Vinci Diamonds is something of an oddity when it comes to online slot games. It's the sequel to an earlier game called Da Vinci Diamonds which was made by a different developer. IGT created the original, and although you might see the IGT logo and name attached to Double Da Vinci Diamonds, it's actually the work of the High 5 Games studio, who made it for IGT on license.
Play Double Da Vinci Diamonds Mobile Slot
It's also odd because the theme is the sort of high-brow culture topic you don't often see online slots attempt to use - the life and times of the famous Italian artist and scientist Leonardo da Vinci. We probably know da Vinci for his art better than any of his other achievements, but he was a polymath who excelled in a number of fields including sculpture, architectural design, and biology. He was even one of the first scientists to attempt to map out the human circulatory system. He'd probably be quite offended only to be thought of as an artist in the modern era, and we have no idea what he'd think of his work being used as the basis for an online slot. As far as we're concerned though, it's fantastic.
It's da Vinci's art which forms the basis of what appears on the reels in Double Da Vinci Diamonds, which is played on a 5x3 layout in an ornate frame, with a fairly neutral background. It's not the most elaborate design, but we can forgive that because the slot was a 2015 release which came out just before the HD era in online slots.
A range of sparkling jewels account for the symbols of least value in this slot; they come in blue, white, yellow, green and red colors. The three more valuable symbols you'll see are representations of the artist's best-known portraits; 'Portrait of a Young Man,' 'Lady with an Ermine,' and of course the 'Mona Lisa,' which is probably the most famous portrait of all time. You might occasionally see the same portrait appear twice in the same location, which we'll explain when we discuss the bonus features.
As there are bonus features to play for in this slot, there's also a wild (represented by the slot's logo) and a 'Free Games' scatter symbol, which isn't keeping any secrets as to its other function. The scatter is the only symbol in the slot which can't be replaced by the wild.
Double Da Vinci Diamonds Developer - High 5 Games
High 5 Games has historically been a little shy about accepting credit for the work that they do - especially when it comes to UK online slots. They have a high profile around the world, but arguably don't get the credit within the UK that they really should. That's because they've got a habit of doing exactly what they've done here - made a popular slot game and allowed someone else to take the credit for it!
High 5 have been around the world of online slots for as long as the world of online slots has existed. They were founded in New York in 1995 to serve their domestic audience, but they've since opened a second base of operations in London so they can better handle British and European markets. Their full product range expands to well over one hundred online slots, with highlights including Gypsy slot game, The Leprechaun King, and The Legacy Of Cleopatra's Palace slot, all of which are available here at Money Reels.
When they're not making products for the conventional market, they're trying to find new players on social media; in recent years they've invested plenty of time and energy into creating the High 5 Casino, which connects to Facebook and allows players to play there without leaving the Facebook website.
Double Da Vinci Diamonds Slot Bonus Features
The bonus/scatter symbol offers access to the only bonus game that Double Da Vinci Diamonds has to offer, but there are a couple more extra features in the slot which are also worthy of note.
The first is the Double Portraits quirk which we mentioned earlier on. The portrait symbols are restricted in terms of where they'll show up - 'Mona Lisa' and 'Portrait of a Young Man' only show up on reels one and four, whereas 'Lady with an Ermine' stays on two and five. Sometimes there will be two of the famous faces in the same frame, and when this happens, they'll be counted as two separate symbols. That makes winning lines of up to ten symbols possible, leading to big payouts. As an extra piece of assistance, the wild will always be counted as a double symbol when calculating wins.
Cascading Wins are also a feature of this slot. If you've never played online slot games that have this feature before, you're in for a treat! Every time you create a winning combination, the symbols involved in that combination disappear, replaced by new ones which drop in from above the reels. If the new symbols also create wins, they'll also disappear, and the process will continue until no new wins can be made.
The Free Spins feature is triggered, unsurprisingly, by the 'free games' symbol. It only ever shows up on the first three reels, and you'll need all three of them to kick off the feature. The slot will randomly assign you somewhere between six and sixteen free spins, so cross your fingers and hope that it's generous, because you can't re-trigger any more once it's started. An additional wild symbol is added to the reels during free spins, so your chances of winning increase again.
Although it's showing its age a little in some aspects of its design, and the RTP is a little low by modern standards, Double Da Vinci Diamonds is still an excellent online slot game. The combination of cascading wins, double portraits and wilds make it possible to get onto a great winning streak without even spinning the reels.