Gypsy UK Online Slot
Play Now and Win up to 500 Free Spins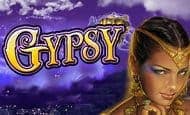 Gypsy is a 5 reels, 243 paylines online slot game by High 5 Games. Gypsy has Bonus Symbols, Scatter Symbols, Wilds, and Free Spins features and an RTP of 94.90%.
Go to: All Slots | Fluffy Favourites | Fluffy Too | Fluffy Fairground | Wolf Gold | Shaman's Dream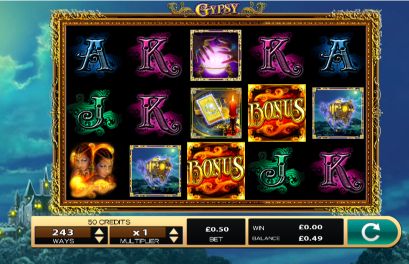 Gypsy

UK Online Slot

Gypsies sometimes get a hard time from the UK tabloid press, and even some people. A lot of that is down to a misunderstanding of who they are and what their culture represents; it's regarded as enigmatic and mystical. Some say gypsies are capable of telling the future. Others say they're just an eccentric band of travellers who prefer to stay with their horses and caravan than engage in the same day-to-day world the rest of us live in. In making Gypsy, High 5 Games have decided to stay with the more mystical elements of the gypsy stereotypes, making for one of the most enchanting online slot games we've played recently.
Play Gypsy Mobile Slot
Whenever you see gypsies depicted on screen in television or film, you'll almost always notice that young gypsy women are seductive, alluring, and beautiful. High 5 have played right into that trope with the woman you'll see a lot of in the Gypsy slot. She's a fortune teller, and has her crystal ball to prove it. As they took the time to make the gypsy girl look so beautiful, High 5 would have let her down if they hadn't ensured the rest of the slot was also pretty, and so it is. It's not over-the-top in terms of style, but it's slick, moody and smooth, backed up by authentic music which makes for an immersive playing experience. Gypsy was released a few years ago in 2015, but if we hadn't told you that you'd likely have been willing to believe it was a brand new slot.
When it comes to the layout, Gypsy is unremarkable. The reels and rows are set out in a 5x3 formation, but that doesn't limit the number of ways to win. Differing from most traditional online slots, Gypsy ups the number of paths to victory to 243 by counting your winning combinations so long as they're in adjacent rows. To put it simply; they don't have to be in a straight line for you to get a payout from them if the right symbols appear on the reels from left to right. All of your focus will be on the reels because save for a hint of rooftops, the background is jet black.
The top ranking symbols in Gypsy are right from our leading lady's world; she is the most valuable, but you'll also be happy to see her crystal ball, her tarot cards or her caravan. The familiar set of playing card symbols round out the lower values here just as they do in countless other online slots, albeit with a visual twist which makes them fit the slot's theme.
The 'Gypsy' logo is the slot's wild, appearing on every reel apart from the first one, and will replace all but the bonus to create winning combinations. You won't miss the bonus symbol when it appears because it helpfully has 'BONUS' printed right across the middle of it. It can only show up in the middle three reels, and opens up one of the slot's bonuses.
Gypsy Developer - High 5 Games
High 5 Games are known and loved in their native America, but still trying to get their name seen and heard in more places among the UK online slots scene. It's taken them a while to start focusing on the British market; they opened their offices in New York in 1995. The rest of Europe is also more familiar with them than we are - an office in Italy is a testament to that - but they now have a formal UK presence in London to add to their collection of bricks and mortar locations.
Even though the name 'High 5' might not be all that familiar, if you're a regular visitor to Money Reels, you'll likely have played one of their online slots without knowing you were doing it. High 5 have worked with plenty of other studios in the past to bring products to market, with the best example being Double Da Vinci Diamonds. IGT got to put their name and logo on it, but the bulk of the work was done on license by High 5 Gaming. We don't know why they chose to go under the radar in this manner for so many years, because they've created hundreds of popular online slot games without ever getting the credit for it.
In more recent years, they've been trying to gain access to potential new customers on social media by developing the High 5 Casino for Facebook. Time will tell whether that's been a worthwhile move - or even one that Facebook will even allow them to continue with, considering the frequent bad press the social media giant has been enduring recently.
Gypsy Slot Bonus Features
Perhaps surprisingly for High 5 Games, Gypsy doesn't have much to offer in terms of bonus features, and what is here isn't groundbreaking.
The first of the bonus features is a special symbol, which can appear in the base game. It's a Double Gypsy, as if the central character of the slot has a long-lost twin! Best of all, it counts for two of the standard gypsy symbols. That means if you have one of the gypsy symbols on the first reel, and a double gypsy symbol on an adjacent row in the second reel, the slot will count them as three symbols and pay out accordingly. Technically speaking, this means you could land five double gypsies in a line, which would be counted as ten gypsies and pay out 1000x your line bet. Before you get excited about that, we must stress that it's exceptionally unlikely to happen - the double gypsy doesn't turn up frequently, so having five of them appear in any order at all would be a near-miracle.
The 'proper' bonus feature here is a Free Spins round, which will commence if you land a bonus symbol on all three middle reels at the same time. You'll get ten free spins when that happens, and you'll be taken to a different set of reels to spend them on. This is more of a cosmetic change than a practical one; the new symbols on these reels are worth no more than the symbols in the base game are. It's possible to trigger the feature again while it's active, so long as you find enough bonus symbols to do so.
Gypsy may not appeal to you if you come to online slots because you want to chase huge wins. There aren't any multipliers available in the free spins feature, and so it feels a little flat as a bonus. The double gypsy symbol is nice, but doesn't appear frequently enough to make a material difference to your game on most occasions. With 243 ways to win, what Gypsy can do is offer you small wins regularly, which makes playing it a fun experience for low-risk players.