Frozen Queen UK Online Slot
Play Now and Win up to 500 Free Spins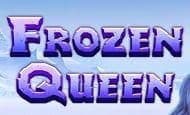 Frozen Queen is a 4 reels, 81 paylines online slot game by Tom Horn Gaming. Frozen Queen has Scatter symbol, Expanding Wild, and Free Spins features, and an RTP of 96%. Two magic crystals on the screen initiate 10 Free Spins.
Go to: All Slots | Fluffy Favourites | Fluffy Too | Fluffy Fairground | Wolf Gold | Shaman's Dream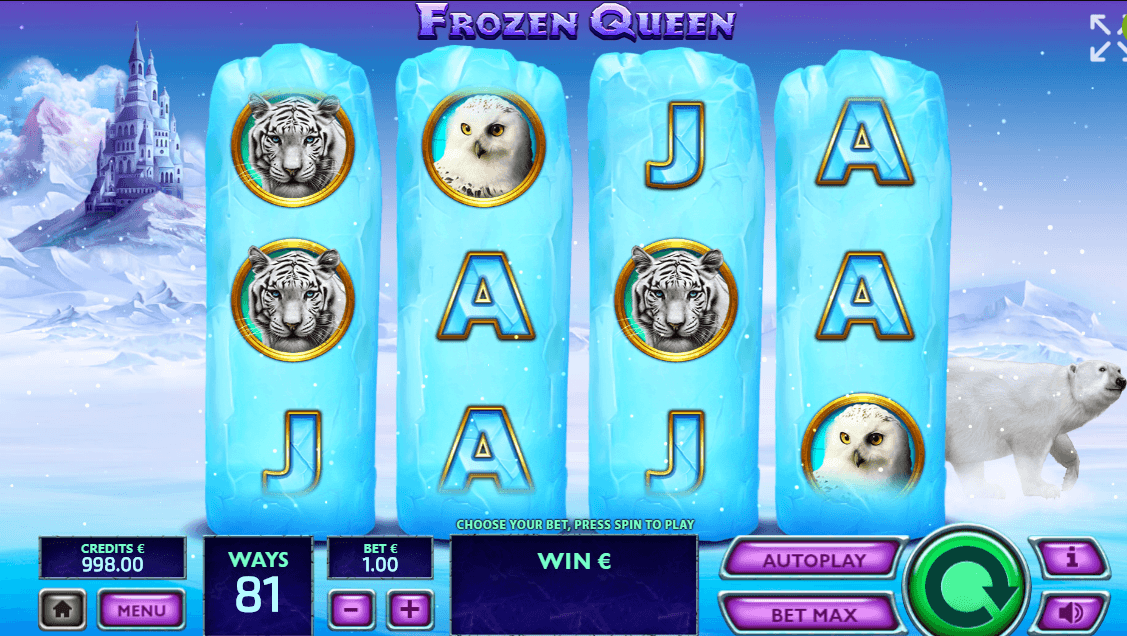 Frozen Queen UK Online Slot
It's been quite a few years since Disney took the world of cinema by storm with 'Frozen,' but it seems like some developers of online slots just aren't ready to 'let it go.' There's no mistaking where Tom Horn Gaming has taken their inspiration from for this slot game, which was released in the second half of 2018. There's no official Disney license present - because who's got the money to pay for one of those - but this is an icy kingdom with beautiful snowy scenery, a castle in the background and an ice queen. We think it's fair to say we know what Tom Horn is going for here.
Play Frozen Queen Mobile Slot
The first thing we want to point out about this slot is that it's a great way to achieve beauty and simplicity at the same time. They've kept the colour scheme very basic - everything is frozen over and white or a cold blue - with even the symbols on the reels appearing in white, and the occasional splash of gold or purple being the only other shade present on the palette. It makes for a gorgeous theme, and we were visually in love with this slot as soon as it loaded. As a nice addition, occasionally a polar bear will trudge through the snow in the background of the slot, pausing briefly to glance up at the reels and see how you're getting on.
It also has a comparatively narrow layout by the standards of most modern online slot games; it's 4x3, with the reels represented by pillars of ice, and the symbols spinning inside them. The slot pays out for winning lines so long as they're in adjacent positions, so even with the comparatively small selection, there are still 81 ways to win. Frozen Queen can do a little better for you than that though - you just have to hang on and get through to the bonus features to find that out.
As well as a restricted playing area, this slot also has a restricted number of symbols; there are only eight standard symbols to look out for, and four of them are of low value and represented by J, Q, K, and A. Above them are a white tiger, a polar bear, a white wolf, and an owl. At the risk of going on about it for too long, the commitment to the colour scheme works wonders for the atmosphere of this slot. Playing it, you get a feeling somewhere between being in an interactive Disney movie, and falling through the back of the wardrobe to end up in Narnia.
Above the standard symbols is a magic crystal, which is both a wild and a scatter, and is your access into the slot's one bonus feature. It also substitutes for all other symbols, so you'll want to see it as often as possible.
Frozen Queen Developer - Tom Horn Gaming
Malta is home to many of our favourite online slots development teams, and Tom Horn Gaming is one of them. They do also have a separate British base from which they provide support for their UK online slots products, but it would be fair to say that they're just as concerned with serving Europe as a whole as they are the UK.
As well as covering the whole continent, Tom Horn cover the whole spectrum of casino products. They have a fine portfolio of online slots, but they describe themselves as a 'cross-platform' provider, who also make physical slot terminals and ship them to land-based casinos and bingo halls.
According to their mission statement, Tom Horn's reason to exist is to create tense, exciting and rewarding slot games. We wouldn't necessarily describe Frozen Queen as 'tense' - it's too relaxing and tranquil for that - but it definitely ticks the other two boxes.
Other stand-out slots within the Tom Horn Gaming range include Blackbeard's Quest online slot, Dragon Riches, Fire N Hot slot game, and Treasure Run. They don't tend to overload their slots with features, so the fairest way to describe them would be o say that they make slots which have classic functionality, but modern-era visuals. The only thing we can't work out about them is their name. There isn't a 'Tom Horn' anywhere in their management team, and nor can we find any evidence of anyone with that name being significant in their company history. The company's first business director was called Jan Horyna, so perhaps it's an Anglicized version of his name - or perhaps they really have just named themselves after a notorious American hitman!
Frozen Queen Slot Bonus Features
Frozen Queen is every bit as simple as it is beautiful. You don't have to read anything to understand how this slot works; everything is apparent from the moment you spin for the first time. By keeping only one bonus symbol in the base game, the reels don't get cluttered by too many of them appearing at once. Because of that, we found that the bonus is quite easy to trigger, and happens with pleasing frequency.
That bonus is a Free Spins round, and you only need to land two of the magic crystal scatter symbols anywhere on the reels to trigger it. Doing so will give you ten free spins. During those free spins, the Frozen Queen of the slot's title will make her only in-game appearance - right in the middle of the layout, as a fifth and completely wild reel. By virtue of there now being five reels, the number of potential ways to win jumps up from 81 to 243, and you should find wins quite easy to come by.
Sadly the round cannot be re-triggered while it's active, so make the most of your ten spins when you get them. As there are so few symbols, you'd be very unlucky to come out of the free spins round without more money than you entered it with.
Frozen Queen is an enchanting, fun, simple and generous online slot which we can't find any flaws with. It's good-looking, it doesn't hide its bonus features behind unreasonable barriers, and it's as easy to follow for a newcomer to online slot games as it is to a veteran.