Fruit Blast UK Online Slot
Yes, fruits are good for the body, but it is, even more, better when you are a getting a grand payout reward from the fruits. With its friendly and fun fruit characters, Fruit Baskets takes you on a grassland adventure.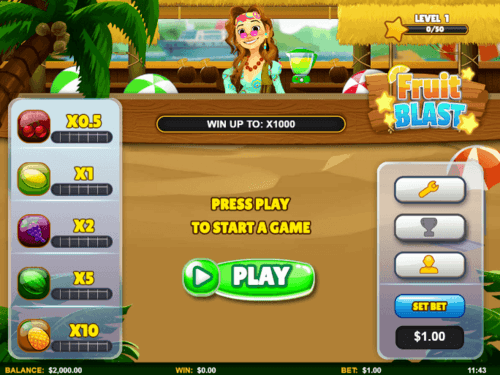 Fruit Blast Online Summary
The Fruit Baskets is an online instant game, so gamers can potentially earn money instantly while having fun playing the game. The game has mouth-watering fruits that allows players to have fun while making multiple wins. Players can wager as little as £1.0 per ticket and as high as £10.00.
Why Play at MoneyReels?
✓ Free Spins on every £20 or more Deposits
✓ Win up to 500 Free Spins on First Deposit
✓ Up to 10% Daily Cashback
✓ 550+ Slots on Mobile, Tablet or Laptop
✓ Register and Deposit With PayPal
✓ 100% Safe and Secure
Join Now

Fruit Blast Online Gameplay
This game has a colorful look complete with animated fruits. It is set in a colorful field that has a farmhouse theme. On the left side of the game is the pay table. The pay table contains different types of fruits that have eyes attached to them and jumps up and down the screen. These fruits are random and animated. They have a multiplier value attached to each of them. There are nine fruit baskets that contain random fruits. The fruits here are hidden and will become visible when you click on the play button. Clicking on the squares reveal the fruits and prizes attached to them. To win, a player has to have a card with three identical fruit symbols. You simply click on the baskets on the right side to match up the same fruit symbols. The prize attached to each type of fruit matched up however varies; 3 oranges will grant you a return of your initial stake, 3 pears will give you 1000x your stake and with 3 cherry, you instantly win the jackpot.
Players can stake from 1.0 to 10.00 and win up to 10,000x the stake. Before playing, you are asked to select a bet on the gameplay screen. There are arrows that point up and down where you click to adjust the amount of your bet. You can increase or decrease your bet amount using this arrow. With higher bet, you can potentially win more money. All you have to do is click on the basket to match as much identical fruit symbols as you can.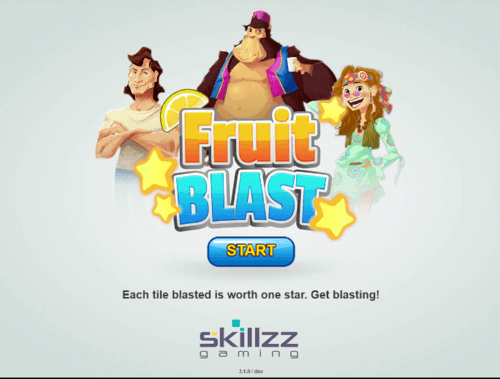 Fruit Blast Online Developer
Pariplay is the developer of this exciting fun and colorful game. Gili Lisani is the CEO and Founder of Pariplay ltd. He has been in the gaming industry for about 8 years and is highly skilled in iGaming systems.  At pariplay, the goal is to develop superior and high-quality systems with excellent content. Pariplayltd.com aims to provide players with fun and innovative ways to win money and still have fun at the same time. It has a fusion platform that merges different games into one platform and makes it easy for players to use and navigate. There is an ilottery that provides gamers with a source of entertainment and provides revenue for this platform.  Other games developed by pariplay include chittybang, wild cherry slot game, pets, lucky keno, sharknado, Rio Bingo among others.
Games with similar theme/graphics
Games with similar theme and graphics as fruit baskets games are Dragon Scrolls, Cash Cuisine, happy birthday, mega love, money cuisine, the royal invitation, honey money, Prince charming, and many others.
Games with similar Features
Cash cuisine is an online game with an Italian restaurant theme. Players can uncover dishes from sandwiches to pizza, tiramisu and more. They have to match 3 numbers on 3 ball sets to win the grand payout. Once these numbers are correctly matched, the player wins. It has similar features as fruit basket instant game and players can cash out their win instantly.
Compatibility
The fruit basket instant game can be played on various kinds of device. This includes desktops, laptops, mobile phones and tablets. It is compatible with Android OS and iOS.
You can play this game on moneyreels.com. At moneyreels.com, new players have amazing welcome offers when they deposit £10 or more. They qualify for a Mega Reel spin which contains amazing prizes such as Shopping Vouchers and Free spins on games such as Starburst and Fluffy Favorites. Playing on money reels.com is safe and secure. They are fully licensed by UK gambling commission and have a friendly customer service.
Review
ChristyT: An amazing one from Pariplay. This game is not only fun but colorful. All you have to do is match similar fruit symbols and you win! You can wager as low as 0.10 per ticket. A maximum staked game costs as much as £10. This game is pretty simple. All you have to do is match 3 similar fruit symbols. You then win the multiplier attached to those fruits. Easy!
AshDF: Definitely an easy one from Pariplay. I especially love the use of colors and the bouncing fruits. If you are new to the gaming world, you will have no problem with the fruit basket instant pay. Match similar fruit symbols by clicking on the fruit baskets and get the money. For a card game that allows you to wager as low as 0.10, I find that a pretty good deal. The more you bet, the more you win. It is well arranged in a way that the simplest user finds it relatively easy to use. Once you place your bets and click on the bet button, the fruit baskets on the right side reveal the hidden fruit symbols with animated eyes and you can then start matching. I will advise you place more bet so you can win more.
Strt3r: another great farmhouse themed game. I loved this game and I definitely enjoyed playing it. I have played this game with as low as £10 and made multiple wins. All that is required is to click the play button to reveal the hidden fruits in the baskets, match similar fruits symbols and once I match up to 3, I get the money attached to the fruits. With 3 oranges, I get my initial stake, 3 pears matched together gives me 1000x my initial stake, 3 cherry matches gives an instant win of the jackpot. Good job Pariplay!
Top 5 Online Slots on Money Reels
1. Fluffy Favourites 
2. Starburst Slot 
3. Fluffy Fairground Slot 
4. Fluffy Too Slot 
5. Wolf Gold Slot