Kingdom of the Sun: Golden Age
Play Kingdom Of The Sun Golden Age Slot with 500 Free Spins at Money Reels
Play Kingdom Of The Sun Golden Age
This online slot by Playson is inspired by an Egyptian theme with Pharaohs and Cleopatra and Egyptian gods, over the years a lot of online casino software developers are going the way of Egypt to set up their themes with various of the top online slots around the world having Egyptian themes, but I believe we can all agree that the Egyptian theme is one theme that does not get old fast and we can still expect more Egyptian themed slots from Playson and other online slot casino developers out there.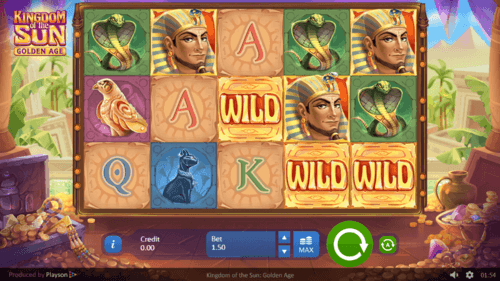 Kingdom of the Sun: Gold Age UK Slot Summary
On the Money Reels online mobile site you will definitely find a lot of Egyptian themed slots.  We have seen a lot of Egyptian slots over the years and so we cannot legit say that this is the best one out there but it does fall in the category of the ones that will definitely be high up in the list of recommendations when looking for a great online slot. 
Why Play at MoneyReels?
✓ Free Spins on every £20 or more Deposits
✓ Win up to 500 Free Spins on First Deposit
✓ Up to 10% Daily Cashback
✓ 550+ Slots on Mobile, Tablet or Laptop
✓ Register and Deposit With PayPal
✓ 100% Safe and Secure
Join Now

The Kingdom of the Sun: Golden Age slot does offer a lot of bonus features that make winning big prizes easier for the players, and coupled with the fact that there are a lot of great treasures to be found in this online game, it has definitely got rollers coming back for more. The gameplay has been made as easy as it can be for players so that even beginners can pick up the slot and understand what it is all about at a glance. The Online slot has been made available on mobile devices to ensure that you can play the game anywhere at any time you so desire.
Kingdom of the Sun: Gold Age UK Slot Gameplay
The game design was obviously one of the things that the developers payed attention to with the game being set in the ancient civilization of the Egyptians with the presence of pyramids in the background and a smooth running river which could possibly be the river NILE and a sort of bv each being in view with treasures lying in a heap upon it, implying that in this slot there are a lot of prizes to be won. The board takes a 6 reel 3 row format and provides up to 15 active paylines  with various Egyptian themed symbols making an appearance such as the beautiful Cleopatra and various Pharoahs and lets not forget our traditional playing cards numbers, the kings, jacks and queens.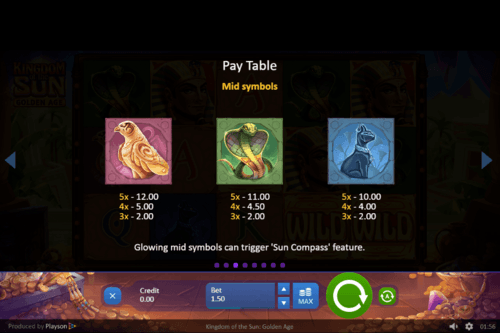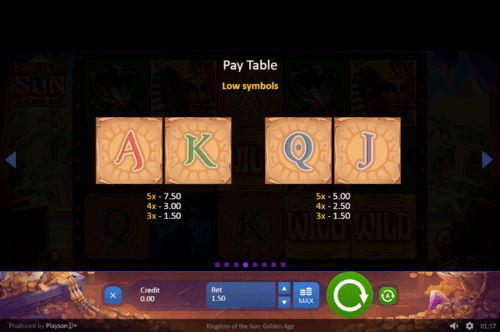 Kingdom of the Sun: Gold Age UK Slot Bonus Features
As always with slot games, the make up of the bonus feature is key as this is usually the attraction force that can pull players especially the ones who like to try their lucks towards playing the game.
The kingdom of the golden sun age slot's attraction force comes in form of an uncommon bonus icon which can be pushed to act when it settles on the reels on the left. All icons (which are not high priced) facing the bonus icon will automatically be turned into bonus icons too. This whole thing will trigger a free spin this time when it stops high priced symbols like Pharoahs, Cleopatras and with mad luck a wild will be the outcome . Imagine all your symbols turning into a wild? Jeez! That'd be one hell of a win. This particular bonus feature is referred to as the spread bonus feature and once triggered, it won't stop until you win something .
Another bonus feature that could serve as the pull this slot would have on gamers is one that is triggered when any of the shining animal symbols ( cat,bird,snake) turns into a sun compass at the finale of a spin. The compass pin will then rotate until it stops this time pointing north, south, west or east.
Any direction it ends up pointing at, animal symbols around there will be multiplied and any wins made before will have to be reconsidered in order to accommodate these additions.
In the two bonus features discussed above, it is possible to have all 15 symbols change into single type bonus symbols which will trigger the highest winning combo .
Kingdom of the Sun: Gold Age UK Slot Developer
Since 2012, producers of the kingdom of the golden sun age simply known as Playson have been releasing back to back hits in the gaming world. They've released so far over 40 hit games and haven't stopped. They have their operational quarters at Malta and are licensed by the U.K. Gambling commission . Their games are designed to make optimal use of the mobile platform as there's hardly any device which is incompatible with playson games .
This does not affect their focus on how the games should look on laptop and desktop even though you might lose some of the themes if you are playing on a mobile due to the small screen.
The other slots by Playson include Aaquarium slot game, Bumper Crop and Art of the Heist slot among others.
Games similarly themed
There are many Egyptian themed slots but standing out in its similarity to kingdom of the golden sun age is IGT's cleopatra video slot machine . Their bonus features are a little more advanced tho as will be discussed in another session.
Games with similar features /bonus features
Similar to the kingdom of the golden sun age slot is cleopatra , one of IGT's hits. Similar features like the pharoahs and the cleopatra which must be triggered to enjoy a crazy winning combo. The advanced feature are however a little more advanced and tech on IGT's cleopatra as the jackpot prize is a million.
Gameplay on desktop vs mobile
Reviews of kingdom of the golden sun age slot players comments show that they prefer playing the game on desktop but would still have the mobile version on their phone because of the ease the mobile platform offers. The fact that you can carry it around with you anywhere you go  plus it keeps you company when you have to wait for that meeting to start, that brief moment on your bed you spend awake just before sleep comes and other spaces that might come up between you and another activity.
As usual the mobile platform is the people's favourite thanks to its easy carriage and its ability to fill up void spaces in between work activities.
Top 5 Online Slots on Money Reels
1. Fluffy Favourites 
2. Starburst Slot 
3. Fluffy Fairground Slot 
4. Fluffy Too Slot 
5. Wolf Gold Slot