Legend of Cleopatra UK Online Slot
Play Now and Win up to 500 Free Spins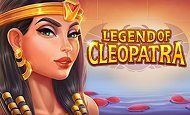 Legends of Cleopatra is a 95.05% RTP online slot game by Playson. In the bonus round, the reels flip horizontally to unlock additional paylines.
Go to: All Slots | Fluffy Favourites | Fluffy Too | Fluffy Fairground | Wolf Gold | Shaman's Dream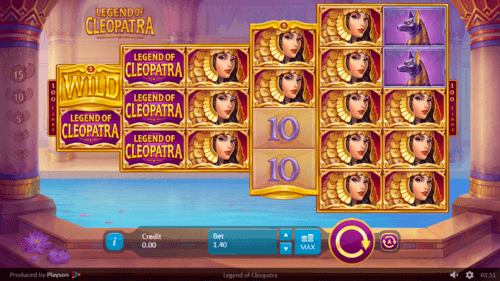 Legends of Cleopatra UK Online Slot
If you are familiar with ancient Egyptian history or mythology then you must have heard about the legendary Cleopatra and if you have not here is your chance, in this awesome online casino slot game you get to travel to ancient Egypt and explore all the facts yourself.
Legends of Cleopatra Slot Game Summary
We have had various Egyptian themed slots over the years but this one stands out because of some of its awesome features and it's very generous bonus rounds. The legend has it that queen Cleopatra was the last ruler of Egypt during the Ptolemaic era. The queen was well known for her very intriguing beauty and her vast knowledge in the art of seduction. Even though her story ended in tragedy with her committing suicide by willingly allowing a venomous cobra to take her life. Even though the end of the story was tragic I can assure you that this online slot will provide no tragic event such as this for you as long as you have lady luck on your side. It has been made available on all mobile devices and can be accessed on the Money Reels mobile site as well as some other Egyptian themed slots. This UK online slot provides a great number of ways to win as well as some very good bonus features and an extremely generous free spins bonus round.
Legends of Cleopatra UK Slot Gameplay
When you startup  the Legend of Cleopatra slot game the first thing that you will notice will be the unusual setting of the games reels. The 6 reels are set like a pyramid that has been turned to the side, that is most of the reels have different rows to them. With the 1st reel from the left side having 2 rows, the 2nd and 3rd having 3 rows, the 4th has 4 rows and the 5th and 6th both having 5 rows each. The game is set in Cleopatra's bathroom with two bronze pillars at reach side of the game, the game design makes the slot look very realistic and beautiful even though it is some modern features but it still maintains its traditional ancient look but more sophisticated. The symbols were also not left out the theme with the symbols also having an Egyptian theme to them, symbols like ancient Egyptian gods with hawk, dog, cat faces and our traditional five playing cards but with a lot of colors. This online slot provides an average Return to Player of 95.05%  
The 6 reel slot provides players with about 100 active paylines with each payline capable of taking a maximum of £1 thereby making the maximum stake of each spin round being £100, an autoplay feature has been installed to make placing bets easier, therefore allowing players to use the same bet for as many spins as they want and also a maximum button which allows you bet the maximum amount on every payline. 
Legends of Cleopatra Slot Game Bonus Features
The most valuable symbol in the base game is the legend of Cleopatra logo which gives cash prizes of 50×, 125×, 250× and 375× your initial values for combinations of 3, 4, 5 and 6 respectively.
The wild symbol of the game is a golden WILD  icon which can replace every other symbol on the board and increasing your winnings by completing winning combinations, this rule applies to every other symbol except the scatter symbol of the game. There is an added advantage in this game in regards the wild of the game which is the Double wild Reels feature. In this feature when a reel is stacked full of wilds another reel is chosen at random and stacked full of wilds too therefore allowing there to be 2 wild reels in the game, even though during the game the winnings are still calculated based on the normal pattern of the base game the Double wild Reels feature still helps in increasing the winning chances of a player by a lot.
A symbol to be on the lookout for is the Scarab icon which is the scatter of the game because it provides access to the free spins bonus round of the game. The number of spins you get depends solely on the number of scatters you combined, a combination of 3 scatters is equal to 5 free spins, 4 will give a total of 10 spins while a combination of up to 5 scatter symbols will give up to 15 free spins that will help in awarding  instant prizes. Also during the free spins bonus round the layout of the board changes with the board being turned from left to right meaning that the 6th reel becomes the 1st reel and the 1st reel becomes the 6th reel. Scatters only show up on the 1st 5 reels, the best thing about this bonus round is that it can be retriggered up to 50 times if 2 or more scatters are found during the bonus rounds.
Legends of Cleopatra Slot Developer
Playson online software providers are relatively new in the world of online gambling but have quickly made a name for themselves with the production of some very awesome slot games since their launch in 2012. Some slots that can be credited to them are Odysseus, Alice in Wonderslots online slot, Dracula's family, Crystal Land UK slot and a whole lot of other games.
Games With Similar Theme / Feature
There are very many games using an Egyptian theme, games like queen of the Nile.
Games With Similar Gameplay and Bonus Features
King tut pyramids slot has a very rewarding free spins bonus round that resembles this online slot.
Gameplay on Mobile VS Desktop
The Legend of Cleopatra game was created to allow people chill at home and access it on their mobile devices anywhere in the world as well desktop.
Legends of Cleopatra Review 2019
Enjoy a unique pyramid-shaped slot which pays ode to the ultimate icon of Ancient Egypt. There are 100 ways to win, and plenty of bonus features and rounds to keep you hooked! Play Legends of Cleopatra on Money Reels today which is home to over 550+ slot games.
Legends of Cleopatra Theme
Even if you slept through every history class you've ever had, the chances are that you'll have heard of Cleopatra; famously the last Pharaoh of Egypt who died in 30 BC.
So why is a woman older than Jesus popping up in an online slot you ask? To best answer that we'll take a look through her history to show you just how pivotal her role in history was. You'll be able to explore the vibrant and dark parts of her past through the Legends of Cleopatra slot game available to play for cash on Money Reels.
But first let's look at the history we'll be stepping into:  Cleopatra was born as a princess of Egypt, she was keen to watch her father Pharaoh Ptolemy XII when she was growing up, as a result she learned a fair amount about how to rule a country from him before his death when Cleopatra was aged just 18 years old. At this point, the family had ruled over Egypt for the last 300 years despite being of Greek descent. Yet Cleopatra was keen to immerse herself in many different cultures and learned many languages. After her father died Cleopatra and her younger brother were married and were set to rule Egypt as co-rulers, yet, considering she was eight years older than Ptolemy XIII at the time, Cleopatra held most of the power – much to her brother's disdain. Eventually her husband and brother forced her away from the palace and took over.
Julius Ceasar was more than happy to come to the aid of Cleopatra which saw Ptolemy XIII overthrown after a great battle. Eventually Cleopatra had a child to Caesar named Caesarion, although she visited Caesar in Rome, Cleopatra still wanted to remain independent of Rome as Egypt had become prosperous during her reign. Caesar was assassinated in 44BC, which saw the great leader Marc Antony rise and it wasn't long before Cleopatra fell for him too and they formed an alliance against Caesar's legal heir Octavian. Cleopatra and Antony weren't quite strong enough to match the power and fury of Octavian, which saw the pair retreat back to Egypt.
The tale of Romeo and Juliet will start to sound familiar when you hear the tale of her sad demise. After she fled to Egypt, she feared being captured by Octavian and his forces, as was Antony who had heard the news that Cleopatra had died. Upon hearing the news Antony committed suicide, Cleopatra did exactly that when she found out about her lover's death when she allowed a cobra to bite her.
UK Online Slot Game Design
Now we know the history behind the Legends of Cleopatra slot game, it's time to look how the Egyptian-themed slot pays ode to the majestically iconic fallen Pharaoh.
Even though Egyptian-themed slots aren't exactly a new theme, there's still plenty of surprise and allure to be found when you spin the reels on the video slot which provides plenty generous bonus rounds. But, as long as spinning the reels, ends in a less tragic manner than being bit by a cobra after being overthrown, everyone is a winner. The game is available to play both on mobile and web-based browsers, allowing you to enjoy the unique culture of Egypt wherever you happen to be!
The first thing you'll notice about the design of Legends of Cleopatra is the unique set up of the reels. But don't let the sideways pyramid set up put you off if you're used to playing 5x3 reel slots, you'll get used to the 6 reels in no time.  
With the base of the pyramid you'll see 5 rows on reels 6 and 5, 4 on reel 4, 2 on reel 3 and 2, and 1 on reel 1. While that may sound a little tricky to get to grips with, running through a quick free play mode is always an option through Money Reels.
The background of the Legends of Cleopatra game is set in an Egyptian bathhouse which is fit for a queen, the Egyptian brick pillars sport the iconography of the Egyptian culture and the water looks inviting enough to dive right in. Even though the theme of the design represents a time before Jesus was born, the graphics are impressively high-end to give players the sophisticated feel that they would want while playing a game dedicated to the most glamorous woman in history.
The symbols also carry the Egyptian theme, you'll be able to find ancient symbols such as the Gods followed by the Egyptians, dogs, cats, and scarab beetle scatter cards. At least the game designers were kind enough to leave the deadly cobras out of the gameplay!
With an average return to player rate of 95.05%, there's a high chance that you'll see the reels spin in your favour! While it is not the highest paying return to player rate on Money Reels, there are plenty of other incentives to spin the reels on Legends of Cleopatra such as the access to over 100 active paylines. Each payline has the ability to take a maximum stake of £1, making each maximum stake amount for the online slot a massive £100. That's good news for the high rollers who are looking to cash out with a coin balance which could see them living the life of Cleopatra (hopefully minus the gory bits).
Fans of the auto-spin function won't be disappointed either, the feature has been installed to ensure that you can have as much of a leisurely experience as possible whilst spinning the reels, or you can sink right into the action and play through manual mode.
Bonus Features
Legends of Cleopatra is packed full of game-changing bonus features as you can expect from a video slot which offers over 100 different ways to win.
The symbol which you'll definitely want to keep your eyes peeled for is the Legends of Cleopatra logo which is the most valuable symbol which can appear on the reels. But how does it work?
The Cleopatra logo pays out 50x, 125x, 250x, or 375x your initial values which you have generated through combining the lower value symbols which pop up as 3,4,5, and 6.
Yet, it is the Wild symbol which simply appears as the golden word 'wild'. In Legends of Cleopatra the wild has the ability to replace every other symbol apart from the scatter symbol on the game which will help you to complete more winning combinations. Rather than just stopping with one exciting feature, an added advantage to this online slot is the Double Wild reels feature. This feature is activated when any reel is stacked full of wilds, then another reel will be chosen at random and stacked with wilds also giving you the excitement of 2 reels full of wilds. You can only imagine what the Double Wild feature does to your chance of winning a generous pay out.
For your free spins, you'll have to be on the lookout for the Scarab beetle symbol which is the scatter symbol with the ability to grant you access to the free spins bonus round. Ding, ding, ding. To make it even more exciting, you never know how many free spins the slot will award you with! The amount of free spins depends on the number of scatters you have combined on your spin. 3 scatters will give you 5 free spins, 4 will give you a total of 10 free spins, and 5 will grant you 15 free spins to help snagging instant prizes that little bit easier.
During the free spin bonus rounds, don't be surprised when you see the layout of the board changing. The pyramid will flip from left to right and from then scatters will only appear on the first five reels which were the last five reels in the original gameplay experience. Free spin bonus rounds for online slots may not exactly be a new thing, yet, you won't come across many online slots which give you the ability to retrigger the feature up to 50 times after landing two or more scatters in the bonus rounds.
About the Developer - Playson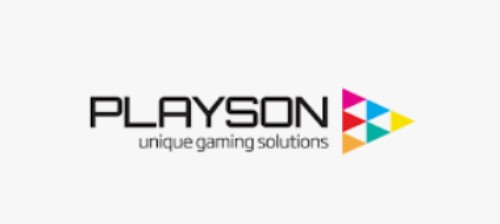 Legends of Cleopatra was created by the game developer Playson who have carved their name in history with their unique gaming solutions which always prove to be comprised of viscerally stunning HD graphics, immersive gameplay experiences, and a stylish finish all completed with the best tech.
Even though Playson has their headquarters and roots based in Malta, the companies games are enjoyed by reel players all across the globe. They may be a small outfit with only 250 staff worldwide, yet their innovative vision when it comes to creating online video slots fit for the 21st century is almost unparalleled. The main part of Playson's industry is the provision of complete gaming solutions which includes catering for both online and land-based slot players. Up to now, they have over 40+ titles in their portfolio of HTML5 titles including the ever-popular Crystal Crush, Lucky Staxx: 40 Lines, Wild Warriors, Fruits & Jokers: 40 Lines and Book of Gold Double Chance.
Here is how Playson described Legends of Cleopatra to excitable fans of online slots and Cleopatra herself
"Have you heard the stories about Cleopatra? No? Then you just must try Legend of Cleopatra slot. It will tell you how to make all 100 bet lines pay Big Win on the pyramid-type reels. During Free Spins with mirrored reels you will bathe together with the pharaoh herself. And maybe Cleopatra will reveal a secret to Double Wild Reel. Pharaoh is not greedy, so she will share some of her riches with you if you are brave enough to take them!"
If that wasn't enough to get you excited why not explore the similar games on offer from Playson down below.
Similar & Related Games
Playson may have only created just over 40+ online slots since their inception, yet, they still have plenty of options when it comes to Egyptian themed slots.
Currently you have the choice of Legends of Cleopatra, Book of Gold: Double Chance, Rise of Egypt and Treasures of Tombs: Hidden Gold. We'll run through the games in a little more detail below so you can be sure that you spin the reels on the right games for you.
Book of Gold: Double Chance Online Slot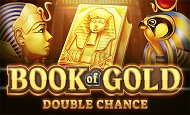 Book of Gold online slot offers a simpler game play experience than Legends of Cleopatra which is set on a traditional 3x5 grid and only offers ten different paylines. Yet features such as the Scatter-Wild symbol and free spins bonuses, there's more than enough reason to keep spinning the reels. The highest valued symbol on the game is the book symbol which will replace all other symbols regardless of which bet line you've chosen to play on. If that wasn't enough, the book will also trigger 10 free spins! You'll also be able to select two symbols before the game starts which have the ability to expand and cover the whole reel and pay winning completely separately to bet lines.
Rise of Egypt Online Slot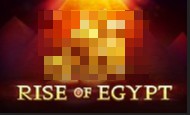 Rise of Egypt slot game was released on July 24th, 2018; however, it has already become one of Playson's most popular game. The story behind the online slot follows the most exciting parts of Ancient Egypt's mystical past. Legend has it, that Ancient Egypt was founded by old and forgotten gods, with the online slot, you'll start to see the fallen and forgotten icons rise once more in the ancient temple which acts as a portal to the past, and a great way to get your hands on staggering amounts of cash! The online slot follows the usual 3x5 set up with 20 different bet lines and uniquely charming scatter symbols and wild spins. Frees spins can be triggered with the scatter symbol – and there's always the chance of a re-triggering of the free spins round.
Treasures of Tombs: Hidden Gold Online Slot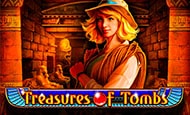 Treasures of Tombs: Hidden Gold slot is the follow up to the original Treasures of Tombs game which slot fans were all too keen to spin the reels on. As you'd expect, Playson have made some improvements to the game to keep the passion for finding hidden treasure alive. The sequel is constructed through a 5-reel and 9-line set up, which grants you free spins and plenty of enticing features which uniquely reinvents the ancient theme slot. Even though there are plenty of visibly noticeable improvements to the game through the graphics, the user experience is what Playson really concentrated on to up their game. With the stunning new animation effects which are triggered when you win, your wins will be more unforgettable than ever!
Copies and Clones not made by Playson
If none of the above games appeal to you, you can always check out the other Egyptian-themed games which are on offer through Money Reels including
Ancient Egypt Classic Online Slot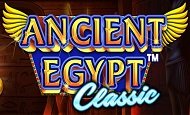 Ancient Egypt Classic slot game is a popular Egyptian-themed slot made by Pragmatic Play which will also take you through a journey as you explore Cleopatra's history. The game designers certainly went all out creating the graphics for the simple 5-reel slots which offer 10 bet ways and a return to player rate of 96.45% which is slightly higher than Legend's of Cleopatra, yet, there are significantly less bonus features to Ancient Egypt Classic.
Ave Caesar Online Slot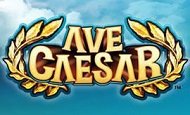 If you're keen to hear more about Caesar's side of the story, you might want to check out Ave Caesar which follows Caesar through his historic adventures through the Roman Empire. You'll be able to bet from as little as £0.01, or as much as £60 and there are 20 different ways to win. The bet lines may be fewer with Ave Caesar, but you'll get the chance to follow the historic figure as he stamps his name down in history.
Egyptian Queen Online Slot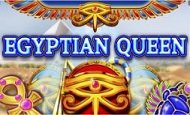 The Egyptian Queen online slot gives you yet another chance to pay homage to the ancient gods of Egypt. The slots spoil you for choice with the exciting array of features. The online slot provides not one, not two, but three different features including the Wild symbol, Queens Treasure symbol and the ability to land free spins. Egyptian Queen was released in 2018 and certainly provided plenty of competition to the existing games which appeal to slot players who fall under the allure of Egyptian mythology.
Legends of Cleopatra on Mobile
Legends of Cleopatra is available to play both on mobile and web browser. As long as the device you're using supports HTML5 (which in this day and age is highly likely) you'll be good to go as long as you have internet connection and can log into the Money Reels website.
There is no noticeable difference between the gameplay via mobile or web, Playson ensured that before the release of Legends of Cleopatra which ensured the game can be enjoyed wherever you are!
Legends of Cleopatra News
2018 was a massive year for Playson after they signed with multiple online casinos worldwide including Jokerbet, Dench Solutions, Casino Gran Madrid, Circus.ES plus many, many more. They've also been keen to show their faces at events such as Sigma. The event gave fans of the game the chance to drop by and show their appreciation for the unique creations cooked up by Playson.
It doesn't look like Legends of Cleopatra has snagged any awards yet, but it wouldn't be a surprise if Playson were showered with accolades in 2019 for their notable innovation efforts.