Treasures Of Tombs UK Online Slot
Play Now and Win up to 500 Free Spins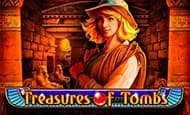 Treasures Of Tombs is a 5 reel, 9 payline slot game with a 95.08% RTP. This UK Online Slot comes with Free Spins, Scatter Symbol and Wild feature.
Go to: All Slots | Fluffy Favourites | Fluffy Too | Fluffy Fairground | Wolf Gold | Shaman's Dream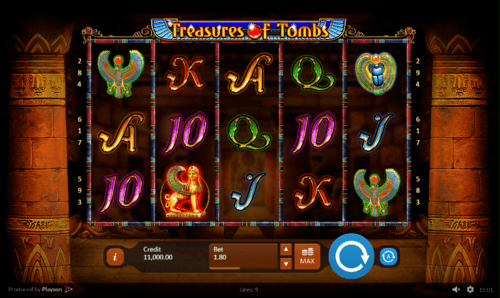 Treasures Of Tombs UK Online Slot
This slots game based on Ancient Egypt has huge popularity among the fans mainly because of two main reasons. The first reason being their rich theme and colours. The second reason is the fun-filled adventure feels that these slots give to the players. You won't be alone in this slot and will be joining an adventuress like Indian Jones who is on a mission to explore the ancient wealth of Egypt. She roams from tombs to tombs and pyramids to pyramids in search of treasures. She is the most experienced treasure hunter of her time and will definitely find a treasure given that she keeps searching at the same rate as she is right now. Not only brains this lady is also an attractive beauty that is a treasure within itself but doesn't get too distracted by the beauty of this blonde lady because your main focus in this slot is wins and rewards from the ancient royal treasures. This slot has an adventurous feeling to it and would be loved by the players who like slots with adventures. It is inspired by Indiana Jones and his adventures.
Treasures Of Tombs Developer - Playson
Treasures of Tombs online slot developed by Playson, which has greatly increased its fan base over the years thanks to the slots that it keeps producing. Playson is a leading gaming company with headquarters based in Malta.
Other similar games that are quite awesome and having similar bonus features like Treasures Of Tombs include Montezuma slot, Amazon Queen, Treasure Of Horus slot game, Super Jackpot Party and Monopoly Big Event etc.
Play Treasures Of Tombs Mobile Slot
The main character of the game, the adventuress lady also wears a similar attire to Indiana Jones with the famous adventurer hat. You will need to maintain your pace with the lady so that you may also lay some claim on the treasure. If you think that you don't have any previous experience of adventure then don't worry the lady will teach you how to find the best treasures in the pyramid. Don't worry about the dangers of exploring inside the pyramid as there will be many dangers that you will be exposed to but the brave lady who you will be accompanied in this slot will keep you safe from them. If you have an adventurous spirit inside you and have always wanted to go on a treasure hunt with an expert explorer then this is the right slot for you. The best part is that not only the explorer is expert but she is an attractive beauty as well who will impress you by her active and quick moves. The game is all about Egyptian Treasures as they have been a topic of discussion over the last few centuries. Countless Egyptian treasures were buried with the kings and other nobles which were thought to help them in the afterlife. These tombs and pyramids in which these kings and nobles were buried have been sealed ever since. Now with the help of this discoverer you have got the chance to open up the tombs once again where the treasures await to be opened. Enter the ancient world at Money Reels and test your spirit in this slot. Do you have what it takes to explore the inside of the pyramids or not? Or will you like all others flee from the dangers of empty pockets? This slot offers an RTP of 95.12% and has got 5 reels with 9 betways. Explore all you can because without this lady's company it would be very difficult to access these tombs and pyramids again.
Treasures Of Tombs Slot Features
The gameplay and theme of this game focus around Ancient Egypt and its culture that dominated the Nile delta for many centuries. In this slot, you will be with the adventurer lady who will be giving you company while you open up the ancient tombs and explore their insides. The lady is a very daring one and won't leave you alone while you face the dangers of this ancient tomb. This slot has amazing graphics that will bring the ancient tomb to life. The genre of this slot is Adventure. The background of the game shows the inside of the tomb that you just opened with all its gold, ancient statues and hieroglyph filled pillars. The complete touch given to the screen is of a golden colour to signify the ancient Egyptian element of this game. With you finally inside the tomb now all you have to do is to spin the reels to check the level of your fortune. The pillars are full of inscriptions of ancient Egyptian symbols that tell tales of the great King or Noble who buried here. The slot box is bordered by ancient Egyptian sticks. The number of paylines is visible on both sides of the slot box. Symbols used in the game are either Alphabets i.e. J, K, Q, A and 10 or symbols pertaining to the tomb. The Eye symbol shows the substitute symbol and triggers the bonus features of this game.
Treasures Of Tombs Slot Game Free Spins
This amazing adventure of mazes and labyrinths inside the ancient Egyptian tomb has got many exciting features. Not only is it filled with adventure and thrilling moments it will also give you many rewards and bonuses which you will be relishing for quite some time. This game offers the following bonus features
If you awaken the adventurer in you and try to explore some more portions of the pyramid then you might end up with 3x eye symbols on the reels that will trigger the free spins feature. It will award you with 10 free spins. These free spins can be amazingly re-triggered again by landing more eye symbols during the free spins. Before the free spin feature starts the game will select a bonus symbol randomly. It can be any symbol except the eye which has already triggered the free spins feature of this slot. The bonus wins are paid independently.