Lucha Legends UK Online Slot
Play Lucha Legends Slot Online with 500 Free Spins!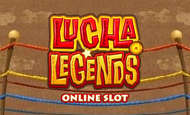 Lucha Legends is a 5-reels, 25 paylines Online Slot Game by Microgaming. Lucha Legends has an RTP of 96.38% and Each luchador will enter with their signature wrestling move, smash wilds into super wilds.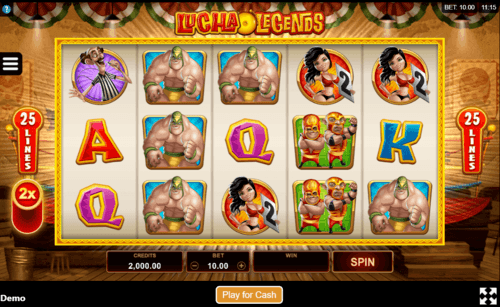 Quick Links: 500 Free Spins Welcome Offer | View All 600 Slots | Starburst | Bonanza | Fluffy Favourites | Rainbow Riches | Reel Rush | Wolf Gold | Enchanted Prince | Fluffy Fairground
Lucha Legends UK Online Slot
Fancy an online slot throw down? Discover the action-packed mayhem of Microgaming's colourful 5 x 3 reel online slot offering a high RTP at 96.38%, 25 different bet lines to choose from, and some ingeniously unique bonus features which you won't find anywhere else on Money Reels. Win up to 2,200x your original stake amount and take advantage of all the wild perks on the reels!
Lucha Legends Slot Game Theme
If you're looking for action from an online slot, prepare for a vibrant offering from Microgaming! Lucha Legends is one of the most exciting online slots there is available to play today! While players who are looking for a more laid back experience may not appreciate everything that is going on in the reels. But, if you're looking for action-packed insanity, you're definitely in the right place.
Money Reels are proud to present the slightly dramatic and chaotic themed slot which explores the lives and cultures of Mexican wrestlers. Mexico is an indulgent hub of culture, from the day of the dead celebrations (which are also celebrated in online slots) to their amazing food, it's highly likely that they boast one of the most exciting cultures in the world.
While wrestling may be big in the UK and in America, in Mexico it is literally a way of life. A way of life which will be excellently depicted in this enthralling online slot. There are a few similarities in Mexican wrestling and Western Pro wrestling, which we are sure that you will quickly discover when you start to spin the reels. But, a universal commonality in wrestling is the sport's ability to blend action and acting – this ensures that you are treated to high-octane action.
The legends of Mexican wrestling such as El Santo, Blue Demon, La Parka and Shocker may not be as famous as the Western Mexican greats. But they are certainly renowned in Mexico for what they bring to Lucha Libre, which means "free fight". The sport has been around since the early 20th century, and it remains as popular as ever. As you can expect from the translation of the word "free fight" pretty much anything goes!
The Lucha Libre online slot won't feature any names of the most famous Mexican wrestlers, instead, each of the characters of the online slot will be a work of Microgaming's creation. While many people would have preferred the online slot to have that little bit of cultural relevance, the fact that is isn't a licenced product means that you get to play with the high RTP of 96.38%. So, you can definitely forgive Microgaming just making the online slot about the theme. Especially considering that there is so much to unpack in the theme!
There are ten different symbols in the online slot. While some of them may be represented by alphabetical and numerical symbols, there are still plenty of fun characters who you will get to meet when you spin the reels. You won't get to see the wrestlers unmasked during the slot experience, but this just adds to the mystery and excitement! If you thought that there were interesting characters in Western wrestling, be prepared to meet some truly endearing folk! If you've already seen the Jack Black film Nacho Libre, you'll know exactly what you are in store for as you spin the reels.
When you load up the reels, you will be presented with the not so glamorous but incredibly authentic wrestling ring. The rickety wooden floorboards support the ring which has definitely seen better days. But it still manages to keep plenty of colour in the vibrantly coloured ropes. You won't get to see what's going on in the ring as the reels will take the centre of the screen in front of the shabby backstreet location.
There's a vibrant red frame around the reels which will appear in a 5 x 3 reel format where the colourful characters will appear to jump right out at you. The cartoonish approach to Lucha Legends from Microgaming was nothing short of genius, it perfectly captures some of the more stereotypical characters which you would expect to see in real life. Yet, it definitely isn't in any danger of cheapening the culture of Mexican wrestling.
With the variation of the wrestlers, it looks like it isn't a very fair match at all! There are some incredibly daunting characters, along with some more slender contenders who you should hope aren't getting in the ring with the more muscular ones! As you would expect, the online slot game has been paired with an impossibly jaunty soundtrack which will make you feel right at home in the action!
Play Lucha Libre Mobile Slot
Now that you know what Lucha Libre is all about theme-wise, we'll introduce you to just how well put together the rest of the online slot is. And how some of the awesome perks of the online slot will ensure you cash out big!
As we mentioned before, there are a few lower value symbols which make up the 10 different symbols in Lucha Legends. Even though you will still cash out when you match K, Q, J, and A, you'll really want to look out for the wrestlers on the reels! They'll be joined by a ring girl and a referee who will also offer you a tidy sum when matched. The maximum amount which you can win by matching the standard symbols is 450 coins when you match five of any of the four wrestlers. After a few times spinning the reels, you'll get to know the wrestlers by name, so you can cheer on your favourite as you spin the reels. Burro, Martio, El Diablo join brothers Pepe and Sal will all be competing for your adoration!
The fact that there are four high paying symbols instead of just one certainly makes Lucha Legends an exciting slot game to play. So, all is forgiven for Microgaming including some rather ungenerous boring un-themed slots!
For the wild symbol, Microgaming chose to go with the logo for the game and will work in the usual say of replacing other symbols on the reels to help you create winning combinations. The wild will work its magic on all symbols aside from the scatter symbol. The scatter symbol will be represented by the championship belt which has been stunningly designed to look authentic. You'll definitely be excited when one of these pops up on the reels!
Lucha Legends is playable from as little as 25p, or, you can go all the way up to £75 a spin – just make sure that you spin responsibly! So, this online slot is perfect for those with a small to medium size budget who are wanting to get the most out of the bonus features especially the super wilds which we will introduce you to now!
It is easy to feel that Microgaming created the perfect all round slot with Lucha Legends!
Lucha Legends Bonus Features
Anyone who likes to be kept on their toes while they are spinning the slots are sure to appreciate what Microgaming has to offer in the bonus features. As we've said before, this game may not be the best option for you if you are looking for a simpler experience. But don't be put off by all of the fun and innovative bonus features, they're easy to understand!
Free Spins Bonus Feature
No online slot game is complete without an offering of free spins! Luckily Microgaming knew this to be true so they packed plenty of them into the online slot. All you need to do, is find the trigger symbol (championship belt) on the 1st, 3rd, and 5th rows of your reels. If this happens, you'll be entered into the free spins round where you will start off with the original amount of 10 free spins. Yet, there's always the possibility of retriggering the free spins if you find even more if you are lucky enough to find the scatter symbols as you spin!
Super Wild Mode Bonus Feature
Free spins are all well and good, but Super Wilds definitely bring another level of excitement to the online slot. The Super Wild Bonus feature is triggered during the main gameplay. It can pop up whenever you form a winning combination. There is no specific formula to triggering the feature – it happens completely at random, so there's never any knowing just when it will pop up! Which is why Lucha Legends is so exciting with every single spin. You'll know when the feature is activated though after you use a wild to create a winning combination with a wild symbol, the wrestlers will bust out their best moves for you before the reels start to change. You'll see giant 3 x 3 wild symbols pop up if you're really lucky, or just enjoy a 2 or 3x multiplier. That multiplier will be applied to whatever you won through making the winning combination with the wild.
Power Up Bonus Feature!
You can take advantage of the Power Up bonuses to increase your stake amount. The power up feature will double your stake amount and offer you some serious perks. You may be asking "why don't I just increase my stake amount?" and that would be because you are guaranteed to gain the most out of the super wild bonus features! It's there if you want to play with it, but you don't have to use it!
Even though it feels like Lucha Legends has plenty to offer players, in comparison to some online slots, it may not feel all too generous as the jackpots certainly aren't the highest and the bonus features can be much more rewarding. But let's not forget the fun factor which Lucha Legends has to offer you!
About the Developer - Microgaming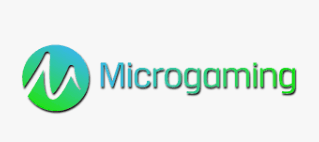 As you can expect from a game developer with the talent, innovation and creativity to make a game such as Lucha Legends, they're a pretty big deal. And while not every talented business gets the mark of respect which they deserve, thankfully the accolades are always pouring in for the unique creations which Microgaming cook up. They're somewhat of an industry leader in the online slot world who has had no trouble keeping an international audience engaged and entertained. It is safe to say that if Microgaming weren't around, then online casino sites such as Money Reels wouldn't exist! Back in 1994, if someone told you that you would be able to enjoy slot games on your laptop and mobile, win 6 figure sums of money and have literally thousands of themes to play with, they'd probably think that you're mad.
But it was Microgaming's technology and innovation which went into ensuring that they would take a massive role in revolutionising the gaming industry. They first started out back in 1994, when most people didn't even have internet in their home (what did we do before then?!). Even after the internet was introduced, it wasn't exactly a lot of fun to play with! Downloads took forever and you couldn't use your house phone at the same time! But Microgaming came along and made video gaming and gambling so much fun! They were even the online slot developers to first make it possible for players to spin the reels on their phone!
In their portfolio, you will be able to find plenty of different themes and styles of online slots, as it isn't really their style to create online slots for just one player. Along with Lucha Legends which was released in October 2018, their name is behind some of the most popular online slots out there today such as Immortal Romance, Thunderstruck and Dragonz. As Microgaming are so committed to putting out quality content, it should be no surprise that plenty of different entertainment franchises are keen to partner up with them to create officially licensed games. Even HBO hooked up with Microgaming for them to release a Game of Thrones official slot. Now, that's a fairly big deal! You don't put Westeros in just anyone's hands.
It doesn't look like they will be running out of ways to surprise you anytime soon either, on average they release a new slot game every month, and it is definitely is not a case of quantity over quality. You don't need to just take our word for it either! They've won plenty of awards including 'Software Supplier of the Year in 2018 awarded to them by the iGaming website. You can think of them as the Grammys of the slot world!
Even though a lot of online slot games never really make the media, Lucha Legends is never far from the Google news pages. They also earned themselves a spot in the Guinness Book of Records for having the biggest progressive jackpot prizes! So far, they have given their customers over £800m in winnings! One lucky player even won £16,000 on a 25p bet!
Going back to Lucha Legends, here's what David Reynold's the game publisher at Microgaming had to say about the online slot over on their website.  
"Lucha Legends is a fun and vibrant slot that taps into the global popularity of Mexican professional wrestling, capturing the drama and excitement with several big-hitting features. In addition to 10 free spins, which can be re-triggered, the Super Wild feature and Power Up Mode aim to enhance gameplay and increase the player's win potential. This is a beautifully animated game designed to deliver round after round of action and entertainment."
So, it's definitely not just Money Reels who was delighted at what Lucha Legends has to offer!
Microgaming Games Similar To Lucha Legends
Even though Microgaming has plenty of games in their portfolio, sadly, they don't have any more Mexican wrestling games to offer. However, we certainly wouldn't rule out seeing one from them in the future! While they may be short on wrestling online slots, they have thrown plenty of sports-themed online slots into the mix. While it will definitely fall down to whether that online slot is in your niche, here are the best options from Microgaming if you want to add a little variety to your gameplay experience.
Centre Court by Microgaming
A tennis-themed online slot may be worlds away from Lucha Legends, but we have included it in the list for a reason! And that's because Centre Court was one of first published online slots which shows you just how their talent has evolved over the years. The game pays an ode to the famous Wimbledon tennis court and as you can expect, it offers a slightly more relaxed and reserved gameplay experience from the 5 x 3 slot, offering only 9 different pay lines. The RTP is slightly lower at 95.51% but there's still plenty to play for.
Rugby Star by Microgaming
If you like physically aggressive sports, then Rugby is also a solid option. So, Rugby Star should carry plenty of appeal to fans of Lucha Legends. However, it isn't as cartoonish as Lucha Legends instead, Microgaming took a more serious approach. If you're serious about your sports and serious about winning some cash, you'll have plenty of fun with the 243 different pay lines and four different bonus features on offer. If you're looking for a complicated and grown up game, you certainly won't be disappointed!
Football Star by Microgaming
Thankfully the content is a little more inspired than the name of this online slot. It's basically the football version of Rugby star, so you can expect the same aesthetic style, number of pay lines and RTP. But once again, this will probably only be of appeal if you are a fan of the sport!
Similar Slot To Lucha Legends by Other Designers
As you can expect, there are also online slots by other developers by the same theme. Whether any of them stand up to the competition offered by Lucha Legends is another thing entirely, but you can decide that for yourselves!
Lucha Maniacs by Yggdrasil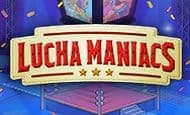 Lucha Maniacs slot was yet another 2018 release with an ultra modern feel, however you can expect a fairly classic experience from the gameplay. The 5 x 3 reel slot will offer you 20 different ways to play and a generous return to player rate of 96.10%. There are some fairly unusual features to get to grips with in Lucha Maniacs, so it might be slightly more intricate and harder to understand than Lucha Legends, but it is definitely worth discovering for yourselves! I'm sure Microgaming won't mind too much!
Lucha Libre by Real Time Gaming
Real Time Gaming may not be as big as Microgaming, but with games such as Lucha Libre, they prove that they should be. They definitely went the extra mile when it comes to the bonus features and animations. You will even get to take part in actual wrestling action! Select the moves that you want to make your wrestler preform and there are massive prizes to be won! You'll get a real taste of Mexican culture with this online slot which will also serve up sombrero and tequila symbols. The 5  x 3 reel slot has 25 different pay lines and a fairly standard RTP of 95%. It's a solid option if you are looking for an alternative to Lucha Legends!
Lucha Legends On Mobile
Lucha Legends probably wouldn't have seen the heights of success that it did if it wasn't optimised for mobile! Thankfully, Microgaming paid extra care when ensuring that Lucha Legends was a fun game to play on mobile. There are absolutely no complaints from us at Money Reels on how Lucha Legends feels to play on mobile!
In fact, the graphics may even be better than what you get with the laptop or desktop experience. What we would say is that on the web version of the game the spin button could be more obvious and noticeable.