Lucha Maniacs UK Online Slot
Play Now and Win up to 500 Free Spins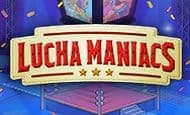 Lucha Maniacs is a 5 reel, 20 payline slot game with a 96.2% RTP. Win 12 000 coins in 1 spin. Pick & click Free Spins with amazing feature combos.
Go to: All Slots | Fluffy Favourites | Fluffy Too | Fluffy Fairground | Wolf Gold | Shaman's Dream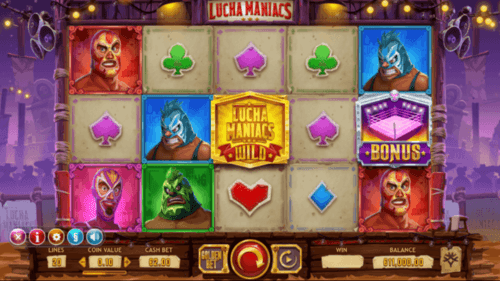 Lucha Maniacs UK Online Slot
Sports slot games are not just entertaining but if you happen to be a sports enthusiast, you not only get to enjoy it but can also win if your luck favors you.
Action slot games are very easy to find and not to mention are filled with entertainment. What makes action slots more interesting is when you find the perfect slot that can help you feel as if the slot itself is presenting the actual action depicted in the game. What makes slot action games more interesting is when its related to sports. Now a lot of action and sports can be interchanged with each other but action can be explained at its best when you get to feel the real strength and challenge and that is where a very few games manage to find their way.
 If we could just look at the background itself you'll notice the crowd and the lights which makes you feel enough as if you're there in the ring and are excited to see a match of your life. Whether it's a complicated technical maneuver or a simple leg lock, the background will make you feel like you're ready to watch the real-life action.
The graphics used in this game are remarkably spectacular. The Luchas (wrestlers) made in this game is definitely worth praising and makes you feel like you're going to play Lucha Maniacs in a gaming console. The way the symbols are represented gives an idea of how dedicated the game is on reflecting its theme.
Lucha Maniacs Developer - Yggdrasil
Lucha Maniacs provided by Yggdrasil is a very entertaining game and that can be reflected not just by the fact that you are going to be a part of the wrestling aura but you're being a part of the action itself. Other top slot games from Yggdrasil include Baron Samedi slot game, Bicicleta, Chibeasties 2 and Dark Vortex online slot.
Similar Themed Games With Lucha Maniacs Slot:
One of the most important and well-known games that share the same theme as Lucha Maniacs is WWE LEGENDS Video Slot. It's not just wrestling and entertainment but altogether a great experience for tons of winning bonuses and features.
Similar Featured Games With Lucha Maniacs Slot:
Because Lucha Maniacs is a sports-based game, a lot of slots come close to the features offered in Lucha Maniacs. Football Superstar, Luchadora, Lucha Libre slot are some to mention a few.  
Play Lucha Maniacs Mobile Slot
The sound effects used in this game makes you feel like you're a part of the match. It's almost as if you're in the stadium and that you're going to watch Luchas get in action! The bonus features make it more realistic as you continue.  
And this is just the surface of the game. The real game begins when you are in it and if you're lucky enough, you might a lot from the game than you had expected. All it really needs in Lucha Maniacs is not just your ability to enjoy a great wrestling match but to have luck by your side.
Lucha Maniacs Slot Features
Here are a few things you need to know when you're playing Lucha Maniacs.
The RTP in this game is 96.2% which is completely justified based on the game's theme. A lot of games tend to have relatively low RTP and the kind of games that offer such an RTP are not mostly known or famous for themes. Lucha Maniacs does belong to the action wrestling category but is not quite the game which can afford to have a low RTP.
The Wilds and Scatters are important in almost every slot but in this game Scatters are the real dealer. There isn't a fancy bonus round which can help you score big or manage to help you multiply your reward but that's where Scatter offers its chance. For Scatter to give it your best, all you have to do is get at least 1 Scatter and you'll see the magic as you're given 4 posters out of which you have select only 1. If you choose the right one, you get a hidden feature. Land 2 Scatters and you get yourself a free spin and an extra pick. Land 5 and you'll have 4 picks and free spins.
What makes the game most interesting is its FreeSpin Feature. In this particular feature, you are given 7 options, all rewarding. You have to take just one at a time and see your luck. It gets even better because you get to choose more features if you land more Scatters.
What is amazingly terrific about Lucha Maniacs is not just ability to provide the best graphics and sounds but the fact that it can let the user go for opportunities to a very impressive level. It's not too difficult to comprehend the fact that all you need is Scatters to gain as many free spins as possible. Lucha Maniacs is actually giving its users the opportunity to not give up on their luck and try. On a more brighter and positive side, the game can give you sufficient opportunities to try your luck and having done that you can easily score big and as much as the game has to offer.
However, that is not the complete verdict of the game. While the game has an impressive RTP of 96.2% the game does not offer a lot of bonus features that can help multiply the score. Lucha Maniacs can offer you chances but within these chances, the player has to resolve themselves to try their luck and see what they can get. Unlike the Wild symbol and its charm to give players the chance to win big, the game is mostly focused on the presence of Scatters only. The user is as good as the number of Scatters the user can win.
In simple and unbiased words, Lucha Maniacs is a great and enthusiastic sort of game, especially if you're a wrestling and sports fan. With the game's impressive RTP, you are bound to get a lot, and if you're the kind of person who relies on their luck, the free spins will do you the best in your pursuit to play the game.
If you're looking to try new sports slot games, Money Reels is the place to go. For more information, visit MoneyReels.com.